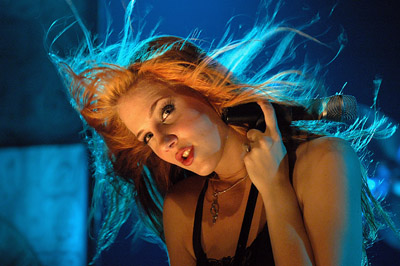 Progpower festival, Baarlo, The Netherlands
October 1st 2005
Epica, Orphaned Land, Disillusion, Troes of Dawn, Anubis Gate, Green Carnation

When the leaves are falling down the first indoor festivals are starting. One of those is the Progpower festival. A well-known name, also outside Europe, and this tour hits the Netherlands as well. This weekend people from all over the world come to Baarlo. There are people from Italy, Austria and even Poland. The small venue has a good atmosphere for all those people and bands, whose members afterwards make a little chat with the people present.
Disillusion


The German band Disillusion is the kick-off for the festival and they bring a good atmosphere among the people. It is early in the afternoon, but this band works better than coffee to wake up and get into it.
Music
With their fast up-tempo songs they keep their music interesting. Many tempo changes, but also a lot of arrangements. Classical keyboard parts are mixed with a heavy guitar sound. When they play 'Back In Times' this band shows that their last record really is worth a listen.
Performance
The frontman doesn't move a lot and that makes his apearance a bit static. He plays with the audience through non-verbal communication: you can see the emotions in his eyes. So it is soon very crowded in front of the stage. Sometimes you discover new bands during a festival. It is almost not possible with all those commercialised festival, but Progpower managed to come up with some really 'fresh' names.
Rating
Music 7
Performance 6
Sound 7
Light 5
Total 6 (6,3)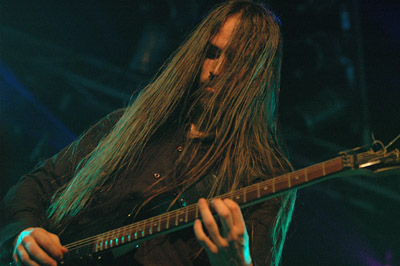 Throes of Dawn

Then there is an totally different kind of band: Throes of Dawn. These Finnish guys break with the tradition that everything from the north has quality. This band doesn't fit well in today's line-up of Progpower.
Music
This band has a catchy, smooth sound. They have a bit the influences from Entwine, so they have their roots in the gothic scene. The singer seems to be in trance, with his black hair that covers his eyes. He voice is not very special, but more quality was better when the songs were stronger.
Performance
With their surreal images on the screen they create a certain atmosphere. All the members are really static on stage and miss the enthousiasm or emotions to be confincing enough. Now the songs are dry and without any meaning. The audience doesn't now how to react to the high sounds and the images of injection neelds.
Rating
Music 6
Performance 5
Sound 6
Light 6
Total 6 (5,7)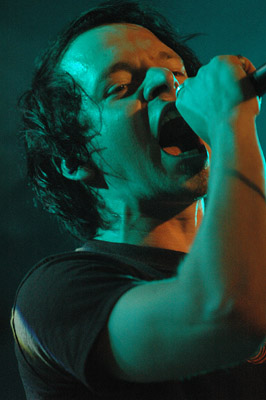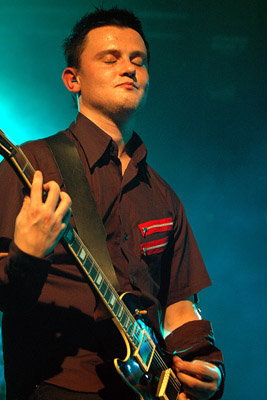 Anubis Gate
Anubis, the Egyptian god of the dead. Black that is also what the gentlemen from this band are. They bring a heavy metal sound with very diverse elements. There are many Swedish bands on this festival and they all have a high quality level. The same goes for this band.
Music
With their last record 'A Perfect Forever' they made an interesting record very suitable for the traditional progmetal feeling. Altough it isn't easy and live it sometimes seems that the guitar, bass and vocals don't belong to eachother as well. A stange mixture of melody lines, but after a while the audience get used to it and sees that all the members know how to handle their instrument. Sometimes they sound more rock and then more progmetal, but their sound is very good.
Performance
Singer Henrik is very natural on stage and it isn't difficult for him to communicate with the audience. It is one of the first gigs of this band in Europe and it isn't perfect, but also they are good enough to show that they like this gig. They did a nice show, altough they still have to learn a lot.
Rating
Music 7
Performance 6
Sound 6
Light 7
Total 7 (6.5)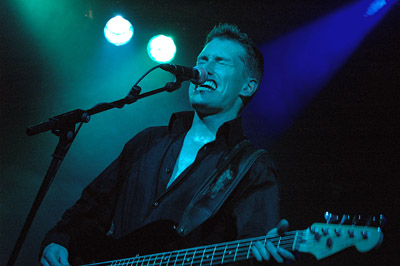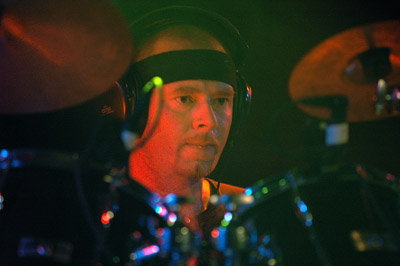 Orphaned Land

There are not many metal bands in Israël, but Orphaned Land is already a well-known name in the scene. With their last record 'Mabool' they were the fresh metal sound for 2004 for many people. After that it it went fast for them: on tour in Europe with Paradise Lost and they played at some summer festivals.
Music
With their mix of traditional music and metal this band doesn't create a dark feeling on stage. Singer Kobi has a melodic, diverse voice. Then there is the basic sound of the raw drums, bass lines and guitar mix with a more jazzy keyboard and arrangements. Their songs are heavy, but also more melodic then you expect in the metal scene. Paul from the Dutch metal band Thanatos grunts alongwith Kobi. The ice is defintely broken when Kobi, together with Eden on the keyboard, sings the Dutch song 'Een Eigen Huis.' They practised a lot for it and the whole audience is singing along.
Performance
The audience doesn't know them very well, but it is already crowded in the front when they kick off. In his traditional clothes, sometimes his eyes closed is Kobi the one who shows the most emotional side of the band. There are the other members who move more, but there is a lot of interaction between all the members. The drum player is hard to see, but he really gives a lot during the gig. After the gig people are asking for more, so they come back for a final song 'Nora el Nora.' They are definatily one of the most remarkable bands of the weekend.
Rating
Music 8
Performance 8
Sound 8
Light 8
Total 8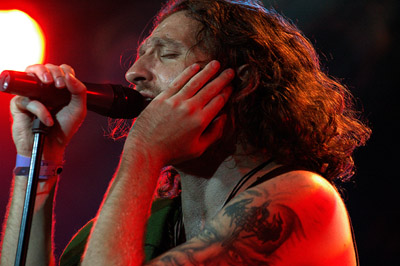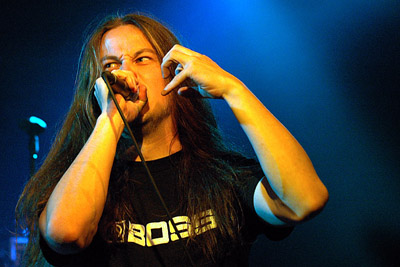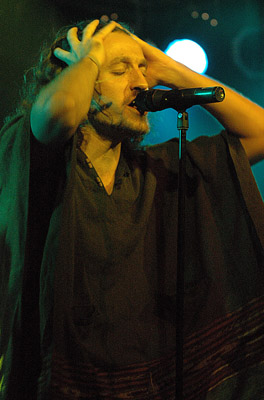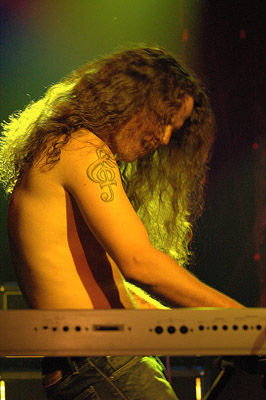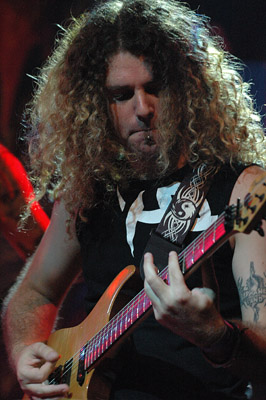 Green Carnation


How difficult it can be to play after an impressive band was shown when Green Garnation started. This band from Norway have been active in the scene for a long time and knows how things work.


Music
They as well have a new album out 'The Quitet Offsrping.' They play enough new and old songs to create a powerfull setlist. It all sounds very professional and they have fun on stage. Singer Kjetil, also member of Trail Of Tears, has a lot of diversity in his voice. The guitar sound is classic metal, but mixed with the keyboard it produces an interesting sound. There also are other arrangements and drums to build op the songs.


Perfomance
There is enough contact with the audience. All very relaxed and professional. Not only singer Kjetil, but also the other members enjoy their gig and show that on the stage. Halfway their set I have to leave the audience, because it is so warm inside and I heard the rest of the gig outside which was very relaxing.

Rating
Music 7
Performance 7
Sound 6
Light 6
Total 7 (6,5)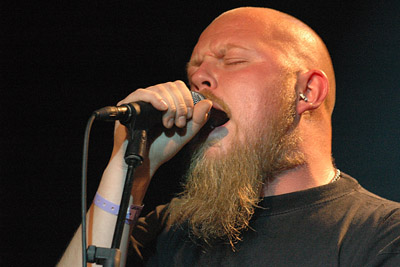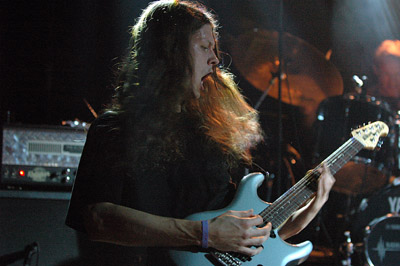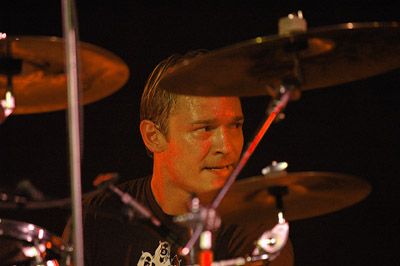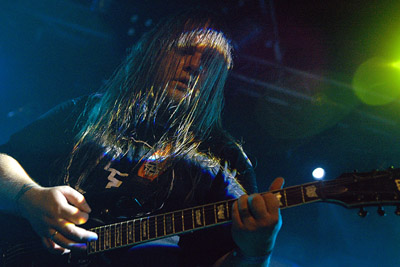 Epica

The Dutch gothmetal band Epica has the honour to be the headliner of the Saterday. They are not real prog or powermetal, but they certainly have a typical own sound like the other bands this day.


Music
The band seems to be a little nervouse, because they have a different kind of audience this evening. During the first song there are some problems with the sound, but soon Simone can be heared better. After that the sound of the band is well balanced: the instruments are not that loud and the audience can hear Simone. The whole band sound like a good machine: everyone knows their part and there is enough space to create a good show. Simone uses her voice diverse, not only in a classical way. They play a lot of songs from the last record 'Consign to Oblivion' as well as from their debut record.
Performance
Simone has grown a lot in her movements: more natural, controled and secure. Many people were curious to see this band live, so it was crowded, but it also was hard for the band to keep them interested. Many people will recognize some progmetal elements in the arrangements and in the keyboard sound of Coen. The contrasts between the voice of Simone and the heavy guitarlines, grunts of Marc and the drums are heavy enough. There is enough interaction between the members and with her red hair Simone is the eyecatcher.
Rating
Music 7
Performance 8
Sound 7
Light 6
Total 7 (7,1)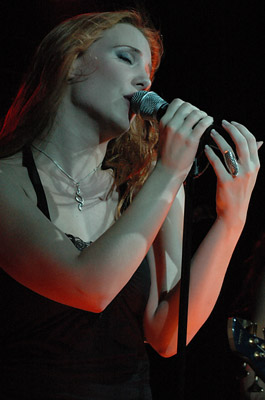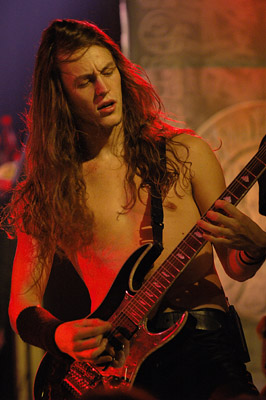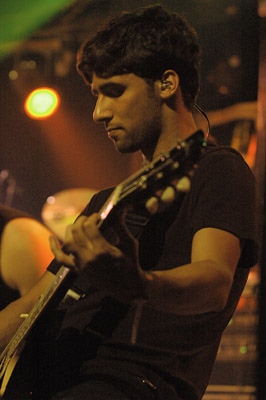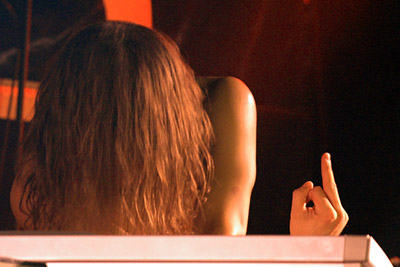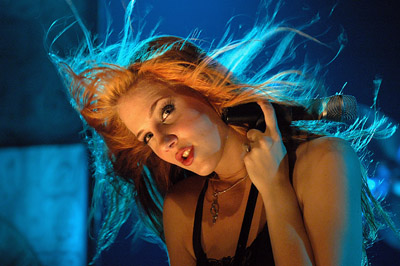 © Copyright all photos: Marcel Eijsten

This report is made in cooperation with
www.muzikantenweb.nl