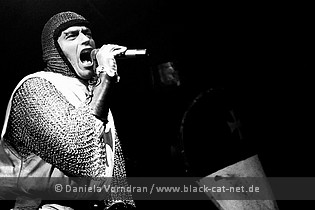 Matrix, Bochum, Germany
8th October 2010
Infacted Festival 2010: Heimataerde, Grendel, Reaper, Orange Sector, Soman
Back in 2008, the Infacted Festival in Frankfurt was meant as a celebration of five years Infacted Recordings, five years, having seen a lot of qualitative releases and the Batschkapp became a single, big party. The festival raised a big demand for more, more party, more good music and another occasion to celebrate with good bands. So it became clear that in 2010 there would be another Infacted Festival, a bigger one taking place in several locations. One of those events was going down yesterday at Matrix in Bochum.
Soman
SOMAN is a power noise act from Germany. Starting off as sound engineer with ABSURD MINDS, HOCICO and TERMINAL CHOICE and remixing songs by VNV NATION, ROTER SAND and TOM WAX, Kolja Trelle entered the scene as SOMAN with the album 'Sound Pressure' in 2003. This placed him within the power noise genre with artists such as COMBICHRIST. He has made numerous live appearances, supporting VNV NATION on their "Matter and Form" tour, as well as playing at WGT, M'era Luna Festival, Infest Festival and so on. His latest release is the album 'Noistyle'. SOMAN is Kolja Trelle.
http://www.soman.de/
/
http://www.myspace.com/soman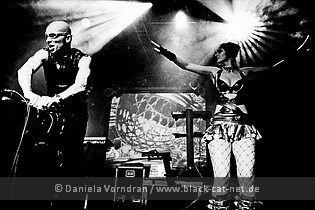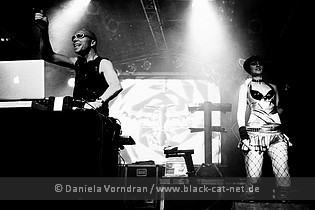 Music & Performance
Our evening started very "relaxed" with a little bit of SOMAN which means lots and lots of electro beats and a Kolja Trelle who already in the beginning had an awesome fun in partying along to the opening track, one off the new album 'Noistyle'. So the stage wouldn't look that empty, he brought two dancers with him who were shaking the limbs according to the rhythms. According to Kolja the next one was an older track, and that older track upped the bass power at least three levels. In fact, I hardly could hear anything else than the bass drum. On rare occasions there are also vocals to be found in SOMAN tracks, happened on 'Mask' with vocals by LAHANNYA, just from the HD I have to add. Even though that kind of music is an invitation to dancing, not too many were actually doing it which surprised me if I'm honest. Maybe with the next act?
Rating
Music: 5
Performance: 5
Sound: 6
Light: 7
Total: 5.5 / 10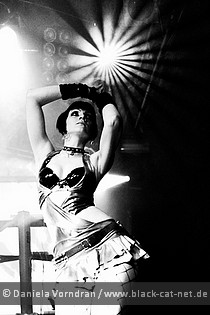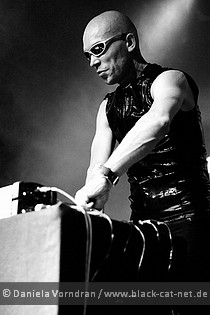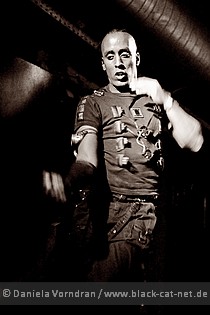 Orange Sector
ORANGE SECTOR emerged in Hannover 1992. The name is word play and describes the area you're residing in during band activities. As they're all big admirers of the band DAF (Deutsch Amerikanische Freundschaft) you might guess which sound they've developed. Their first demo tape was only sent out to Zoth Ommog. Label head Talla2XLC liked the material and passed it on to producer Andre Schmechta and ORANGE SECTOR were just where they wanted to be. The debut 'Faith' came out in 1993 and had a real dance floor smasher 'Kalt wie Stahl' in its track list, just to be followed by the second coup 'Flashback' only one year later which again had some hits on it with 'Götter' and 'Für immer'. Lars left the band after the 'Flashback' tour and continued the project more or less successful but after quite some time, he decided to retreat from the music business. 2004 then saw the revival of ORANGE SECTOR in original line-up on Infacted Recordings and they released a few albums since then with 'Krieg Und Frieden' as the latest album. ORANGE SECTOR is Martin Bodewell (vocals, synths, programming) and Lars Felker (backing vocals, drums, lyrics).
http://www.orange-sector.de/
/
http://www.myspace.com/orangesector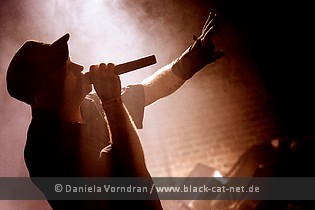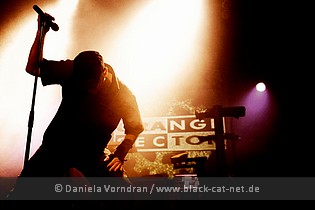 Music & Performance
The first surprise of the day came upon us with Martin Bodewell of ORANGE SECTOR appearing on stage alone and no clearing up about the whereabouts of Lars would follow in the following minutes of a set that started with 'I Hate You', seeing Martin marching back and forth the stage on his own, screaming out the commanding vocals. What I was wondering about earlier happened indeed and more people danced than before with SOMAN. Still, the audience could do much more in my opinion. Second one on the list was 'Endzeit', spitting fury at you in abundance and it felt like the vocals had gotten even rougher on that one. The following title song off the new album 'Krieg Und Frieden' shifted from fast to slow but either way animated to do some wild dancing, followed by loud applause after the song. A non-existent element in the recent tunes were actual melodies, which were now going to appear within the racing 'Götter', pushing the adrenaline up high. Before Martin left the stage again to give the audience a little time to recharge 'Kalt wie Stahl' blew up in our faces. That was much better!
Rating
Music: 7
Performance: 7
Sound: 7
Light: 7
Total: 7 / 10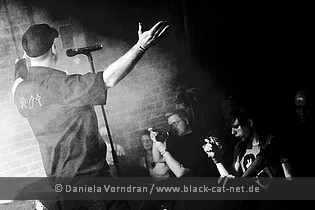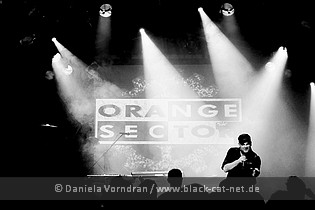 Reaper
The project was founded by Vasi Vallis, known through NAMNAMBULU and the follow-up project FROZEN PLASMA as side project just for the sake of fun. The harsh industrial club music he produces with REAPER is on heavy rotation in the clubs. His release called 'The Devil is Female' and hit the stores in November 2007. The newest accomplishment of REAPER goes by the name of 'Dirty Cash'. The live line-up consists of Vasi (vocals), Gregsen (keys) and Gordon (guitar).
http://www.reaper-music.de/
/
http://www.myspace.com/reapermusic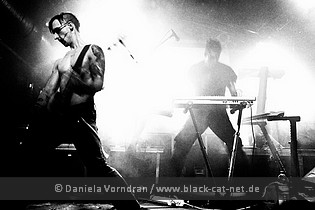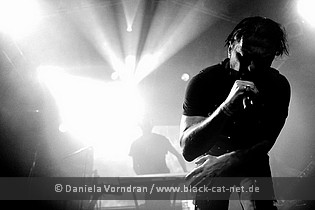 Music & Performance
Now that the warm-up phase had come to an end, the real party would start with Vasi and his pack of crazy lads Gregsen and Gordon. As the first assault on the crowd they chose 'The Devil Is Female'. The beats cracked the hard shield some were still wearing and finally got them into action and those who were entering just afterwards would be given the treatment with the 'Twisted Trophy Hunter' who now paid the club a visit. Vasi chose for stomping around on stage and pushing the crowd with the vocals while Gordon was posing a lot with his guitar. Hyperactive Gregsen did what he always does; rocked like a maniac behind the machines. On several occasions, however, he would be leaving his regular place to come to the front, performing with Vasi like on blistering 'X-Junkie'.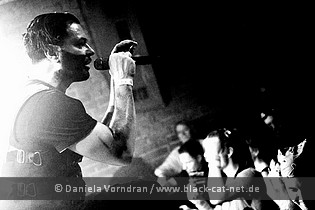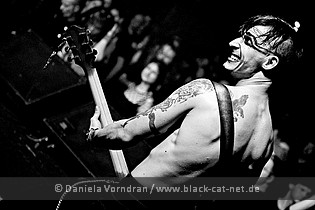 The other way around Vasi would take a place behind the machines for the industrial 'Robuste Maschine'. That was after the new song 'Dirty Cash' had celebrated its Bochum premier. As the last one of the set 'She's A Devil And A Whore' came blasting out of the speakers and had the crowd twitching one last time.
Setlist
01. The Devil Is Female
02. Twisted Trophy Hunter
03. Execution Of Your Mind
04. X-Junkie
05. Dirty Cash
06. Robuste Maschine
07. She's A Devil And A Whore
Rating
Music: 7
Performance: 8
Sound: 7
Light: 8
Total: 7.5 / 10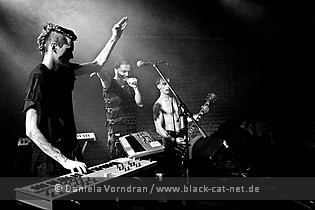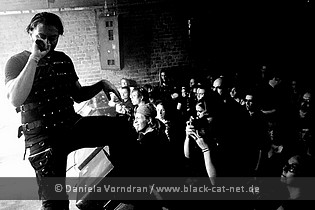 Grendel
After his former band split up, [VLRK] decided to continue making music under the new name GRENDEL, which originates from a character from the old Anglo-Saxon tale 'Beowulf'. Meanwhile grown to a duo, the project released its first promo with the club hit 'Strangers', followed by the first demo 'Inhuman Amusement' a half year later, which came to the attention of NoiTekk Records, who signed GRENDEL immediately. After some intensive re-work, the demo became the first album. GRENDEL took their sound to new levels with each of the following releases such as the pretty melodic 'End of Ages EP' and the following album 'Prescription Medicide' which combines destructive beats with orchestral arrangements. In 2007, GRENDEL signed to the renowned German label Infacted Recordings and released their third album 'Harsh Generation'. New material came in 2009 with the EP 'Chemicals & Circuitry'. GRENDEL is [VLRK] (vocals, synths, programming, sampling), [M4RC] (live drums/percussion, programming (studio)) and [MRKO] (live synthesis, engineering).
http://www.myspace.com/grendel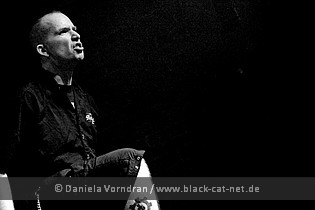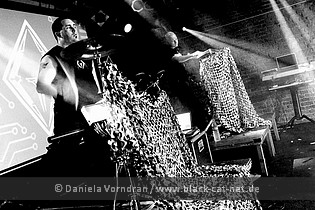 Music & Performance
GRENDEL were playing earlier than scheduled since HEIMATAERDE arrived a bit later. So we got the headliner gig antedated if you want. The stage for GRENDEL was empty; the synths and e-drums build up in the background to give Jos what he needed more than anything else: Ample space! Something he used widely after rushing on stage to the first beats of 'Harsh Generation', opening the set upon completion of a classical, melodious introduction. But the man didn't just leave it at that. In addition to running and screaming like a berserk, he demanded participation of the audience; they needed to scream louder than they actually had to before, and he let them sweat with no pause given. The ride continued with 'Remnants' beside the monotonous beats having to offer a cool melody, a melody also the following 'End Of Ages' harboured. I'll have to point out though I liked the old sound of the track much better than the new, more polished, incarnation.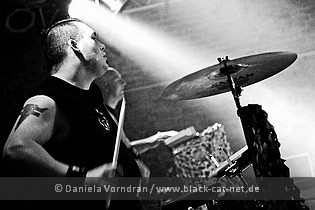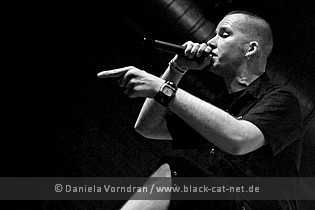 'Void Malign' and 'One.Eight.Zero' kept everyone on their toes. Well, not everyone, some even managed to stand still there, but that was a minority. One of my favourites with the "older" GRENDEL songs came up with 'Soilbleed' and also here Jos showed he knew how to handle the audience and let them do the military rap therein with him together. You could come to doubt he would be able to keep this level up for the entirety of the show yet he did, and when they left the stage and the audience didn't react accordingly, a voice came from backstage, shouting "Do you want a fucking encore or not?" Then they did what was expected and GRENDEL returned for one more track, a new one from the upcoming new EP as we were told, so fresh Jos didn't even remember the title at first. It ended the show properly for the fans.
Rating
Music: 7
Performance: 8
Sound: 8
Light: 8
Total: 7.6/ 10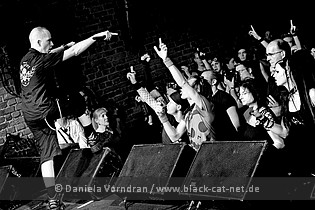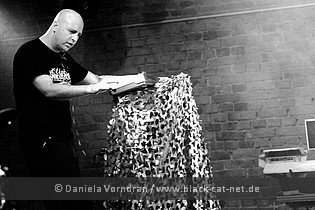 Heimataerde
This project goes a fairly unusual way with its fusion of medieval sounds like bagpipes for instance with electronic sound, what was causing a stir, when the project released the track 'Du fehlst mir' on the first compilation of the label Infacted Recordings, HEIMATAERDE later signed a contract with. Behind this project stands a man with the alias Ashlar von Megalon and his appearance remained a secret, because Ash initially refused to play live to let the music speak for itself, but in 2007 on the Wave Gotik Treffen, the fans could finally experience HEIMATAERDE live. Until today, the project has released two albums, three singles, several EPs, newest one being 'Dark Dance' EP, heralding the upcoming new full-length 'Unwesen'. HEIMATAERDE is Ashlar von Megalon (vocals, instruments, concept) supported on stage by a live crew consisting of Bruder Ansgar v. Hucretha, Bruder Andreas, Bruder Peter von Thüringen, Bruder Nikolaus and Berchovesche.
http://www.heimataerde.de/
/
http://www.myspace.com/heimataerde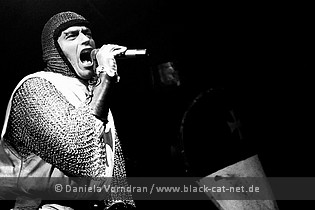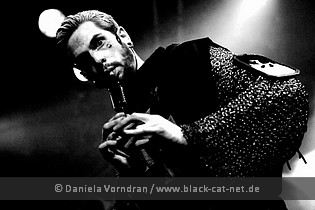 Music & Performance
It seemed that some had already wrapped up their evening with GRENDEL since there were visibly less people attendant when HEIMATAERDE entered the stage in their medieval dresses. An intro sounded and soon the first melodies of 'Deus Lo Vult' would announce the proper beginning of this evening's last act's show. Then, the Templars and assassins walked in, two of them dropping some of their armoury and guarding the respective edges of the stage. Ash took off the helmet and began delivering the vocals. Another medieval bagpipe melody, played by Bruder Ansgar on a kind of synthetic flute thingy, introduced the next song 'Der Verfall', soon getting company by hard guitars and beats. It got a little darker and to some extends calmer with 'Eins Sein', resounding with certain desperation.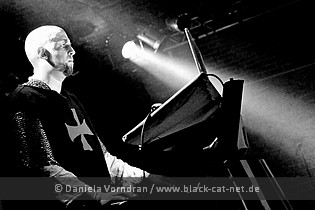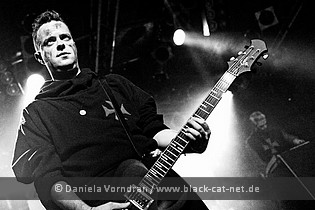 To the following 'Gotteskrieger' off the upcoming new album 'Unwesen', the audience was asked to do a little clapping which they were happy to do it seemed and 'Gottgleich' was presented by Ash with a blood-smeared face and a mental look on his face. After the HEIMATAERDE show had found its end, the evening still wasn't over for everyone since it was party time at the club and while others were headed back home, some decided to stay have some drinks and still dance a hours.
Rating
Music: 6
Performance: 7
Sound: 7
Light: 7
Total: 6.6 / 10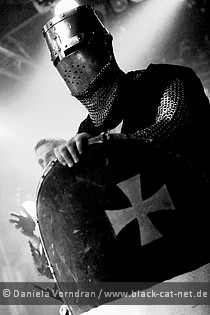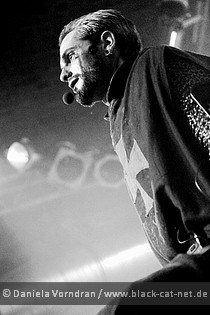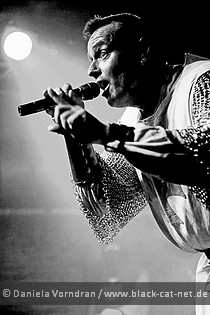 All pictures by Daniela Vorndran (
http://www.vorndranphotography.com/
/
http://www.black-cat-net.de/
/
www.myspace.com/vorndranphotography
)
{jos_sb_discuss:17}