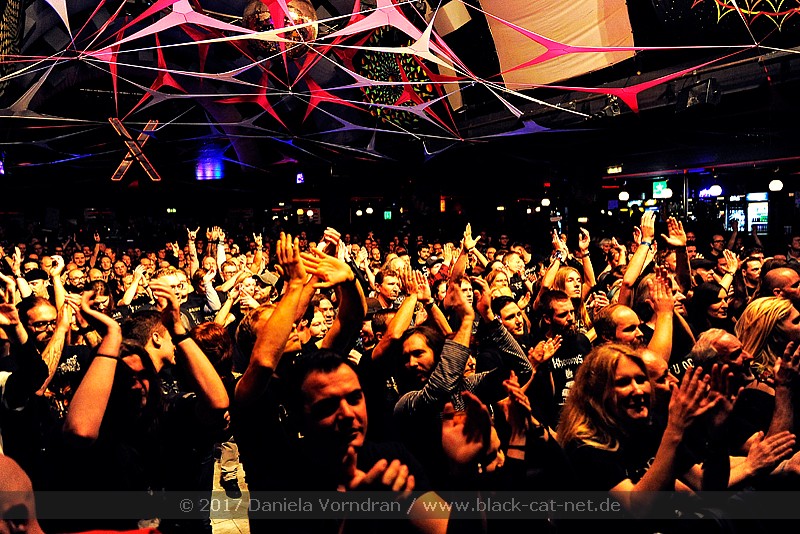 X, Herford, Germany
28th September 2017
Paradise Lost, Pallbearer, Sinistro

British cult metallers PARADISE LOST just embarked for their big European tour this fall, playing their first German show in Herford! Between September and November, the band will stop in 14 different countries, to duly celebrate the release of their 15th full-length album, marking a return to their roots with crushing doom elements and Nick Holmes' unique growls.
This 15th studio album saw the light of day in September via Nuclear Blast and is entitled 'Medusa'. As some might know, Medusa is considered a hideous Gorgon in Greek mythology - a winged female monster with living venomous snakes in place of hair, everyone who dares to look at her will immediately turn to stone! PARADISE LOST brought their label mates and US doomsters
PALLBEARER
, as well as
SINISTRO
from Portugal, who opened the show. Drowning in beautiful sorrow… that's what we did in Herford. Here are some pics for you.
Sinistro

http://www.sinistroband.com/ https://www.facebook.com/sinistroband
Pallbearer

http://pallbearerdoom.com/ https://www.facebook.com/pallbearerdoom
Paradise Lost

http://www.paradiselost.co.uk / https://www.facebook.com/paradiselostofficial
Setlist

01. Blood and Chaos
02. Remembrance
03. From the Gallows
04. One Second
05. Tragic Idol
06. Medusa
07. No Hope in Sight
08. Shadowkings
09. Eternal
10. Forever Failure
11. Faith Divides Us - Death Unites Us
12. An Eternity of Lies
13. The Longest Winter
---
14. Fearless Sky
15. Embers Fire
16. The Last Time
More on
Paradise Lost
See also (all categories):