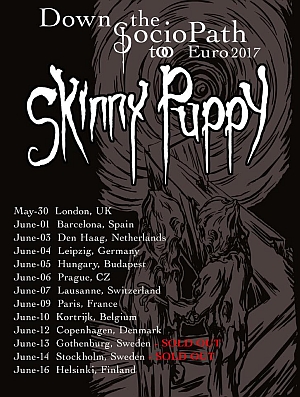 If there's a must-see tour for European fans of dark music this summer, then it's surely the SKINNY PUPPY tour starting in May and June. After all, it's the first SKINNY PUPPY tour in Europe since 2010, when the "In Solvent Sea" tour led the legendary Canadian duo to European shores, including headlining gigs at the M'era Luna and Amphi Festival in Germany, the Recession Festival in Denmark and the Gothic Festival in Belgium. So it's been a long time for fans since they had the chance to see multi-instrumentalist and producer Cevin Key and singer/ performer Nivek Ogre and their varying guest musicians live. And anyone who ever saw one of the amazing SKINNY PUPPY performances knows that it's quite a bitter thing to miss out a SKINNY PUPPY show. That's not only because SKINNY PUPPY are legendary trailblazers of Industrial and Electronica who influenced vast array of other bands from
NINE INCH NAILS
,
MINISTRY
and
MARILYN MANSON
to
FILTER
,
DEFTONES
(who even contributed to a SKINNY PUPPY tribute album) and
TOOL
, plus a plethora of younger bands from the Goth & EBM scene.
It's also because SKINNY PUPPY truly still know how to put on a mind-blowing show. From their start in 1982, SKINNY PUPPY as live performers have always been more than a standard Rock show, and that's even more true in the 21st century with modern-day technology, which makes a SKINNY PUPPY concert a multi-media attack on all of your senses with stunning visuals and video projections, and elaborate stage setups. It's arguably one of the most theatrical shows you will get to see, and Nivek Ogre switches roles (and often enough also costumes) from song to song. Consequentially SKINNY PUPPY's concerts are no nostalgic parade of vintage songs, as many other bands nearing their fourth decade would do, but they rather pick songs old and new who fit the respective concept of a tour and help to transport the narration of the performance.
So while the last three tours - the "Live Shape For Arms Tour" following the release of the album 'Weapon' and the "Eye vs. Spy" tour together with
FRONT LINE ASSEMBLY
,
HAUJOBB
and
YOUTH CODE
- were exclusively North-American affairs, SKINNY PUPPY fortunately extend 2015's "Down The SocioPath" tour to Europe this year. Some countries like Germany or France get exclusive festival shows, e.g. at the Wave Gotik Treffen in Leipzig where SKINNY PUPPY are going to headline the huge Agra Halle on Sunday, June 4th. But if you are more inclined to see the pioneering band in a more intimate setting - and in some cases also willing to travel - there are also a few clubs shows across the schedule. For example the gigs in Den Haag, Netherlands, and Kortrijk, Belgium. Prague always has a great crowd at SKINNY PUPPY shows and if you consider taking a cheap flight to London to see the band at O2 Forum in Kentish Town you should hurry up to get a ticket, word is that the gig is almost sold out. In any case, you simply should not miss to see SKINNY PUPPY live this summer, you never know when your next chance comes! And there's no doubt that it's gonna be an amazing experience...
Watch the official video trailer for the Down the SocioPath Euro Tour 2017:
http://www.youtube.com/watch?v=zJy-EdDWbSA
European Dates

May 30 London, UK (O2 Forum Kentish Town)
Jun 1 Barcelona, Spain (Primavera Sound festival)
Jun 3 Den Haag, Netherlands (Paard Van Troje)
Jun 4 Leipzig, Germany (Wave Gotik Treffen, Agra Halle)
Jun 5 Budapest, Hungary (Dürer Kert)
Jun 6 Prague, Czech Republic (Lucerna Music Bar)
Jun 7 Lausanne, Switzerland (Les Docks)
Jun 9 Paris, France (Download Festival)
Jun 10 Kortrijk, Belgium (De Kreun)
Jun 12 Copenhagen, Denmark (Amager Bio)
Jun 13 Gothenburg, Sweden (Brewhouse)
Jun 14 Stockholm, Sweden (Kraken)
Jun 16 Helsinki, Finland (Tavastia-klubi)
http://www.facebook.com/OfficialSkinnyPuppy / http://skinnypuppy.com
More on
Skinny Puppy
See also (all categories):