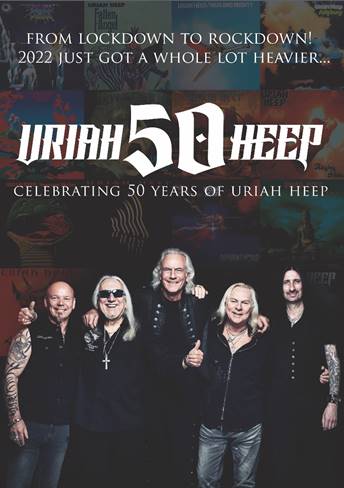 URIAH HEEP announce an extensive European tour for this year, 61 show dates in 28 countries. URIAH HEEP was able to celebrate their 50th anniversary in 2020. The global pandemic made it impossible to tour. That should now be made up for and this milestone celebrated with the tour.
Mick Box: "At least we can now celebrate our 50th anniversary and say 'Lockdown into Rockdown'. We're here two years later, but maybe that makes everything even more special."
URIAH HEEP have proven to be a very impressive band - live in a class of their own - the hardcore fans have always been loyal and they've gained many new listeners as well. "Celebrating 50 Years Of Uriah Heep Tour" will be one of the rock events of 2022.
German Tour Dates 2022

Fri 9th Sept - Laeiszhalle, Hamburg
Sun 11th Sept - Haus Auensee, Leipzig
Mon 12th Sept - Lichtburg, Essen
Fri 16th Sept - Muffathalle, Munich
Sat 17th Sept - Theater am Potsdamer Platz, Berlin
Sun 18th Sept - Amphitheater, Hanau
Tues 8th Nov - Lowensaal, Nuremberg
Wed 7th Dec - Liederhalle, Stuttgart
Thurs 8th Dec - Kulturpalast, Dresden
Fri 9th Dec - CCS, Suhl
Tickets:
https://tidd.ly/3AkHHw7
With the well-known UK Rock institutions like BLACK SABBATH, JETHRO TULL, DEEP PURPLE and YES, URIAH HEEP stands for one of the original progressive Hard Rock formations of the golden era of this music, which is still relevant today. URIAH HEEP's longevity is a testament to Their music, excellent songwriting, unrivalled live shows and never-ending hard work. The band's career spans 52 years: 25 studio albums, 21 live albums, more than 45 million album sales and more than 4,000 shows worldwide in 60 countries.
http://www.uriah-heep.com / https://www.facebook.com/uriahheepofficial
See also (all categories):