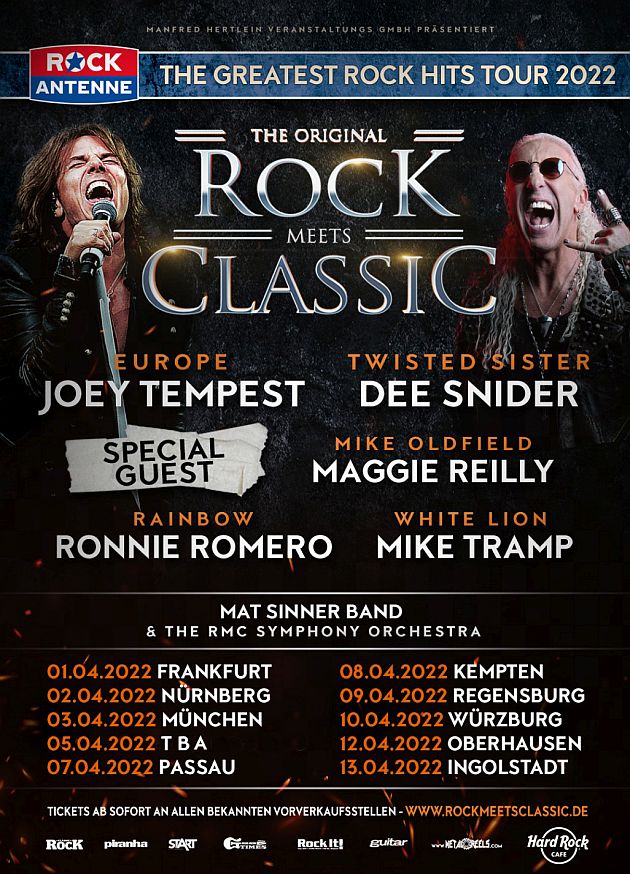 Arena Nürnberger Versicherung, Nuremberg, Germany
22nd April 2023
Rock meets Classic 2023 with Joey Tempest (Europe), Dee Snider (Twisted Sister), Maggie Reilly (Mike Oldfield), Mick Box & Bernie Shaw (Uriah Heep), Ronnie Romero (Rainbow), Mike Tramp (White Lion)

Rock Meets Classic is a concert series that has been touring Germany and other European countries once a year since 2010 with various star guests. A symphony orchestra and bands play hits from Rock history together which are mainly sung by the original singers who change every year.
Line Up

RmC Band

Guitars: Tom Naumann & Alexy Beyrodt
Keyboard & Musical Conductor: Lisa Müller
Drums: Michael Ehre
Bass: Alex Jansen
Vocals: Sascha Krebs (Captain Of The Choir), Goergia Colleluori, Sarah Fox, Gabriela Guncikova
The RmC Symphony Orchestra

Conductor: Mario Gebert
Management: Pawel Jurys
Joey Tempest (EUROPE)

Joey Tempest (born August 19th 1963 in Upplands Väsby, Sweden as Rolf Magnus Joakim Larsson) is the lead singer of the Swedish Hard Rock band EUROPE. After the band broke up in 1992, Joey Tempest released three albums of his own. The band has been reunited since autumn 2003 and celebrated a comeback with the album 'Start from the Dark', which was released in October 2004. In 2016 and 2023, Tempest was the main singer of the show tour Rock meets Classic.
Dee Snider (TWISTED SISTER)

Daniel "Dee" Snider (born March 15th 1955 in Astoria, Queens, New York, USA) is an American musician and the former lead singer of the Heavy Metal band TWISTED SISTER. In 1976 he joined the young band TWISTED SISTER and released several successful albums. After the band broke up in 1987, Snider tried his hand at various projects. In 2003, TWISTED SISTER reunited and embarked on their first European tour in many years. In 2016, TWISTED SISTER disbanded again.
Maggie Reilly (MIKE OLDFIELD)

Maggie Reilly (born September 15th 1956 in Glasgow, Scotland) is a Scottish singer. She met Mike Oldfield in 1980 through her boyfriend and later husband, recording engineer Chrys Lindop. First, she appeared as a soloist on a European tour of Oldfield (1981) and sang parts of a song for his album 'QE2'. For the subsequent album 'Five Miles Out' (1982), Oldfield committed her as a soloist. Their big musical breakthrough came in 1983 with their third joint project: Oldfield wrote the song 'Moonlight Shadow' for the album 'Crises'. Carried by Maggie Reilly's clear soprano, the song became an ongoing international success, reaching number 4 in the UK and even number 2 in Germany. Following the success of 'Crises', Reilly also worked as a soloist on Oldfield's next album, 'Discovery' (1984). Above all, the song 'To France' was a major success. After that, she rarely worked with Oldfield. While working for the LENNY MACDOWELL PROJECT and ARTISTS UNITED FOR NATURE, Maggie Reilly met Munich music manager Jürgen Thürnau and Stefan Zauner, the singer of MÜNCHNER FREIHEIT. In co-production with him and Armand Volker she recorded her first solo album 'Echoes' in 1991, which also included the airplay hit 'Everytime We Touch' (composed by musician and studio singer Peter Risavy, died January 23, 2011).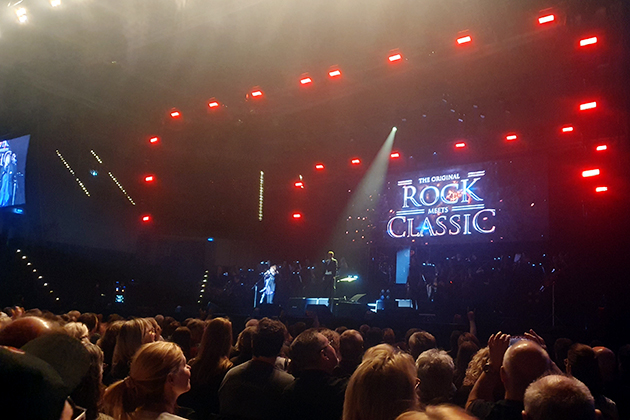 Mick Box & Bernie Shaw (URIAH HEEP)

URIAH HEEP is a British Hard Rock band named after a roadie looking for work. Along with BLACK SABBATH, DEEP PURPLE, LED ZEPPELIN and NAZARETH, URIAH HEEP is one of the early and most successful representatives of the genre. The band's history is also marked by frequent member changes, deaths, musical differences and drug problems. Today, lead guitarist Michael "Mick" Frederick Box (born June 9th 1947 in Walthamstow, East London, England) is the only remaining founding member in charge of the band's fortunes. In contrast to many other performers, URIAH HEEP emphasizes the melodic side of Hard Rock more in some of their works through their sophisticated, often polyphonic singing. The band has sold over 40 million records. Bernie Shaw (born June 15th 1956 in Vancouver, Canada) is a Canadian Rock singer. He gained notoriety primarily through his engagement with the British band URIAH HEEP.
Ronnie Romero (RAINBOW)

Ronald "Ronnie" Romero (born November 20th 1981 in Santiago de Chile, Chile) is a Chilean Hard Rock and Heavy Metal singer. He has been the singer of the Hard Rock band RAINBOW since 2016 and the MICHAEL SCHENKER GROUP (MSG) since 2021. In November 2015, Ritchie Blackmore announced that Romero would be the new lead singer in the reunion of his band RAINBOW, which he broke up in 1997. According to Blackmore, his wife Candice Night, who is also a BLACKMORE'S NIGHT singer and RAINBOW backing vocalist, happened to have YouTube videos online of Romero's Spanish RAINBOW tribute band RISING performing the song 'Man on the Silver Mountain' at the 2014 Leyendas del Rock Festival discovered and advised him to get in touch with him. Because of Romero's discovery, Blackmore developed the idea of reactivating the band RAINBOW with him. RAINBOW had not played live in 19 years.
Mike Tramp (WHITE LION]

Mike Tramp (born Michael Trempenau on January 14, 1961 in Vesterbro, Denmark) is a Danish Rock singer and songwriter. He was a founding member and lead singer of the American Hard Rock band WHITE LION. Tramp first came to prominence as the lead singer of the Danish pop group MABEL. In 1978 the group represented Denmark in the Eurovision Song Contest with the song 'Boom Boom'. He emigrated to New York in 1982 and formed the band Lion, which later became WHITE LION.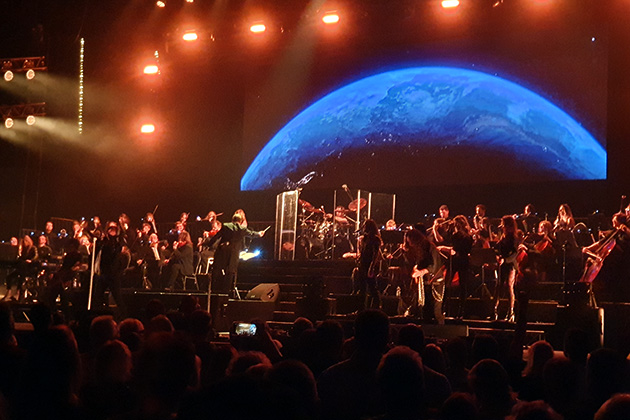 Rock meets Classic Show

The RMC Symphony Orchestra, which was specially put together for the concert series, takes on the classical part of the arrangements while the MAT SINNER BAND, a German Rock band that was accompanied by several background singers, was responsible for the Rock music until 2020. From 2010 to 2020, Mat Sinner was musical director and creative director of the Rock Meets Classic production. The core of the backing band includes Zlatko Jimmy Kresic, Alex Beyrodt & Tom Naumann and Oliver Hartmann on guitars, Moritz Müller on drums and the singers Sascha Krebs, Gabriela Gunčíková and Giorgia Colleluori. In 2020 the tour had to be cancelled prematurely due to the corona pandemic, and there were no tours in 2021 and 2022 due to the pandemic
Music & Performance

The show began with a medley of QUEEN songs performed by the orchestra, singer and three female singers. Lead singer Sascha Krebs welcomed the audience and the artists. The first solo artist was Mike Tramp (WHITE LION) with the two songs 'Radar Love' (originally by GOLDEN EARRING) and 'Tell Me' (of WHITE LION). He was followed by RAINBOW singer Ronnie Romero who performed three songs: 'Long Live Rock 'n' Roll' - and two tracks written by Russ Ballard: 'I Surrender' and 'Since You've Been Gone'. The next one on stage was the 1st real highlight of the evening: Maggie Reilly performed her biggest hit originally recorded together with MIKE OLDFIELD, 'To France', followed by her main solo charts hit 'Everything We Touch' and she finished with her debut hit by MIKE OLDFIELD, 'Moonlight Shadow', the 1st real sing along of the evening for the visitors. For the last song Alex Jansen played on a special 12 string guitar for her interpretation of 'Moonlight Shadow'. Even if Maggie Reilly will turn 67 years in 2023, and also nicely looked as been aged until then, her beautiful singing with her outstanding soprano voice still sounded amazing, clear, fresh and gave her performance a lot of youth feeling.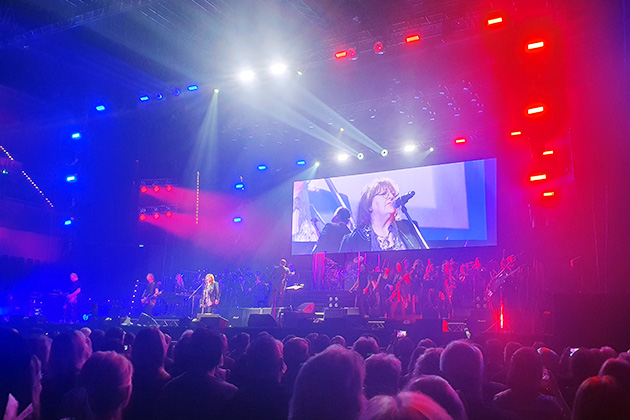 Afterwards Sascha Krebs said that one third of the show would now be over, he introduced Conductor Mario Gebert and was wondering, why (as he said here at this show like been so before in all shows) there has been always a group of people sitting in Block A, 1st row, seats 1 to 7) - but just and only sitting, not moving at all - due to "just convenience or even gravity?" To everyone's surprise, Mike Tramp returned back onto the stage with two more WHITE LION songs, 'Broken Heart' and 'When the Children Cry'. Then the RmC Orchestra together with Maestro Mario played 'When Children Cry A New World begins'. Next, after a short break, were URIAH HEEP, who were welcomed for their 3rd performance at RmC after 2014 and 2017. They performed four of the band's songs: 'Free Me' (from the 1971 album 'Look At Yourself' and joined on front stage by keyboard played Lisa Müller), 'July Morning', 'Easy Livin'' and 'Lady in Black' - celebrating with the fans. Then came co-headliner Dee Snider of TWISTED SISTER, who was already one a guest star in 2017 for the two shows - among it the one-off performance for 75,000 Metalheads at Wacken Festival. He sang three of the band anthems: 'We're Not Gonna Take It', 'The Price'. 'I Wanna Rock' (where he described and showed a "Metal Horns Hand" - and made very clear to some people in the audience's back parts, that the song is not named 'I Wanna Sit'. He finished his set with an AC/DC cover version, 'Highway to Hell'.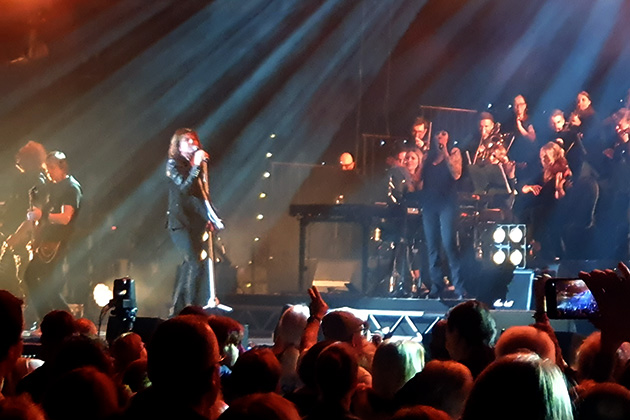 The highlight of the show was the performance of Joey Tempest with six EUROPE songs to end the show. He was already starring the RmC tour back in 2016. He started his performance with 'Walk The Earth', the title of the band's 2017 album. Then he congratulated cello player and singer Georgia for her birthday on that day. Next song to be played was 'Ready Or Not' (from the 'Out Of This World' album from 1988), followed by 'Superstitious' from the same record, where together with the orchestra he mixed snippets of U2's 'With Or Without You' melody and lyrics in the performance. He continued with snippets of BOB MARLEY's 'No Woman No Cry' and sang EUROPE's 'Carrie'. During the second-last song of the evening, 'Rock The Night', he made an extensive walking / running tour through and around the whole huge 1st block of the seated area, giving the viewers many handshakes and high fives, what a journey to end and full fill the evening. The final and last song was 'The Final Countdown' performed by all performing artist of the evening - with various verses within the lyrics were sung by different singers. What a great final this was!
Setlist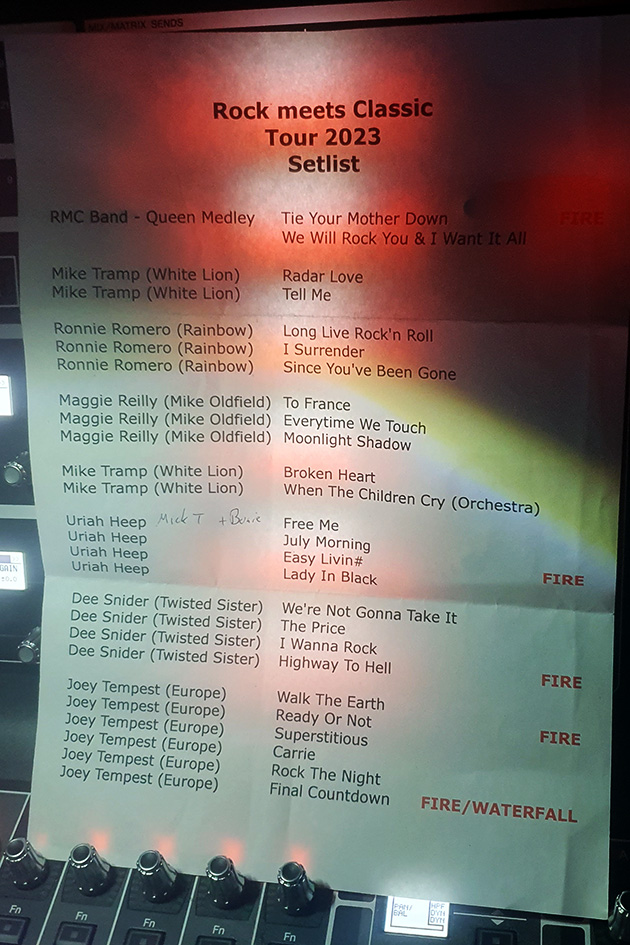 Rating

Music: 7.5
Performance: 7.5
Light: 7
Sound: 8
Total: 7.5 / 10
All Pictures by Oliver Besser
See also (all categories):