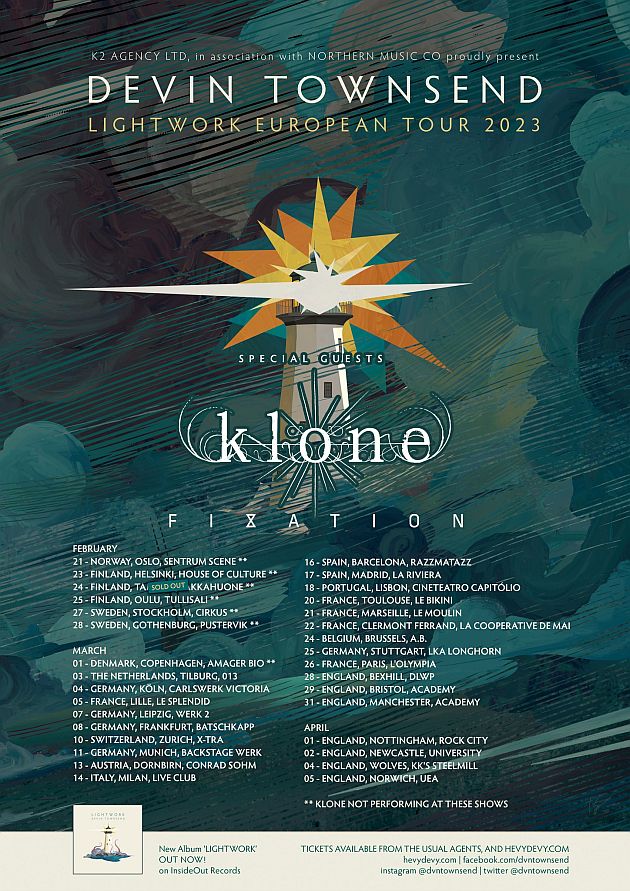 Sentrum Scene, Oslo, Norway
21st February 2023
Devin Townsend - "Lightwork European Tour 2023" - Support: Fixation

For over 25 years, the proclaimed genius musician DEVIN TOWNSEND has maintained a sky-high and consistent level. Consistent in the way that he is rarely consistent at all. With constant unique forays into a wide range of genres and different forms of music, he is notorious for his playfulness wherever it has taken him for three decades.
Although Heavy Metal and Progressive Rock have always been Townsend's primary focus, his peripheral work in recent times has flirted with Country, New Age, Ambient Noise and, hold on tight, orchestral theater musicals. The fans have welcomed Townsend's musical schizophrenia with open arms, but that has also made him almost impossible to fit to a category. Who is DEVIN TOWNSEND? What kind of music does he actually play?
After a few exceptionally long years full of personal change and near manic levels of creative activity, DEVIN TOWNSEND released his follow-up to 2019's well-received 'Empath' in the form of his new release: 'Lightwork'. Assembled from a barrage of material written during the pandemic, 'Lightwork' (and its companion album of B-sides and demos; 'Nightwork') represents Devin at this stage of his life, post- pandemic, and his reflections on what he (and many of us) all gone through.
Additional Concert Info

Doors: 19:00
Start: 20:00
Tickets: are available for 640.00 NOK via
Ticketmaster
Facebook Event: https://www.facebook.com/events/3229026000711718