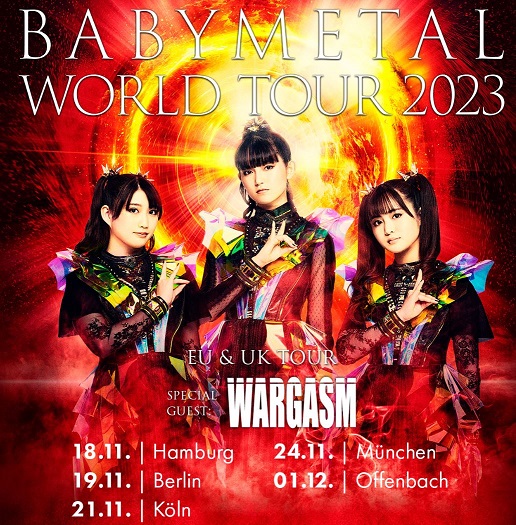 Palladium, Cologne, Germany
21st November 2023
Babymetal - European Tour - Special Guests: Wargasm

They are the inventors of Kawaii Metal and with just mid-20s already absolute icons: At the end of the year, BABYMETAL will come on tour to Germany with their new album 'The Other One'. From November 18 to December 1, they will be playing in Hamburg, Berlin, Cologne, Munich and Offenbach. Sugar-sweet J-Pop, innocent lyrics, Gothic-Lolita looks, sophisticated choreographies - and screaming guitars: BABYMETAL are a unique synthesis of the arts, a genre in itself. The group easily adopts styles such as power, speed and death metal, turning the scene upside down.
When the band is founded in 2010, the three members are not even 13 years old. Originally started as a subdivision of the schoolgirl idol pop group Sakura Gakuin, the formation is quickly so popular that it becomes independent. After their first singles and performances, they release their acclaimed debut album 'BABYMETAL' in 2014, as well as the flashy viral hit 'Gimme Chocolate!!!'. The crazy clash of playful kawaii earworms with hard metal and EBM elements conquers the music world.
After the release of their debut, the teenage girls go on tour for the first time in Europe and the U.S., where they perform as the opening act for Lady Gaga. Along the way, they collaborate with DRAGONFORCE and Metal legend Rob Halford. BABYMETAL, it is agreed, are the sensation of the hour. Here Pop fans become Metal fans - and vice versa. With the album 'Metal Resistance' released in 2016, the trio's success story continues: The RED HOT CHILI PEPPERS, METALLICA, GUNS N' ROSES and KORN come out as fans of the exceptional phenomenon and take BABYMETAL into their support program - not that the Japanese women don't already sell out halls worldwide on their own.
By the time their third album 'Metal Galaxy' is released in 2019, BABYMETAL already have a few records under their belt: they are the youngest band ever to perform at Tokyo's legendary Budōkan as well as the first Japanese band to headline London's Wembley Arena and one of the main stages at Glastonbury Festival. No other act from Japan has also ever been able to position themselves so high on the UK and US charts before.
How to top this career? Quite simply: with the new work 'The Other One' - a concept album that shows a more grown-up, darker side of BABYMETAL and is once again bursting with headbanging anthems with songs like 'Metal Kingdom' and 'Monochrome'. In late autumn 2023 Su-metal, Moametal and the recently introduced new member Momometal will come to Germany on headlining tour with their devoted KamiBand. And this much is already certain: it will be Kawaii, it will be heavy and it will be unique.
Additional Concert Info

Doors: 18:30
Start: 20:00
Tickets: are available from 63,00 euros (plus charges pre-sale) via
Eventim
Info: https://prime-entertainment.de/veranstaltung/babymetal-2
See also (all categories):