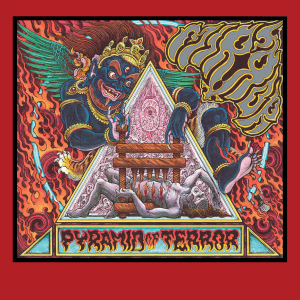 Artist: Mirror
Title: Pyramid Of Terror
Genre: Heavy Metal
Release Date: 28th June 2019
Label: Bad Omen Records
Review Flash

Yeah I am late on this one and damn well know that! Cyprus band MIRROR released this last year and I'm late to the party (and what a party it is!). MIRROR is around since 2015 and 'Pyramid Of Terror' is their second LP. To describe the sound of MIRROR is a task that is weighing heavy on this old metalhead but have no fear because I will try my very best to do this phenomenal sonic superstructure justice. The first thing I noticed when reading about the line-up was that Nikolas Moutafis of SOLITARY SABRED is one of the guitarists (great band, check them out!). After that I pushed play and once again a love-story began...
The riffs are so thick, well-rounded and literally sexy that I almost expect them to give me a lap dance, the bass is audible and so well played by Tas that I wish I had the opportunity to hear the isolated audio track of it, the drums are efficient and work as the bands literal pacemaker. Last but not least: Jimmy "Fuck, this guy sounds great!" Mavrommatis! The pipes of this man should be given a gold coating. The sound, accent and phrasing make him one of the greatest sounding Greek vocalists I had the chance to listen to yet. This record works so well because every part of this band interlock in a way I don't witness too often, the mix of Heavy Metal, high energy Hard Rock and even bits of Power Metal (Thanks to Jimmy`s voice) is just a good time packed into 41:03 Minutes of Greek steel.
Conclusion: Check them out, buy this NOW!!!
Rating: 9 / 10