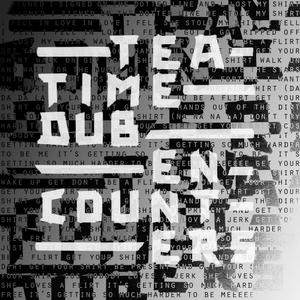 Artist: Underworld & Iggy Pop
Title: Tea Time Dub Encounters
Genre: Dub / Punk / Electro / Techno
Release Date: 27th July 2018
Label: Caroline International
Review Flash

When it was about time to find the best of the gerne to contribute to the soundtrack of the movie 'Trainspotting 2', Rick Smith of the legendary Electro duo UNDERWORLD invited IGGY POP to the Savoy hotel to confront him with a fully equipped studio. The plan was that both musicians who had contributed to the soundtrack of 'Trainspotting' would team up and get a feature to the movie done immediately. Back in time, their music had shown that Punk and Techno are not worlds apart, but have a connection and this time the result of Punk meets Electro is a 4-trck EP called 'Tea Time Dub Encounters'. Underworld's music that comes so shiny clean and polished is a sharp contrast to Iggy's aged Punk Rocker voice, that is a bit cracky and at times you might think he takes the short breaks to find the right words, so it might have been wiser to give him more time for lyric writing and rehearsals.
The EP starts with 'Bells & Circles', a Techno track that seems to be monotonous but beat by beat it increases in speed and power, while the lyrics deal with the differences of air travel nowadays and in the past, Iggy lamenting the implementation of non-smoking-flights and telling stories of the Rock'n'Roll life such as drug abuse or flirting with the flight-attendants. The next one is 'Trapped' that clearly aims at fans of the EBM Genre and comes with some great melodic parts and well-dosed female backing vocals, the further the song proceeds. The lyrics of 'I'll See Big' deals with aspects of friendship and comes with a warm and spheric background sound. Hearing Iggy Pop performing the lines "Get your shirt, get your shirt / cause nobody loves a jerk / it's getting so much harder to feel free / it's getting so much harder just to be" sound like irony. To hear the godfather of Punk Rock who always performs without a shirt demanding the very same is quite bold for this upbeat final track. But it's exactly what you expected.
Conclusion: A good collab of two aging masters of their genre, without denying their roots, they explore new ways to express themselves.
Rating: 8 / 10