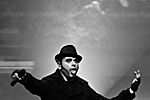 Kesselhaus at the KulturBrauerei, Berlin, Germany
20th January 2011
Fashion Rock Night with Willie Tanner and Oomph!

At the Fashion Rock Night, Rock Music and fashion show are intended to build a prolific symbiosis. The models were all members of the Rockstar Model agency, the brands which were presented were "Iron Fist" and "Elfcraft". For the musical part of the evening were assigned WILLIE TANNER and OOMPH!. WILLIE TANNER, which played first, is a band project from Nurnberg, Bavaria, and consists in Kate T. (vocals), Markus, Niko, Sergio and Andi (instrumentals). Their first album, 'How To Be A Complete Bastard', was out at 2009. They describe their own music as "C64 Porno Metal".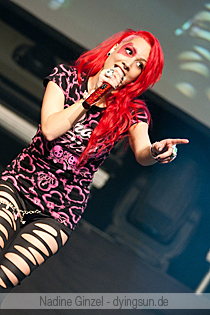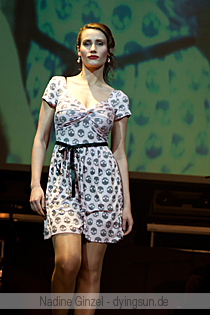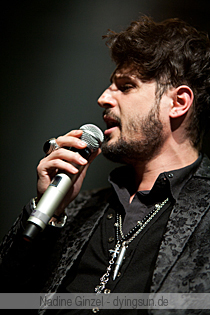 OOMPH! is one of the oldest and most famous German Gothic Rock bands. They were founded in Wolfsburg at 1989 and consist in Dero Goi (vocals,drums), Crap (keyboard, guitar) and Robert Flux (guitars, sampling). Their first album was out in 1992, since then they have published a total of 13 albums. With their singular mixture of Rock, EBM and German lyrics they have created a new music style called "Neue Deutsche Härte" and inspired bands like RAMMSTEIN. Their gig at the Fashion Rock Night was the first one they played in Berlin since one and a half year.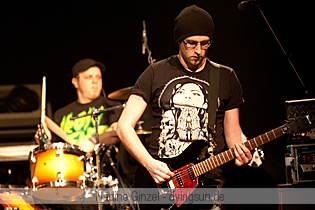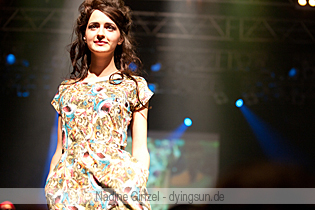 Willie Tanner and "Iron Fist"

Although the combination of Rock music and fashion sounds really interesting, the Kesselhaus at the Kulturbrauerei was only half full and most of the people were clearly members of the fashion community, wearing eccentric dresses and uncommon hairstyles. Though OOMPH! Is a real headliner at Gothic festivals and concerts, only few dark music listeners were present at the Kesselhaus. The show started with half an hour of delay. Before WILLIE TANNER entered the stage, a DJ was playing really good metal and rock, but at the screen behind the stage was displayed for one hour the some video clip of OOMPH!, which was a little bit boring. WILLIE TANNER, a nearly unknown band, played two songs which didn't enthuse the public. When they were playing their third song, the fashion show started with clothes by the Californian label "Iron Fist". Their fashion is a nice combination of corsages, mini skirts, leggings and tops for women and T-shirts, trousers and sweaters for men, all adorned with skulls, roses, bones and other rock symbols.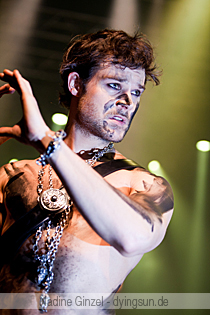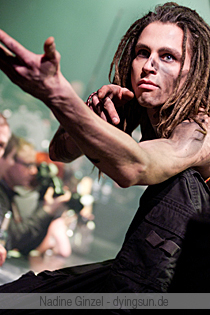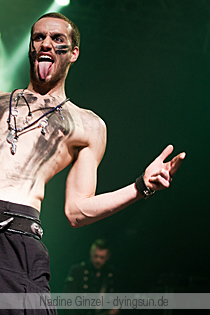 Their fashion was presented by about ten male and female models of the model agency "Rockstar Model", who differed from the mainstream models because of their piercings, tattoos, brandings, dread locks and other underground fashion accessories. They also presented some lingerie of the label. One of them was highly acclaimed by the public - a combination for women which consisted in a bra with one eye of a cat of prey in every breast and the teeth of the animal at the panty. Although the singer of WILLIE TANNER intended to carry the public away with a passionate, but not very successful performance, the listeners remained indifferent, due to the low level of the band and the not very original alternative rock music WILLIE TANNER play. It seems a little bit strange to me that just this band was chosen to play at the first half of the fashion rock night, because of the big difference of musical levels between WILLIE TANNER and OOMPH!. The first part of the show ended with a very slow applause for WILLIE TANNER and bored faces at the public.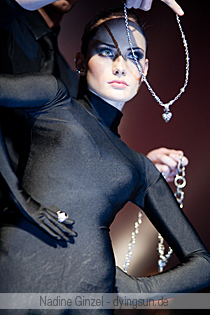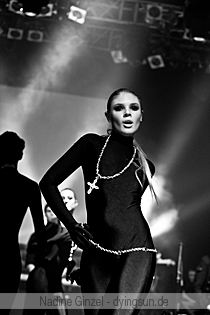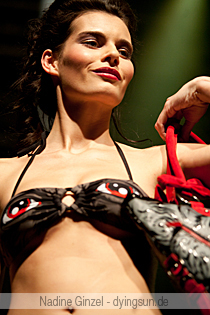 Oomph! and "Elfcraft"

Although at the program it was written that the show should be finished at 23:30, OOMPH! started to play at 23:40. Dero entered the stage wearing a black hat, a black cloak and black gloves - all very stylish, although he took off most of his clothes during the performance. OOMPH! begun playing one of their biggest hits: 'Wahrheit oder Pflicht'. The audience was delighted, given that it resulted to be the only song which most of the listeners did know. Some people said that part of the drums and guitars were playback - I'm not sure, but it could have been possible. At the second song, the audience remained much more indifferent, and Dero started the first of a large vista of intents to catch his audience. He called the "VIPs" to "do something for their money". People laughed, but it was clear that most of them didn't know OOMPH! and didn't have so much interest for their music.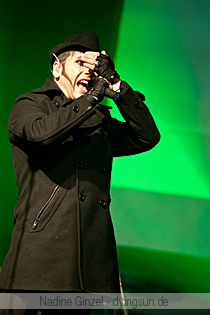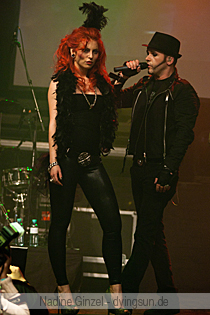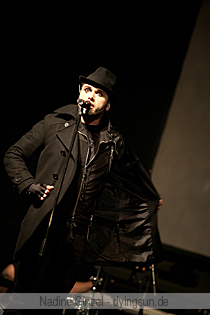 The first model appeared, imitating the late King of Pop and presenting jewellery of the label "Elfcraft". When OOMPH! played another hit of them, 'Gott ist ein Popstar', a total of six models dressed in black were standing immobile at the stage, whereas some boys were adorning them bit by bit with lots of silver necklaces. After this song, Dero quoted Barack Obama "Yes we can" and OOMPH! played their song 'Revolution', which calls people to protest against injustice. Dero indented to animate the audience crying out "Berlin, Berlin", but in vain. Only when he called the poverty of children in Germany a "shame", people woke up of their indifference and acclaimed the song 'Sandmann' and also the next song 'Fieber'.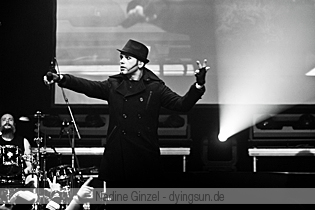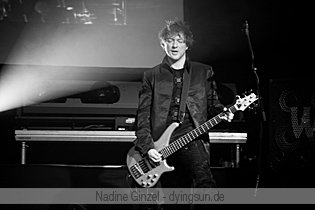 It can be said that OOMPH! gave their best, but that the audience was not the right one for this kind of music. Most of the songs they played were part of their newer albums, but nevertheless people didn't know them. The Fashion Rock Night is an interesting idea, but the combination of a band with a very low musical level like WILLIE TANNER and of a headliner like OOMPH! is questionable, and maybe it would have been better or to invite a band more known by the mainstream listeners or to make more specific publicity within the Alternative and Gothic community.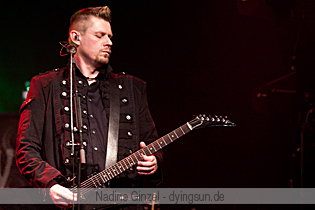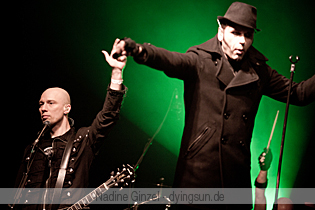 Setlist Oomph!

01. Wahrheit oder Pflicht
02. Mein Schatz
03. Träumst Du
04. Gott ist ein Popstar
05. Revolution
06. Gekreuzigt
07. Wer schön sein will muss leiden
08. Labyrinth
09. Fieber
10. Niemand
---
11. Wach auf


Rating

Music: 8
Performance: 9
Sound: 8
Light: 8
Total: 8.3 / 10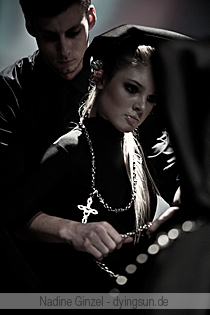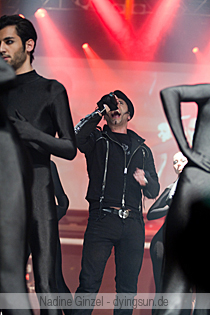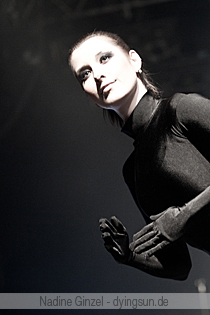 All pics by Nadine Ginzel (http://www.dyingsun.de/)