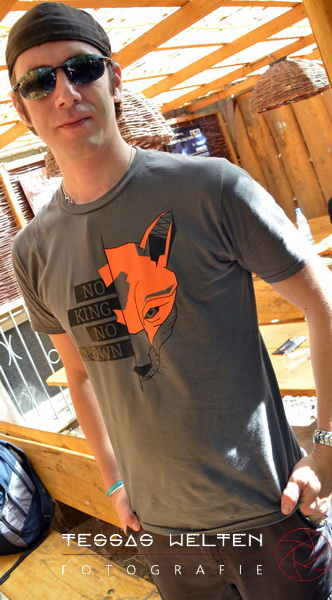 Today, you can expect something new. As opposite to our previous guests, this musician has only one tattoo and has great desire to continue further. So today, Chris Fox agreed to answer our questions and I think many of you have seen him on live drums at L'ÂME IMMORTELLE and SHIV-R, and even earlier at LOST AREA.
Reflections of Darkness [RoD]
: When did you get your first tattoo and what was it? Did it take much time until you decided to get it done?
Chris
:
I think it was in the beginning of 2015 when I have made my very first tattoo and it became a great Black & Grey Fox with really horny grimace and really disturbed look. Actually, it was a really spontaneous (ca 1 year * lol *) idea, which simply had to be implemented :)
RoD
: How many tattoos do you have? Could you please tell us their story?
Chris
:
Currently I have only this fox on the left leg. The story is very easy to explain. I wanted a fox with a psychopathic face expression to rabies. I think it underlines almost one or the other side of me :) Meanwhile, I have already hurt the tattoo. At the WGT 2015 I had pushed the leg on the Drum riser and got a scar from this gig. Unfortunately the wound was deep and was streaked full over the fresh tattoo. In hindsight I find it even horny. The rabid Psycho Fox has got a real scar over his nose. Now it definitely fits me!
RoD
: Have you already got all the tattoos that you wanted or will you get some new ones in the future?
Chris
:
There will definitely be one or the other tattoo. Personally, I prefer quality before quantity and the decision can partly happen very spontaneously as with my existing fox or they go through the years, because a part of me would definitely be for it, on the other side something in me stops me for example to make Baphomet anywhere on the body. I could well imagine expanding the existing fox. This has also been taken into consideration during the realisation and there are so many possibilities still open, the fox environment or a second one. Let's see what the future will show.
RoD
: Have all your tattoos been done by one tattoo artist or by different ones? How do you choose the tattoo artist? In addition, who draws your sketches?
Chris
:
I have only one tattoo so until now I had worked with one tattoo artist (Casey from Stechwerk. Very recommend!!!). I have selected the tattoo studio at a tattoo convention. The tattoo artist herself was not present, but when I explained my ideas of a very real-looking psycho fox, the owner of the studio also referred to the artist and provided me her reference portfolio for the view. After a few minutes of browsing through it, for me was also quite clear, she will do it. We really had no sketch or templates. We had previously a tattoo discussion where I have introduced my idea, which was also very well accepted and for my part, I allowed Casey to do what she wanted (the more you try to limit an artist in his activity, the less he can live his art. It was extremely important for me to give confidence and give a freedom). In the end, we had a photomontage which we had worked out a bit, such details as eyes and hair. But as I already have told several times, it was very important to me that the artist understood what I would like and can implement it according to her seeing. The result has knocked me down and yes, I find it really cool even today.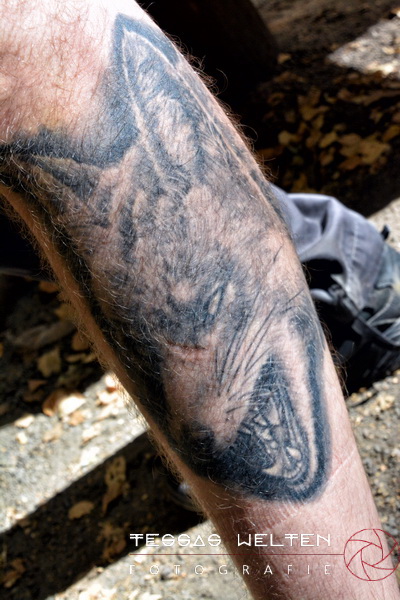 RoD
: Getting tattooed hurts, how do you cope with the pain during the sessions?
Chris
:
The pain for me was actually rather relaxing, almost wellness. I had very stressful weeks behind and before me at that time and there were four hours simply laying on the table and very relaxing. Actually, only by the tendon and shinbone I needed a little bit more breathing technique for reassurance, but we have accepted it very masculine. Also the artist said after completion, that I was a very good and patient guest * lol *.
RoD
: Do you regret getting tattooed sometimes?
Chris
:
Not until now! Currently I have only one tattoo and it has saved me from such thoughts. Possibly. It would have been different if I had simply stabbed it and would now be overlooked with occultist symbols and figures.
RoD
: What is your taboo in terms of tattoos? What kind of tattoo would you never get done and don't like to see on other people?
Chris
:
Hmm... I think tattoos, forms and colours are selected and implemented by the persons for certain reasons. Personally, I cannot stand it when tattoos are badly engraved, processed or implemented. You are making it for a lifetime. You should not try to save money, time, or on the artist. As I said, quality before quantity without exception. But as already mentioned above, each one has its own motive and also has reasons for choosing it. But that is also the nice thing about it. The tattoos are as individual as the people who have them. But it is very important that the tattoos are perfectly processed; everything else is garbage and not worth the money!
RoD
: Some people say that the drive to acquire body art is addictive while others say it fails to meet the true definition of an addiction, simply calling it a passion. Is it really impossible to stop?
Chris
:
That's true! Although I was able to restrain myself because of time, financial and fixed ideas reasons. But yesssssss... to make tattoos is horny and the end result is the joy for life!
RoD
: Last year's tattoos are a new trend; many people do not care about the meaning, they just want to have something coloured on the skin, to be in trend. Those people often just go into a tattoo salon and ask which drafts they have. Tattoo artists are not artists any more, they produce consumer goods. Not all of them, of course. How do you feel about this situation?
Chris
:
On the one hand, the tattoo artist needs also to earn his money, but I also see that there are more people in the tattoo studio which presented this mass, as people who have the concrete ideas and know exactly know what they want. I personally prefer tattoo artists who say it directly into your face: "Yep, I think it's cool, we do it", or: "Hey, such thing I will never do to you". But also the artists have their action days, 1x lettering 100 euros. As I said, the tattoo artist needs to be able to live at the end of the day, and few of them can tell that they have 1-2 projects in the week that they had made with pride and joy. Ultimately, it is a profession (including passion) just like any other.
RoD
: I would like to talk about the social aspect of tattoos, too. Previously, many people believed that if you have a tattoo, you will be never be successful and will not find a "good" job. Have this state of mind and people's perceptions changed or are these prejudices still alive?
Chris
:
I believe that prejudices and the social aspects have declined. But I work in an industry, where neither visible piercings nor tattoos are allowed. So such acceptance, particularly in Switzerland, is not in advanced at all. I personally see this as very conservative and backward. Once, I had in a bank in Melbourne two customer advisors, the receptionist has greeted me with tattoos, piercings and Iro hair, the advisor was tattooed from head to feet. This in a bank! I was very amazed, and very pleased. In return, Australia has other very strict policies in society. I would like to welcome more individual personalities in everyday life. But the majority "unfortunately" is still very conservative. To explain this in a concrete way, you need write a book.
RoD
: Which advice would you give to people who are going to get their first tattoo? How to choose a tattoo artist? Colour or black and white? Any practical advice?
Chris
:
What is my massage to people who want to be tattooed? You need to understand if you are tattooed you are tattooed for a lifetime. Clearly, there are possibilities to cover it or lash away. But that would not be the idea. Important for me: You need to be 100% sure in the motive and in 30 years you should look at it and still be "proud" of it. The tattoo artist should show you their previous works. Each artist has its own style, preferences and stuff in which he can be perfect. Internet and conventions help a lot. Top artists from all over the world are partly on tour and to be seen in different studios in Europe. It is better to wait 1-2 years for the appointment and to combine a smaller trip (in combination of wellness or city seeing) in order to reach as final result exactly what you want. Personally, I do not want to compromise on this topic, and for this reason every means is right for me! QUALITY before QUANTITY and full freedom for tattoo artist! Colour or black - it depends from motive. I personally prefer clear black because I believe that colour does not look cool on me. I could imagine such a "Watercolour" tattoo in black red. But someday in future.
Project by Daria Tessa and Daniela Vorndran, Interview by Daria Tessa
Pictures by Daria Tessa (
https://www.facebook.com/tessaswelten
)