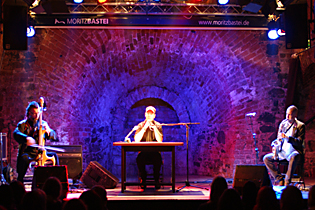 Moritzbastei, Leipzig, Germany
10th February 2010
Holly Loose: Reading "Das weiße Buch des Jadefalken"

"God and Allah, the mountains and valleys, Berlin and Istanbul, Laura and Çingiz, love."
After releasing his third book 'Das weiße Buch des Jadefalken' in December 2009, Holly Loose, singer of the German band LETZTE INSTANZ, came to Leipzig to present his new book to public. On 10th February 2010 he brought Benni Cellini and Karl Helbig to support him. Together, Benni and Karl call their project LANDUEBER: Benni plays the cello and he is also a member of LETZTE INSTANZ, Karl is a jazz musician and plays the saxophone and flute.
http://www.myspace.com/hollyloose
/
http://www.myspace.com/landuber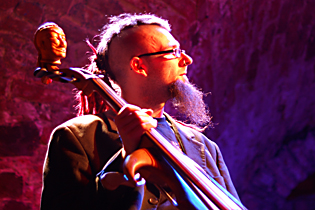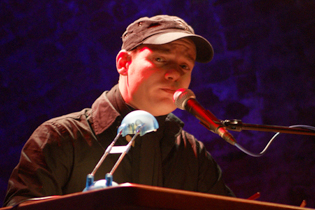 Music & Performance

After introducing the musicians for the night, Holly sat down and began reading the foreword of 'Das weiße Buch des Jadefalken'. But before he did this, he told the audience to close their eyes so they could empathize themselves better in this story and so everybody listened carefully and with closed eyes to Holly Loose's deep and melodic voice. In-between different extracts of the book which Holly recited, LANDUEBER played various songs together with the LETZTE INSTANZ singer. The music performances consisted of LETZTE INSTANZ songs and some LANDUEBER pieces. LETZTE INSTANZ lyrics together with the sound of Holly's voice and the minimalistic ensemble of a cello and a saxophone were the perfect match.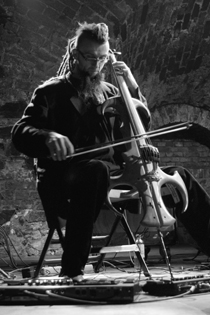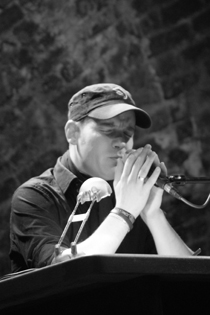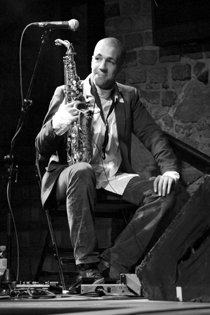 The crowd reacted really well to the somewhat different mix of LANDUEBER and LETZTE INSTANZ and Holly's interactions with the people. The crowd's feelings, emotions and the complete ambient were greatly underlined by the nice and simple scenery of the vault, which gave the evening a kind of intimate atmosphere, too. All in all the listener got a good impression of 'Das weiße Buch des Jadefalken' and was invited to go with Holly on a trip through history, religions and cultures. I think it was an awesome evening and for me it was a pleasure and a welcome change to other "normal" book lectures.
Setlist

1.1 Der Garten
Prologue
1.2 Silber im Stein
Chapter 1
1.3 LandUeber piece
Chapter 2
1.4 Kopfkino
2.1 Monument der Stille
Chapter 3
2.2 Kalter Glanz
Chapter 4
2.3 Das weisse Lied
Chapter 5
2.4 So ein Wind
Rating
Music: 10
Performance: 9.5
Sound: 9.5
Light: 8
Total: 9.5 / 10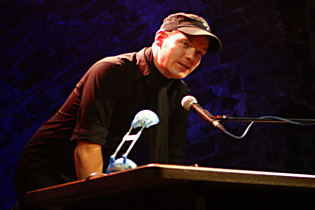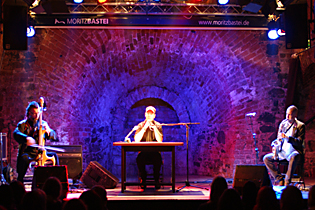 All pictures by Holm Pajung
{jos_sb_discuss:17}