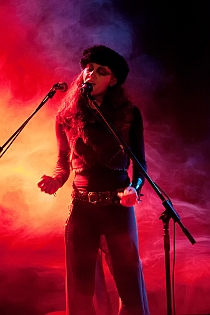 Café Sputnik, Münster, Germany
12th December 2013
Jordan Reyne & Vic Anselmo

On this evening, a small crowd of brave people fought their way through the winter mist to attend the performances of two very extraordinary musicians at the little Café Sputnik in Münster. With the Café, there was the perfect, little and intimate location found for such a special concert.



Vic Anselmo

The concert evening started with Latvian Alternative singer/songwriter VIC ANSELMO and her acoustic performance on the keyboard piano. Actually coming from Riga (Latvia) she now lives, for a couple of years, in Germany. With her amazing vocal quality she attracted already a lot of attention and thus it is no wonder that she was asked by several bands and musicians to lend her voice as guest singer for some of their songs and was supporting act for bands like DEINE LAKAIEN, SAMSAS TRAUM, ANTIMATTER and some more. She performed at several festivals in Europe and the UK and toured already in Europe, UK and China. VIC ANSELMO offers concerts with her band as well as soloist with acoustic performances. Up to now she has released two critically acclaimed albums. http://vicanselmo.com / https://www.facebook.com/vicanselmomusic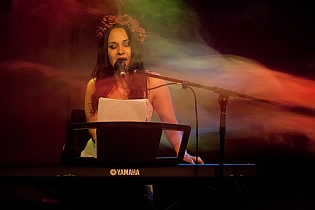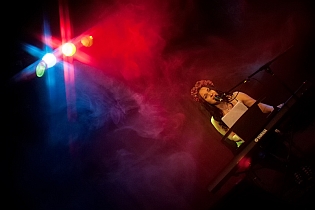 Music & Performance
On this evening she presented us a good mixture of her albums as well as two songs she only performed at her recent shows and further two new songs, as she is currently working on her new album. She charmed us with her vocal qualities as well as with her great piano playing. Having seen a lot of shows of her, it is always interesting that each show differs from another with alteration in the piano playing and singing. So each performance has something unique. But personally I would wish to see that 'Beverly' will be thrown off the setlist. I have heard it so often and this girlish singing does not charm anymore and somehow it doesn't fit to this talented young lady anymore. Anyway on this evening she convinced the audience with her angelic voice and successfully invited the people to sing along with her to 'I am the one'.

Setlist
01. Open widen
02. Underwater
03.Baselisk's eyes
04. The day
05. Bone's Blues
06. Wellspring
07. Another train (draft title)
08. Ashes
09. Beverly
10. Horizon
11. Cody
12. I am the one
13. On the other side (draft title)
---
14. Wonderful world (Louis Armstrong cover)

Rating
Music: 9
Performance: 8
Sound: 9
Light: 6
Total: 8 / 10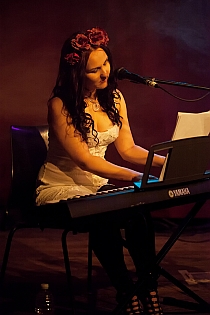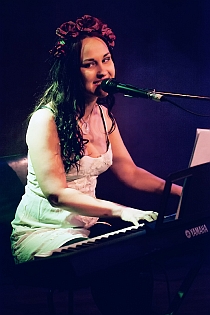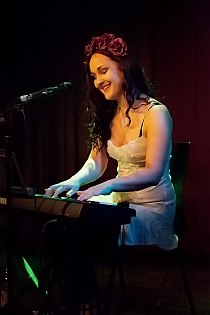 Jordan Reyne

Speaking of New Zealand you surely - like me - rather think of kiwi, the Maori or that the filming of 'The Lord of the Rings' took place in the beautiful landscapes of this country. But certainly you don't think of interesting or innovative music. Thus JORDAN REYNE is almost an insider's tip, at least in Europe. In her own country she is already a well-known multi-talented artist with several nominations for the Tui award (the New Zealand's equivalent to the Grammy). She is not "only" a musician but wrote and produced an audio book, wrote a novel (Remembering the Dead) and is also involved in the artwork of the covers of her albums. She was supporting act for THE FIELDS OF THE NEPHILIM, WHITE ZOMBIE, ROME, HANSEL AND GRETEL and THE EDEN HOUSE. The latter she joined as one of the two live vocalists. She studied software engineering at the University in Wellington and later philosophy in Auckland. This probably explains her liking for combining technical stuff with tales in song form. Originally coming from New Zealand, she lived some years in different cities in Germany and now in the UK. The music of this unique singer/songwriter can be described as Industrial tinged alternative Folk or kind of Steam Punk with Celtic vocals as she frequently relates to the Industrial Revolution and life in 1800 in her lyrics as well as involving machine sounds in her songs. http://www.jordanreyne.com / https://www.facebook.com/jordanreynemusic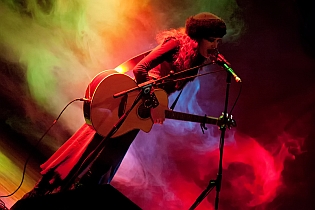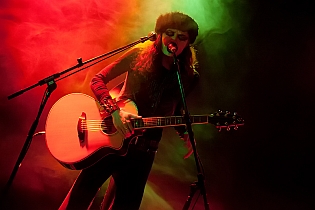 Music & Performance
When I wrote the concert preview a while ago and did some research, I read about how she composes the music with using two loop machines to sample her voice live, in the moment, building up layers of harmony and melody to blend with guitar, found sound, and percussion. Well, to me it sounded very technically and for real I had no idea how this works. But now we had the chance to see and hear what it really means. It was very exciting and a special concert experience. The stage setting was neatly arranged: two microphones, two loop machines (small boxes with knops and LED lights) on the floor and a concert guitar. Before she started to perform her first song, JORDAN explained how the technique she uses, works and informed us as well that it usually works, but sometimes it goes terribly wrong and not the way she likes to have it. The first song developed only by her voice, with humming, backing vocal lines, the sound of her hand clapping and the noise she made with a small megaphone and then finally the singing of the lyrics. And with this performance you finally got an idea how she creates her music. In a way it is like how songs are recorded in a studio where the single instruments or sound effects are recorded, to be finally put together with the vocals to a song. But here it happened live on stage. Very fascinating and a completely different concert experience.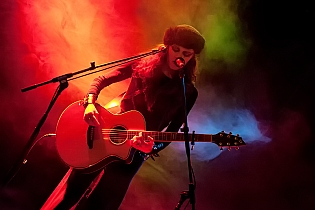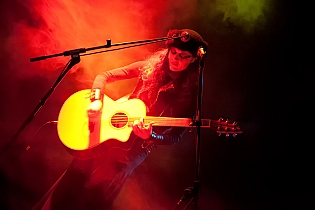 We learnt that she had lived seven years in Germany and thus she talked with the audience predominantly in German. It was nice and very interesting to hear the background stories of the songs and how they developed. Her austere but enjoyably vocals fit perfectly to the music. And although she had some problems to start with one song, almost at the end of the concert, because of a cough, it was such a great concert that the audience asked for an encore.

Setlist
01. Dishonor
02. The shadow line
03. Jonny & the sea
04. Proximity
05. The gentleman
06. Factory Nation
07. Birds of Prey
08. Don't look down
09. London
10. The Narcissus
11. A woman scorned
12. Winter solstice

Rating
Music: 9
Performance: 9
Sound: 9
Light: 6
Total: 8.5 / 10

All pictures by Dajana Winkel (http://www.nocturnalhall.com / http://www.calani.de)



See also (all categories):