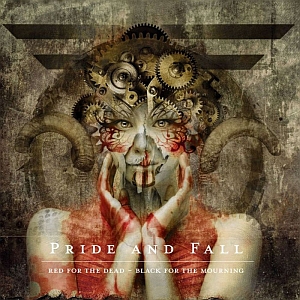 Artist: Pride And Fall
Title: Red for the dead - Black for the mourning
Genre: Electro / Industrial / EBM / Trance / Techno / Future Pop
Release Date: 26th August 2016
Label: Dependent Records
Album Review

The Norwegian Future Pop band was founded in 2000 by Sigve Monsen, Per Waagen and Svein Joar Auglænd Johnsen. Before they got together every one of them was already involved in other musical projects in different genres. Thus it is no surprise that so many different influences are blend together in the sound of the band. And unlike many other bands after almost 15 years it is still the original cast. Including this album PRIDE AND FALL has released 5 studio albums and several songs on diverse sampler. The band toured with SEABOUND and COVENANT and performed at some festivals in Europe, amongst them also this year for the second time at the Wave Gotik Treffen. With their third album 'Time of Dying' PRIDE AND FALL reached the N°1 of the DAC (German Alternative Charts).
After some crisis and upheavals the band recollected and with regained strength the guys created a strong new album. To top the production off the band got Krischan Wesenberg (ROTERSAND) and Christer Andre Cederberg (TRISTANIA, ANATHEMA) as co- producers on board. The choice for the title of the album is explained by the band as followed:
"According to Chinese burial tradition, you would protect yourself from a dead person's spirit by wearing black. It is the colour of mourning. The dead can be dressed in any colour except for red. To dress the dead in red will leave them restless in their grave."
With the dead dressed in red and looking at some titles of the tracks on this album you might get the impression to read a creepy gothic novel. And actually you are not wrong - this album is indeed very sombre. The lyrics are about our evanescence, a topic no one really wants to think too deeply about it as it confronts us with our darkest fears and doubts.
As already mentioned the trio got together from different musical backgrounds which you can clearly hear on this album as the band masterfully blends the different styles to create its unique sound. Opener is a very danceable Future Pop song. The following one doesn't feel right from the first listening with the Metal influenced distorted vocals in the chorus but after repeated listening you get into it and start to like it. You will find this stylistic device on further songs and regarding the topics of the songs it fits perfectly. The fourth song is instrumental and a kind of interlude before the next, which invites you to dance with its up-tempo rhythm. 'The sentiment was false' (N° 7) reminded me strongly of TIAMAT's album 'A deeper kind of slumber' from the sostenuto tempo and the singing style. The last song definitely bears the hallmarks of Christer Andre Cederberg. The solemnity reminds me of diverse songs from ANATHEMA.
While I had some problems with the former album because of the succession of songs, on this album they are definitely better arranged. If you buy the complete edition you will also get a bonus CD with remixes of the songs. We didn't get them so I cannot write about them. But apart from these remixes some songs on this album really have the potential for remixed versions to fill the dance floors of the clubs. Apart from the great album the cover is accomplished by a stunning artwork. The album is available as a standard version, 2LP/2CD "complete edition" in gatefold cover incl. large-sized booklet and bonus CD "Broken Men" limited to 500 copies and as download version on iTunes
Tracklist

01. The angel at the pillar
02. Army of ghosts
03. When darkness comes
04. Noises within
05. Start of a new day
06. Broken men
07. The sentiment was false
08. Pale
09. Red for the dead, black for the mourning
Line-up

Sigve Monsen – vocals
Svein Joar Auglænd Johnsen – guitar
Per Wagen – keyboards, programming
Website

http://www.prideandfall.com
/
https://www.facebook.com/pages/Pride-and-Fall/102513029786316
Cover Picture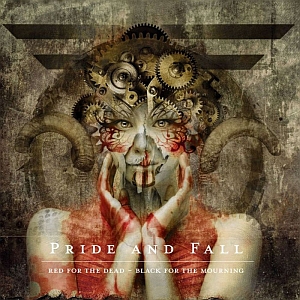 Rating

Music: 9
Sound: 10
Total: 9.5 / 10
See also (all categories):