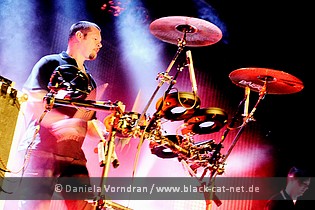 Live Music Hall, Cologne, Germany
11th September 2011
VNV Nation, Straftanz

Ten years ago, the world was in shock about what happened in the US and left a mark in other world's most powerful nation and changed the course of history in many ways. Many might just have come to Cologne to dance eventual thoughts away for others it was just an opportunity to dance to VNV NATION in hopes of getting to hear a few new songs off the upcoming album 'Automatic'.



Straftanz

STRAFTANZ is a German electro project that first roused attention through the release of the eponymous first single in October 2006 and would become a huge success in German electro clubs. About two years later followed the next invasion of the dance floors with the name 'Tanzt kaputt was euch kaputt macht', but it was just a little vanguard for the full-length attack 'Forward Ever, Backward Never' released in June 2008. The second album 'Mainstream Sellout Overground' will be released on 16th September 2011. STRAFTANZ is dee-kup,jing, K-X, -jl-, mjölnir das destruktor and various other artists, muses and nominal members. http://www.straftanz.de/ / http://www.myspace.com/straftanzmusic / https://www.facebook.com/straftanz.zk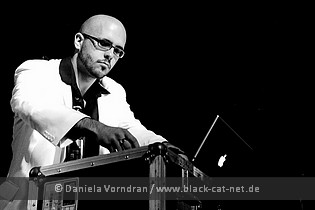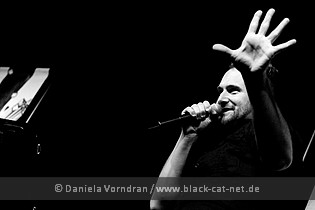 Music & Performance
STRAFTANZ were the chosen ones to create some heat with the audience at Live Music Hall. But here's the thing: If you get to squeeze enough people inside the venue it creates its own heat. Better than any heating you could set up. Does that mean STRAFTANZ were disposable here? Not at all! People were all tuned for dancing regardless of the heat. STRAFTANZ would give them what they needed: An introduction like "My name is beef supreme and we're dumb" and an instantly following spherical dance track that soon would be enriched by vocals. What followed was a set full of fierce club music in varying degrees of harshness, dealing with everything from nonsense to ironic side blows on human behaviour and current events. There it didn't even look awkward to dance around with a pink toy unicorn. Ok, forget what I just said it WAS awkward but nevertheless amusing. A band not afraid of acting like clowns on stage playing to an audience that was more or less not aware of the message, rather going with the flow of the vibes.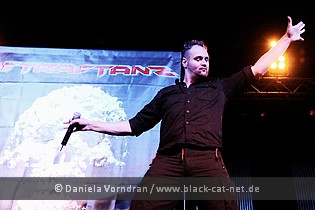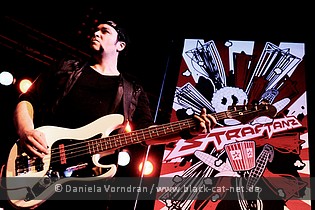 Setlist
01. Intro: The Enchantment (from upcoming new album)
02. Forward ever (from upcoming new album)
03. Die neue F-Klasse (from upcoming new album)
04. Straftanz
05. Für die Kinder (from upcoming new album)
06. Gummimann
07. Turbo (from upcoming new album)
08. Tanzt Kaputt, Was Euch Kaputt Macht!

Rating
Music: 7
Performance: 8
Sound: 7
Light: 7
Total: 7.3 / 10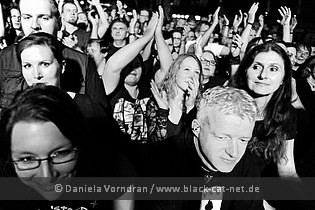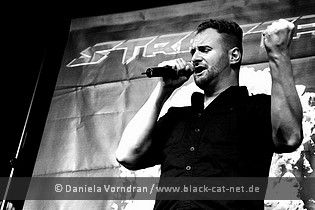 VNV Nation

Ronan Harris created VNV NATION in 1990, releasing two Vinyl albums 'Body Pulse' and 'Strength of Youth'. Initially, the music was a mixture of orchestral and electronic influences. Suffice to say, that it's become much more than just a compound of these two elements over time. But first things first! The first album 'Advance & Follow', a real and usually expensive rarity nowadays, emerged after signing a record deal with German label Discordia in July 1995, but it was 1999's 'Empires' - the third full-length - that became their breakthrough album gaining them widespread commercial success (topping the German DAC charts for seven weeks) which did even increase with the following 'Future Perfect' while scaring away some fans who liked the older sound much more. By now VNV NATION has released 9 albums in total. Soon they'll add another full-length with 'Automatic'. VNV NATION live on their current tour consists of Ronan Harris (music, lyrics, vocals), Mark Jackson (drums) and two additional keyboard players, namely Tom Lesczenski of [:SITD:] and André Winter. http://www.vnvnation.com/ / http://www.myspace.com/vnvnation / https://www.facebook.com/VNVNation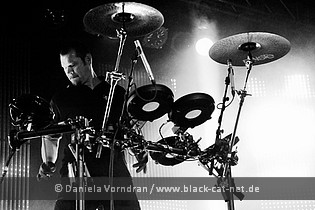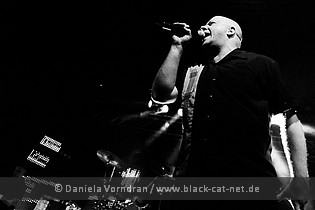 Music & Performance
So now there was only little time to bridge until the anticipated headliner would enter the stage to the intro 'On Air' backed by LED backdrops projecting letters and abstract pictures to support the music. First track wasn't one of the upcoming 'Automatic' but from a few albums back with the club track extraordinaire 'Chrome'. Say what you like about the music but you can't ignore that Ronan absolutely knows how to control a crowd within no time. Due to Ronan's "Whiskey vocals" - he had a quite bad allergic reaction affecting his vocals badly, but as he stated several times, they never will abort a concert due to something like that - we got to hear the premier of the once in a lifetime "Black Metal Vocal Version" of a new album track called 'Space & Time'. This was classic VNV NATION material. It's git layers and layers of melodies, dancy beats and a gripping hook line to pull you by the collar. 'Sentinel' and 'Darkangel' followed that pattern further, getting the mood up higher with every second passing. This is how you make a crowd go mental.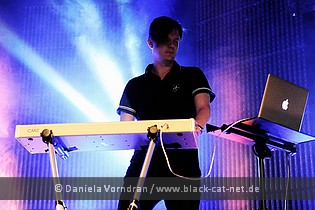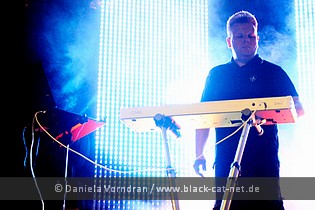 Ronan gave the perfect entertainer left the stage now and then to yell at the technician a bit if something went wrong and then returned to acting like a jumping rubber ball. Club track followed club track until 'Illusion' broke the spell, but you couldn't help noticing strong similarities between the respective song, especially those from the new album, i.e. 'Resolution' which was just played before. If I were a mean person I could give another interpretation of the new album's title. Close to the main set's end followed a classic with 'Standing (Motion)' slightly altered. Sometimes things should better be left at their original state. Didn't like the techno-ish version. Lacked the feeling, the melody respectively. A hammer was chosen to close the main set with 'Control' which at times reminded me of 'Nemesis'. Definitely one of the hardest tracks heard off the new album but one to get you dancing instantly. Riled up as they were it was just a walk in the park to make the crowd scream along.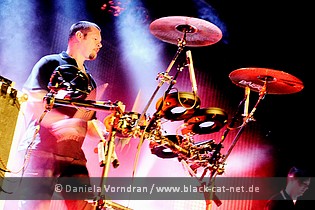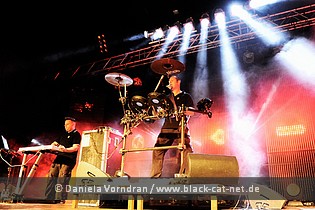 After leaving the stage the band was lauded back quite quickly to play four more songs, including 'Beloved' and the new song 'Nova'. Even though Ronan's condition on that day was not the best it was a great show anyway and even if you don't like the direction the music's taken you gotta admit that the mood at the show was second to none, especially in Cologne.

Setlist
01. On-air
02. Chrome
03. Space & Time
04. Sentinel
05. Darkangel
06. Further
07. Epicentre
08. Tomorrow never comes
09. Resolution
10. Illusion
11. Gratitude
12. Standing (motion)
13. Control
---
14. Legion (live version)
15. Beloved
16. Nova
17. Perpetual

Rating
Music:7
Performance: 9
Sound: 7
Light: 8
Total: 7.8 / 10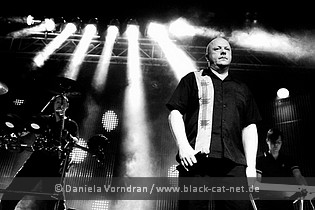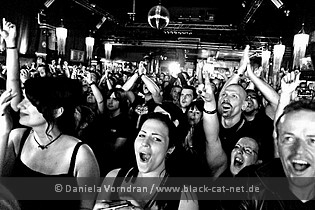 All pictures by Daniela Vorndran (http://www.vorndranphotography.com / http://www.black-cat-net.de/ / www.myspace.com/vorndranphotography / www.facebook.com/blackcatnet)