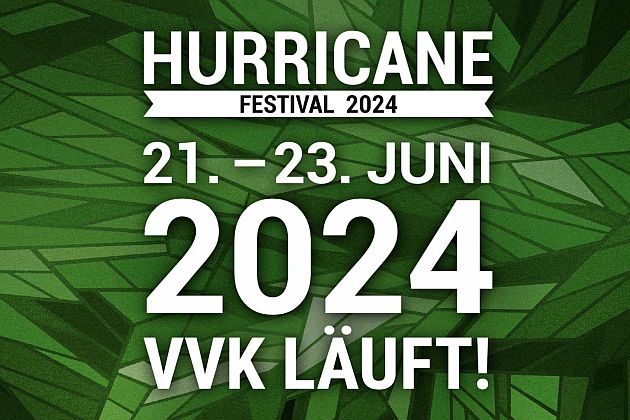 Shortly after the release of the first four headliners ED SHEERAN, K.I.Z, BRING ME THE HORIZON and AVRIL LAVIGNE, organizer FKP Scorpio is now releasing a large number of new names for the Hurricane and Southside Festival. These include five other headliners who will be appearing on the stages of the twin festivals in Scheeßel and Neuhausen ob Eck from June 21st to 23rd, 2024.
KONTRA K stands for Street Rap without any gangster airs. He actually has every reason to be arrogant, because the last seven albums by the exceptional artist reliably landed at number one in the German charts. For the 36-year-old, that is no reason to rest: The new album 'Nobody steals my hope' is about to be released and is another reason why his shows at Hurricane and Southside promise special concert moments.
Despite all the successes of their long career, THE OFFSPRING have not lost their desire to experiment. Their latest release contains all the elements you would expect from the Punk Rock titans, but at the same time, the four men also like to play Edvard Grieg or turn one of their older hymns into a piano ballad. Live, that is clear, what you hear from the Punk Olympus are mainly shredded power chords and brutal grooves at high tempos.
THE NATIONAL are musically more difficult to grasp, the musical and lyrical structure of their music is so changeable and ambiguous. The quintet has been around since 1999 and in their long and fruitful career has achieved top positions in the charts, multiple Grammy nominations and legendary concerts in the most prestigious venues in the world. This year THE NATIONAL have released two albums, whose songs will once again provide hypnotic live moments.
For fans of SIDO, it has probably never been as exciting as it is today to follow the Berliner's tireless work. The Rap legend rarely minced words, why should he when provocation is inextricably linked to an icon who has sold 5.8 million records and become a figurehead of German Gangster Rap. Then in 2022 the surprise: With 'Paul', SIDO alias Paul Hartmut Würdig presented an album that is not only unusually personal and vulnerable, but also breaks new ground musically.
The four members of the GIANT ROOKS have always been looking for their very own sound - and they have found much more besides: incomparable success, for example, because their carefully constructed Art-Pop exploded into the global market with their first studio album in 2020. In view of their euphoric debut, there is no alternative and a new album is already in the works. 2024 will be a big year for the five boys from Hamm and will mean an unforgettable concert experience at the Hurricane and Southside Festival for their rapidly growing fan base.
The list of other new confirmations is long: THE HIVES, MARSIMOTO, SUM 41, PASHANIM, THE KOOKS UND JUNGLE HABEN SICH FÜR BEIDE FESTIVALS ANGEKÜNDIGT. EBENFALLS DABEI SIND ROY BIANCO & DIE ABBRUNZATI BOYS, THE GASLIGHT ANTHEM, FONTAINES D.C., SKI AGGU, MAKKO and BRUTALISMUS 3000. Also at the start are BURY TOMORROW, SIMPLE PLAN, LEONIDEN, $OHO BANI, GROSSSTADTGEFLÜSTER and FRANK CARTER & THE RATTLESNAKES. HIGH VIS, ALICE MERTON, PAULA HARTMANN, MONTREAL and ENNIO will also delight their audience. BRUCKNER, TEAM SCHEISSE, MISSIO, BOSTON MANOR AND CARI CARI are also looking forward to intense shows. The top-class conclusion to this wave of bands is DILLA, DEINE COUSINE, LARI LUKE, REVӨL and THE MYSTERINES.
Additional names, including the two remaining headline slots, will be announced soon. All information and tickets are available on the Hurricane and Southside Festival websites.
See also (all categories):