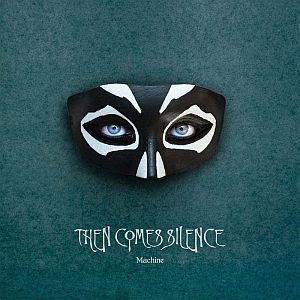 Death is a loyal muse; it is for sure, reliable, final… in short: it is all what other muses never will be. Creativity and inspiration are fickle friends, all too often lost between sweaty sheets or at the bottom of empty bottles. However, in the face of death, the gods of inspiration are in formidable form, moving skywards, and stimulate the synapses at all levels. The Swedish Post Punk rockers THEN COMES SILENCE are aware of that never dwindling source. Death may be the last threshold, the ultimate border between this life and the great uncertainty. Above all, it is a strong and driving force for the Gothic connoisseurs THEN COMES SILENCE.
In 2017, that lethal obsession resulted in 'Blood', a deeply morbid, dark, and pulsing pleasure extracting the best from apocalyptic Post Punk and foggy Gothic Rock. A deadly and strangely intoxicating cocktail, served by the genre giant Nuclear Blast. "That was an unbelievable time", reflects band founder Alex Svenson. "When we signed with Blast, there was suddenly so much to do. You think it gets easier when you belong to a big label. But it isn't." In other words: they paid a price for their career boost. THEN COMES SILENCE evaluated their situation in detail, lost some companions, but got two big talents with Mattias Ruejas and a gentleman named Hugo Zombie. Trapped in that one-way street, they stripped down their back catalogue, which consisted of four records including the 2012 released debut 'Then Comes Silence', created a new sound, rehearsed like crazy, and played live as often as never before. "We restarted the band", says Alex. "The new line-up of THEN COMES SILENCE has more of a rock band than ever before."
And this is what their tremendous new album 'Machine' reflects: more Rock, more death, more of that unhealthy fixation on all the dark and dreadful things. "I wanted to leave our chosen path and I don't wanted to write a second 'Blood'". Alex took this reinvention dead seriously (sic!), and even acted as producer. "In 206, we invested a lot of money in the records, and we had no idea how to calculate", he openly says. "For a small band like us, that was a hefty budget - and we had no idea, how to use it. We thought that we could lean back and enjoy the ride. The hangover came up later."
'Machine' took pain and power, and in many ways was a way back to their modest beginnings as Swedish underground phenomenon. Enthralling beats, spooky, cold melodies, winterly guitars and dark hooks give prove that it all was worth the effort - even that "lost album" that Alex wrote before 'Machine' and that was shelved. Everything led to that point. Everything led to those enchanting, gloomy hymns like 'We Lose The Night', 'Dark End', or 'Kill it'. Remixed by legend Stefan Glaumann (RAMMSTEIN, DEATHSTARS, KILLING JOKE), THEN COMES SILENCE complete the circle and finally sounds like they always wanted to sound - "like ice-cold water, that runs from a rust-free line on a November morning". Hearts will melt. Blood will freeze.
With the waving banners of Post Punk and Gothic in their hands, THEN COMES SILENCE want to be one thing above all: a Rock'n'Roll band from the dark sight of the force. "For the time being, there will be no new Bowies, McCartneys, Ramones, or Lemmys. Not in the present time of Pop culture", says Alex. "We have to be the Rhine maidens, who guard the Rhine Gold. We have to be the guardians of the Holy Grail, until one day the new Rock prophets will be born." Well, amen?
Death would like that much. Very much. After 'Blood', where Alex handled the death of his father in particular, the end of all things now comes along in a new, devious shape. "It doesn't pay to rebel against death", he shrug his shoulders. Even when death brings pain and suffering to the surviving pendants, we have to accept, that it is the last stop for all of us. This is our destiny. Deal with it, because we all will get caught." Alex is sure, that as soon as you start dealing with it, there will be positive effects. "When we talk, sing, and think about death, we come to a greater appreciation to all that surrounds us. Maybe, we even achieve a higher quality of life. I think about death every day, and I am pretty sure, that it makes me a better person." Death as the ultimate muse.
Source: Press Release