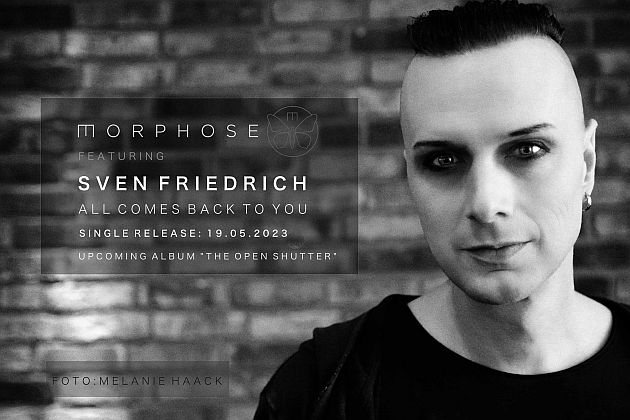 Get ready for the first single from the new MORPHOSE album 'The Open Shutter'. Christoph Schauer, the creative mind behind MORPHOSE, has once again teamed up with well-known artists from the scene to create something unique. The man who, as a composer and producer of film music, is jointly responsible for the soundtracks of 'Sløborn' and recently 'Ze Network', amongst others, has impressively proven with the last years EP 'The Inexplicable Darkness of Light', that opulent and plastic worlds of sound are by no means in contradiction to danceable Electro Pop sounds.


MORPHOSE's complex soundscapes are complemented by classic instruments such as real drums and percussion, bass and guitar, refined by the vocalists involved. So, Lennart A. Salomon (SONO), Viktorija Kukule, Sascha Klein (NEUROTICFISH) or Arc Morten (CYTO) bring far more to the songs than their voices. Christoph Schauer was now been able to win another multi talent for the upcoming album. SOLARFAKE mastermind and ZERAPHINE singer Sven Friedrich will be heard on the first single 'All Comes Back To You', which will be released on May 19th. An interesting new influence for the project and not the only song Sven Friedrich is involved.

And you should definitely make a note of 27th October when MORPHOSE will perform a club show in the Kulttempel Oberhausen. Christoph Schauer and co. will present the new album 'The Open Shutter' there, which is due to be released in October. If that takes too long for you, I warmly recommend the "Bergfest" on 24th June at Schloss Ballenstedt / Harz, where MORPHOSE will open the program and then some of the artists involved, will be at the start with their band projects.