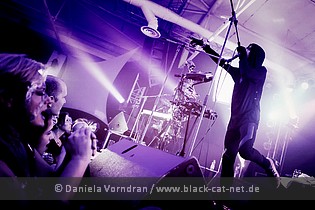 Sputnikhalle, Münster & Turock, Essen, Germany
5th & 7th April 2016
IAMX

Are you ready for a "glam orgy in cabaret decorations" and "lots of emotion, grand gestures, Japanese porn, bass, sweat and tears"? Are you in for a "glorious mess"? That's how British composer, producer, multi-instrumentalist, vocalist, and video artist Chris Corner once described a typical IAMX live show to those who haven't experienced the band live before. You can look forward to eccentric performances, unique costumes, and impressive sets with visual effects when this innovative electronic act will hit the stages in Germany in the beginning of April.
Since the beginnings of the band back in 2004, Corner's alternative electro rock project has become a major act with a great following. Currently, IAMX are Chris Corner (vocals, keys, percussions), Janine Gezang (keys, bass, backing vocals), Sammi Doll (keys, backing vocals), and Jon Siren (drums). Last November, they released their sixth album called 'Metanoia', which is Greek for "changing one's mind" - a fitting title since Corner created the album after fighting off manifold personal demons such as despair, depression, and insomnia. The expressive 'Metanoia' doesn't only dwell in dark territories that IAMX listeners are familiar with, but also presents the musician's revived enthusiasm. Just think of the powerfully inspiriting tunes 'Happiness' and 'Wildest Wind'.
Be part of a "glorious mess" in Münster (April 5) or Essen (April 7), if want to experience 'Metanoia', Corner's most personal musical offering so far, and IAMX classics live on stage.
Additional Concert Info

Doors: 7:00pm
Starts: 8:00pm
Tickets: are available for 28.20€ (plus fees) at
www.eventim.de
Info:
https://www.facebook.com/IAMXOFFICIAL
/
http://concertteam.de/index.php?view=artist&id=228
German Dates

Apr 5 – Sputnikhalle, Münster
Apr 7 – Turock, Essen
Apr 8 – Jazzhaus, Freiburg
Apr 9 – Reithalle, Dresden