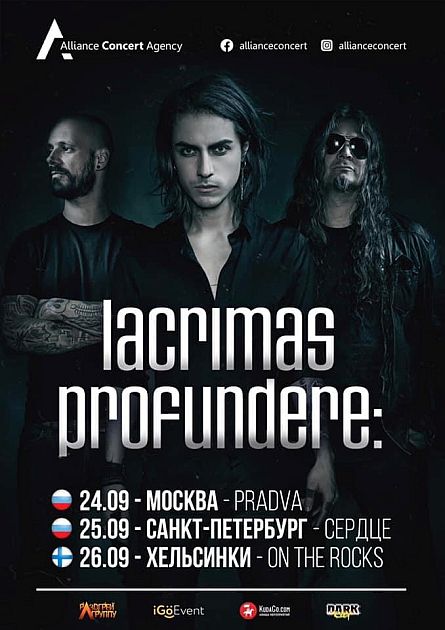 On The Rocks, Helsinki, Finland
26th September 2021
Lacrimas Profundere and Support: Delta Enigma & Raindigo

LACRIMAS PROFUNDERE, who sold out the summer stage in Munich's Olympic Stadium last summer, will be back on the road in autumn 2021 playing shows in Russia and Finland. Corona shattered all previous touring plans into pieces but LACRIMAS PROFUNDERE are ready to conquer Helsinki in September 2021 live on stage at legendary On The Rocks. The band invited some special guests: Delta Enigma (Fin) and Raindigo (Rus).
Additional Concert Info

Start: 18:00
Tickets: from 28.00 € via https://www.tiketti.fi/lacrimas-profundere-delta-enigma-raindigo-on-the-rocks-tickets/70916. There is a wardrobe fee of 3€ that will be charged at the entrance.
Info: https://www.rocks.fi/
Bands: https://www.lacrimas.com / https://www.deltaenigma.net / https://www.facebook.com/raindigo.crew/