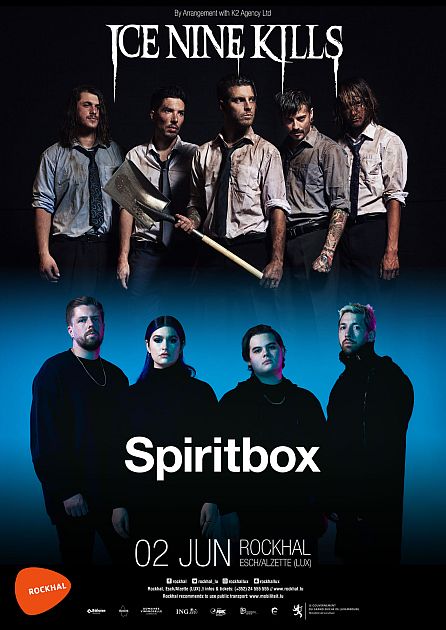 Rockhal, Esch-sur-Alzette, Luxembourg
2nd June 2022
Ice Nine Kills & Spiritbox with support: InVisions

ICE NINE KILLS make music both timeless and timely, mixing metal, hardcore, and punk, with accessible power. The band's synergy of music and lifestyle draws favourable comparisons to Slipknot and Rob Zombie. Visionary trailblazers and multimedia raconteurs, ICE NINE KILLS built a thrilling world for a growing legion of devoted true believers, with theatrical shows, high-concept videos, and inventive band-to-fan communion.
SPIRITBOX: Named after a device some believe is capable of communicating with the dead, there's a gleeful sense of the paranormal running through all that Canadian metallers SPIRITBOX do, but this is a group of artists who are very much brimming with life and creating something remarkable with their music. SPIRITBOX's music is characterised by fierce intensity, unwavering emotion and technical splendour.
INVISIONS: One of the hungriest and most promising bands of the British metalcore scene. Now INVISIONS return with their third album, 'Deadlock', their most complete and ambitious statement to date. Where previously INVISIONS leaned into heaviness, powering through breakdowns and brutality with a demolition contractor's expertise, here they wanted to show they have other tools with which to inflict sonic damage.
Additional Concert Info

Doors: 19:00
Start: 19:30
Tickets & Information: https://rockhal.lu/shows/ice-nine-kills-spiritbox/