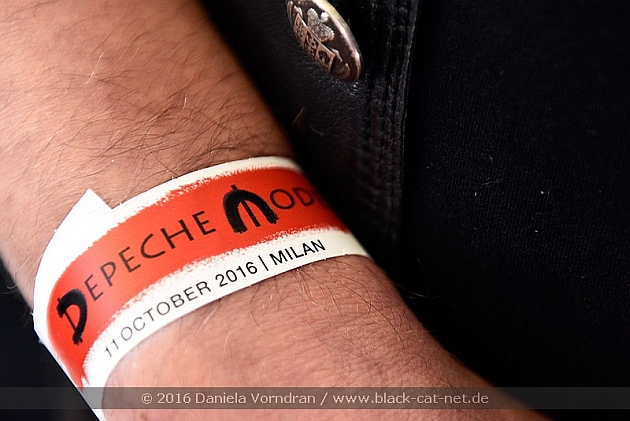 La Triennale Di Milano Teatro Dell'Arte, Milan, Italy
11th October 2016
Depeche Mode press conference

Imagine DEPECHE MODE are inviting for a press conference and no one attends it. Of course it is an absurd imagination and at the end, a few hundred international journalists, photographers, promoters and fans gathered in Milan waiting for what the band had to tell.
It was in last days of September when an email from Eventim popped up in my email box, telling me I could win tickets for a special DEPECHE MODE event taking place in Milan on 11th October 2016. As a fan you know that this could only be a press conference announcing a new album and tour. When Sonic Seducer Magazine asked me if I want to do a report of it, I happily confirmed and immediately booked my flight. I was happy to catch a quite cheap one, going short before seven in the morning on the event's day from Cologne and back in the evening of the same day. I knew this would be an exhausting ride. But being a DEPECHE MODE fan myself for more than thirty years I was over-excited that I got the chance taking part in this special event.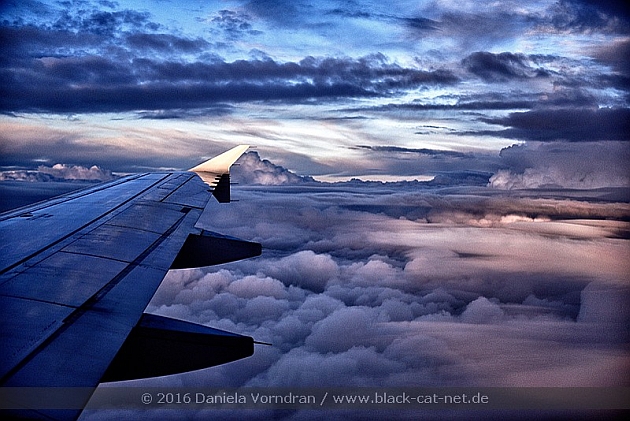 From now on, it meant ten days of waiting until the day was finally coming. Already the evening before I was travelling to Cologne to sleep at a friend's place near the airport. Just to be safe not to miss my flight due to heavy traffic. And besides, seeing friends is nice anyway. We had a nice dinner, nice talks and went to bed early since I had to get up at five in the morning. Could I sleep? Of course not. Adrenaline level was already high and keeping me awake. I had not more than four hours of sleep that night but still I was totally awake in the morning. Some crepes from the dinner on the evening before were packed as breakfast later and off I was to the airport which I reached in just ten minutes. I found my gate right away and of course I was much too early. On board, there were a few DEPECHE fans and a camera crew from Cologne. The team was also taking part at the event, as I found out later. Anything went smooth and before 8:30 I landed in Milan.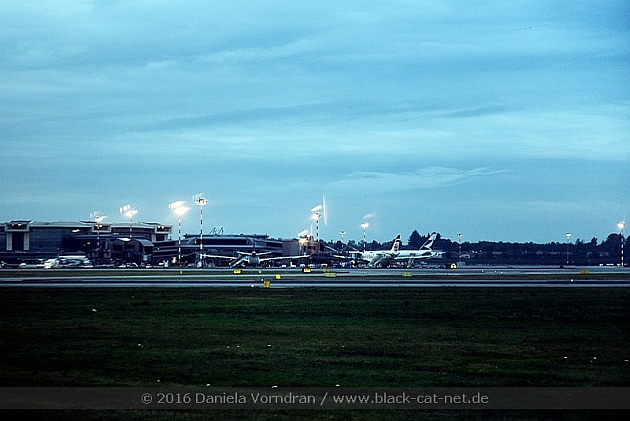 Soon I found the platform of the Malpensa Express which would bring me into the city. The ticket was bought and I entered the train. It was still empty, only a train attendant was checking the train… and came to me asking if the bag in a board in front of me was mine. I denied and soon I saw him talking to a colleague and I only understood the word "policia". OMG! What if this was a bomb? Or this was something causing a huge delay? I had to be at the check-in at 11:00. At departure time, we were still standing and I was a bit worried. Then two police men came, checked the bad and gave the all-clear. Phew, you could hear the stone falling from my heart. With not even fifteen minutes delay we finally arrived at the station near the venue. The "Teatro Dell'Arte" is only about ten minutes' walk away from the station and so I arrived there about an hour before the press check-in. In front of the venue, already the first fans gathered and waited for entrance. With my special mission I was lucky enough that I was allowed to take a seat at the bar inside and finally I had my first coffee of the day. What a relief.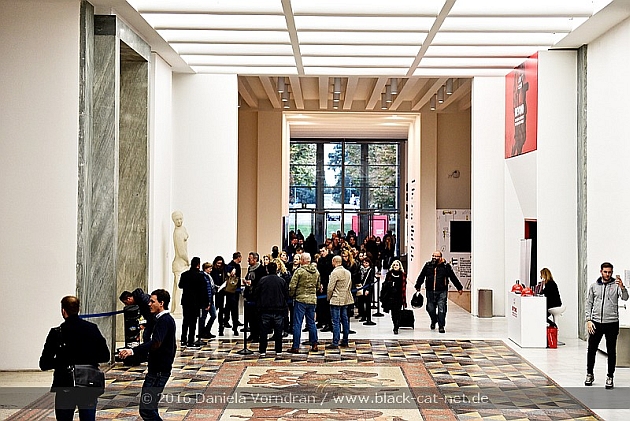 While I was waiting, the fan crowd became bigger and bigger and soon quite a big queue was patiently waiting for entrance. My check-in started in time at eleven and soon I got my press credentials, meaning a photo and a media pass. Then we as photographers were lead into a small room where we waited again. The room was separated into two parts by a black curtain and behind this curtain you saw a white wall with the new DEPECHE MODE typo and logo where the band would stand later to be photographed. In the "waiting room", there were a few TV-camera teams and about thirty photographers who were split into three groups to take pictures later. Promoter Marek Lieberberg was telling us about the procedure. Then the photo session started. Each group hat two minutes to take pictures. You can imagine that I was quite restrained. But anything worked well, we gathered again in the room and ten minutes before the conference started we were led into the theatre to take pictures of the band in front of the audience again. There, we got only thirty seconds for our job.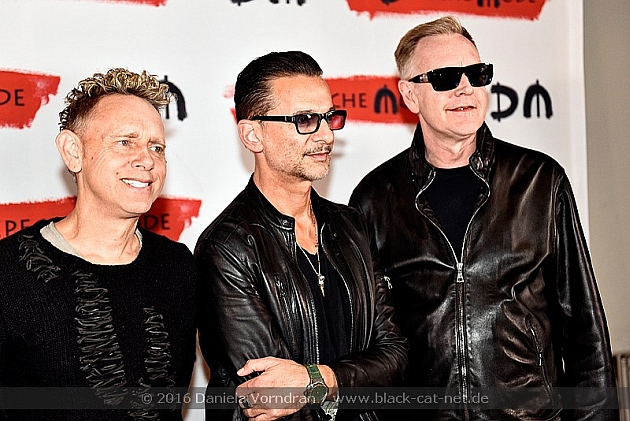 First, Marek Lieberberg (who's taking care for the DEPECHE MODE tours for many years now) made an announcement to all attendees about the procedure of the press conference. First, the journalists were allowed to ask questions, of course in English, and afterwards the fans had their chance. Also some questions from the internet would be asked, he said. Anyone was only allowed to ask one single question. Now, some more minutes of waiting and finally three of the four heroes of my youth, David Gahan, Martin L. Gore and Andrew Fletcher, entered the stage with big smiles, bowed several times and were – as you probably imagined – welcomed with huge applause. Thirty seconds passed very fast and we were already led out of the room. Too bad that we could only listen to the new song which was played now from the outside. It was called 'Where's The Revolution', had an apocalyptic touch like a fan described it later, and reminded me a bit of earlier works of the band. The applause and cheers were loud. Soon, I found a spot at the balcony from where I could watch the press conference. So, first to the hard facts being announced: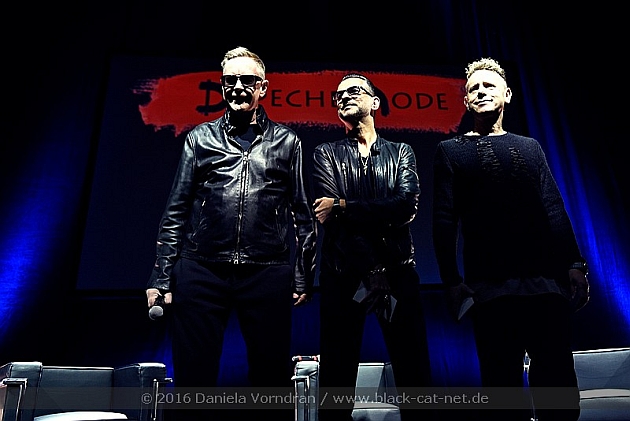 DEPECHE MODE, one of modern music's most influential artists, will be embarking on a world tour in May 2017 to support their new studio album, 'Spirit', due to be released in early 2017. Following the release of the album, the "Global Spirit Tour" will provide lifelong fans and new fans alike with an opportunity to see the band's ground-breaking and intensely emotive shows. The first leg of the Global Spirit Tour will see Dave Gahan, Martin Gore and Andy Fletcher play to more than 1.5 million fans in 32 cities in 21 countries across Europe. The tour starts at Stockholm's Friends Arena on May 5, 2017, and will play fan-favourite venues including Paris' Stade de France, San Siro in Milan, and Berlin's Olympiastadion. Additional tour stops include new stadiums for the band such as London Stadium, Otkritie Arena in Moscow, and Veltins-Arena in Gelsenkirchen, Germany. The European leg ends July 23 with a final stadium show in Cluj-Napoca, Romania.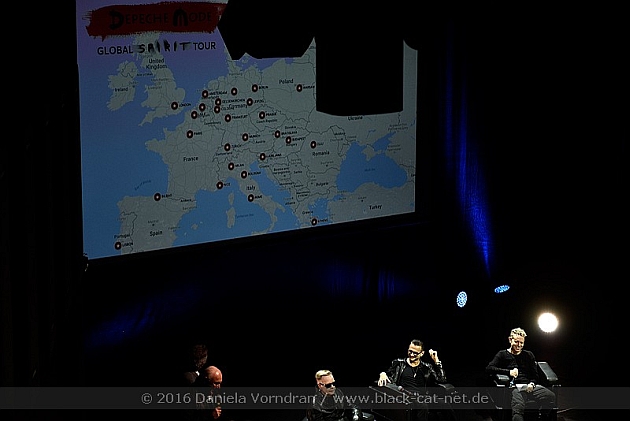 Following the European tour dates in Summer 2017, the "Global Spirit Tour" will continue with shows in North and South America. "The Global Spirit Tour" will be the band's 18th tour and will mark their first live performances in over three years. The band's last tour, the "Delta Machine Tour", played to over 2.5 million fans at sold-out shows across Europe and North America and was one of 2013's largest and best selling tours. On the "Global Spirit Tour", the band will continue their charity partnership with Swiss watch maker Hublot, raising money and awareness for Charity: Water toward their mission of providing safe drinking water to everyone in the world. During the press conference, martin told a bit about this partnership.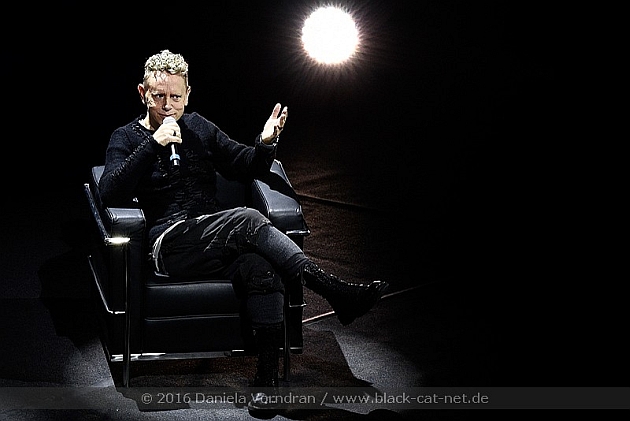 'Spirit' will be the band's 14th studio album and the follow-up to 2013's critically acclaimed 'Delta Machine', which reached a top five chart position in 26 countries and the number one position in 12 countries. 'Spirit' is being produced by James Ford, founding member of the band Simian Mobile Disco, whose recent production work includes albums by Florence and the Machine and Arctic Monkeys. Spirit will be released in early 2017 via Columbia Records worldwide. Speaking in Milan, Dave Gahan commented,
"We're exceptionally proud of Spirit's sound and energy, and we're excited to get back on tour to share it with our fans around the world."
Having sold over 100 million records and played live to more than 30 million fans worldwide, DEPECHE MODE refuse to become complacent, with innumerable artists citing them as inspirations and critics celebrating them as "still blazing trails" and "becoming more and more significant as time passes". 'Spirit' and the 'Global Spirit Tour' are poised to continue this history of musical innovation and the band's critical and commercial success.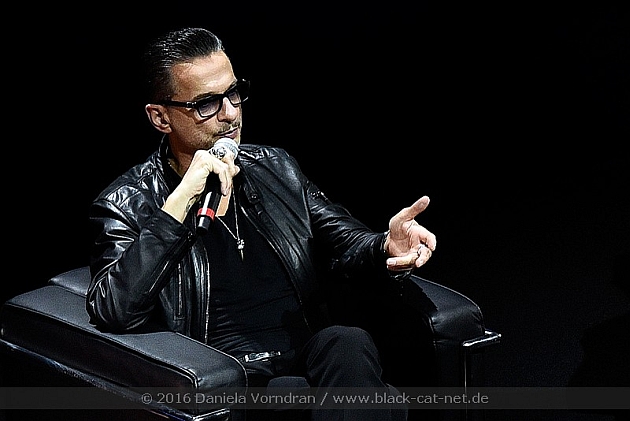 During the press conference, the band told not much about the new album. It simply is too early, they said. Questions about the album were evaded. Only Fletch was causing some laughs with his answer as he said that the new album would be "sexy", what was a joke of course. As already said, after the official announcements it was questioning time. When the questions about the album and musical directions came up, it was of course obligatory that one question was about the return of Alan Wilder, causing loud sighs within the audience and an irritated grin by the band. With a short "no", Dave denied the return of Alan. I think there is nothing more to say about it… Furthermore, the upcoming tour was of course a huge topic. Questions were dealing with touring life, fans in the different countries, how Dave keeps fit of if he already forgot his lyrics in the past. With a laugh he answered that he always watches the fans in the first rows, knowing the lyrics by heart and singing every line. And so, he has no problems. The band also told that they will work together with Anton Corbijn again whom they would meet in November to discuss details. A video of the press conference is available at
https://www.facebook.com/depechemode/videos/10155177520110329/
.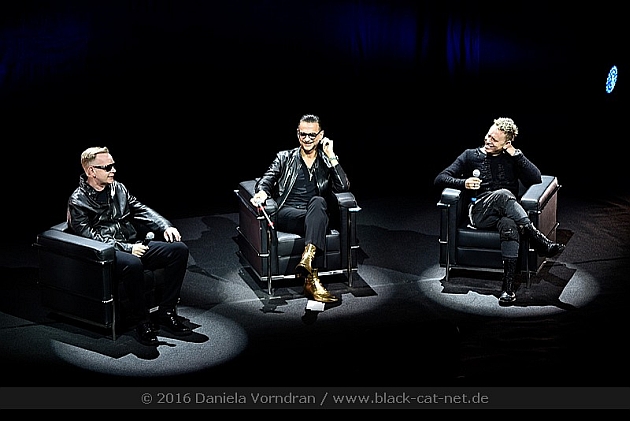 After the official part, there was a reception for the press with drinks and some snacks. Lucky me since I was really hungry now. While I was on the reception, many fans were still waiting outside the venue. There was time for meeting other fans for a talk or one tried to wheedle the press passes out of the media attendees as a memory for home. When I left the theatre finally, I also met some known faces. We were talking about past experiences, making plans already for the upcoming tour and of course I also met new people. Since there were still some hours of time before I had to be at the airport again and the others also had a lot of free time, we met in the city at the dome for a little sightseeing and then we had some food. Of course, as a "true" fan you have to visit the band's hotel as well. So I joined the group waling over to the hotel which was quite close. In front of the Four Seasons, already about fifty fans were waiting in hope for an autograph or a photo with the band.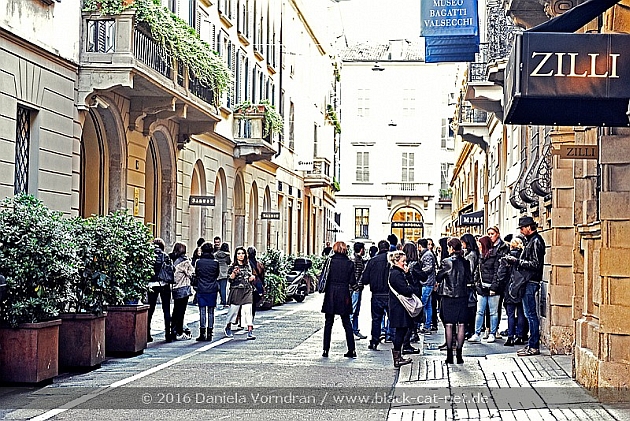 When we arrived at the hotel, shortly one after another, long-time band manager Jonathan Kessler, live drummer Christian Eigner and live keyboarder Peter Gordeno left the hotel, unnoticed from most fans who were waiting in front of the underground carpark of the hotel. I cannot say if the waiting people were successful later and if Dave, Mart and Andy showed up later. Around 17:30 it was time for me to return to the airport. I met the Cologne camera team again, who were making a report for RTL and had an interview with Dave. They told me he was very friendly and relaxed and they had a good chat. Nice! At half past eight, I finally sat in the plane home with a big smile in my face and recalled the day. Of course this was a bit crazy to spend a day like this. But the DEPECHE MODE fan bas it really more than a bit crazy… and this is meant in a positive way. Again and again, no matter where, you meet well-known faces, old friends and acquaintances. It is simply a big family, being occupied already one day after the event with planning and organising their own "Global Spirit Tour". See you in 2017!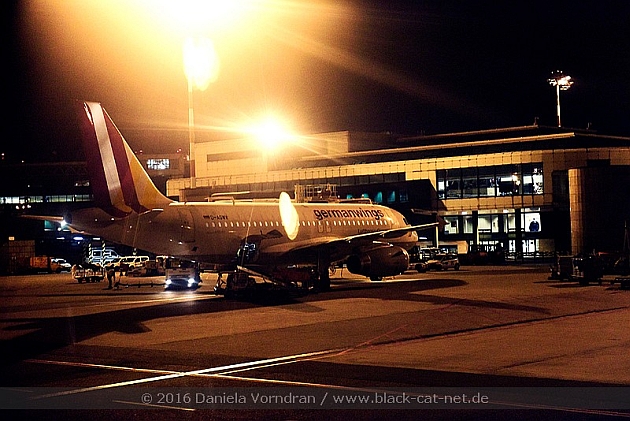 All pictures by Daniela Vorndran (
http://www.vorndranphotography.com
/
http://www.facebook.com/blackcatnet
)
See also (all categories):