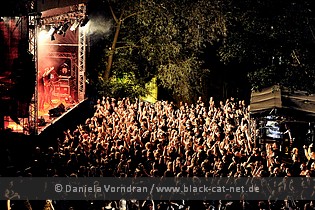 Festung Königstein, Königstein, Germany
15th August 2015
Festung Königstein Open Air with Diary of Dreams, Diorama and Slave Republic

With the concert of DIARY OF DREAMS, DIORAMA and SLAVE REPUBLIC, the open air season at Festung Königstein came to an end. And what an end! The concert was declared as sold-out and 1,000 people celebrated a summer party with great bands. Much to our luck, all bad weather forecasts did not become true. There was no rain, no thunder and lightning. Instead we looked into a sky full of blinking stars.
Slave Republic

The seeds of what would be growing up to the duo SLAVE REPUBLIC in the end have been sown many years ago as a four-piece centering on New Wave music. The next thing heard is that the quarter has become a duo and now is focusing on what they're calling Alternative Pop. This is a stylistic description obviously making some people at the Accession Records office prick up their ears. The end of the story we have with SLAVE REPUBLIC signing to the label and that they released the duo's debut album 'Electric One' on 12th March 2010. The band consisting of Alec Fu & Alex Alice, supported on stage by Daniel Myer (i.e. HAUJOBB), has opened the second chapter with 'Quest For Love', being released in February 2013. Since then, we are desperately waiting for a new release. Luckily, the band can be seen live at least every now and then.
http://www.slave-republic.com
/
https://www.facebook.com/SlaveRepublic.Official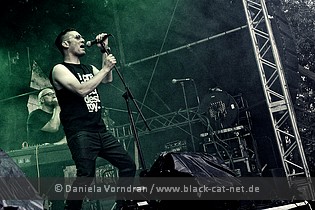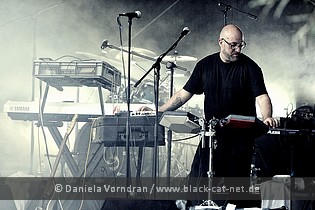 Music & Performance

It was around 19:45 when SLAVE REPUBLIC entered the stage to start their set with 'Paint my Heart Black'. The area in front of the stage was already well filled and in the course of the show, more and more people entered the fortress' yard. The set was not really long, but had a nice surprise to offer. During the second song, 'Primärreiz', DIORAMA's Torben Wendt joined the trio on stage to deliver additional keyboard sounds and of course enrich the song with his remarkable voice. Loved it! Daniel Myer, who seems to be a steady member of SLAVE REPUBLIC currently, enriches the set with his additional drums. The international audience – yes, there were people at least from Poland and Czech Republic present as well – was in very good mood from the very beginning, supporting the b and with their chant and clapping. This was really a nice start of a great evening. Now I only wait for new material from SLAVE REPUBLIC.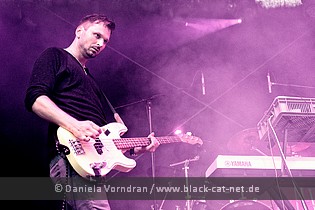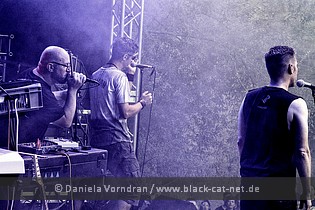 Setlist

01. Paint my Heart Black
02. Primärreiz (with Torben Wendt)
03. The Driver
04. Emptiness
05. Electric (2015 Club Version)
06. Walking Ghost
07. Promises and Broken Hearts
Rating

Music: 8
Performance: 8
Sound: 7
Light: 7
Total: 7.5 / 10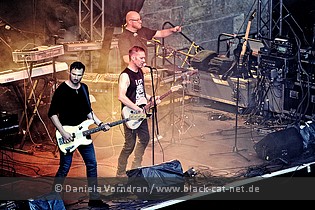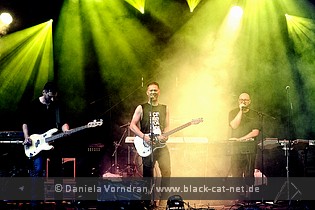 Diorama

DIORAMA was founded by Torben Wendt between 1994 and 1996. His long-time friend Felix Marc soon joined him as a co-producer and keyboard player. Sometime later, bass player Bernard le Sigue and guitarist Sash Fiddler, who were fellow students of Torben and Felix, gradually grew into the line-up and last but not least drummer Marquess became a member of the band. Unfortunately, Bernard le Sigue left the Band in October 2006. In 2007, the band released their fifth album 'A Different Life', preceded by the single 'Synthesize me'. The band played some extremely energetic and compelling festival shows to present the album and kept playing various shows in the following time. Eventually in February 2010 the silence was broken with the release of the single 'Child of Entertainment', being the offspring of the long-awaited album 'Cubed', released in March 2010. 'Even The Devil Doesn't Care' (released in January 2013) is the newest album's title and a big progression for the band.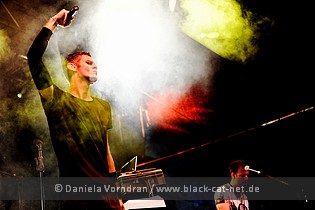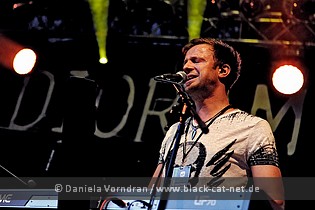 DIORAMA is currently working on a new album. Still no release date is set yet. Officially, DIORAMA is Torben Wendt (words and music, vocals, keys, percussion), Felix Marc (co-production, keys, vocals), Sash Fiddler (guitars) and Marquess (drums). During the last shows, Sash was replaced on stage by guitarist Zura and we all wonder if this will be a steady replacement. Keyboards today were taken over once more by Helge Wiegand who jumps in always when Felix has other duties.
http://www.diorama-music.com
/
https://www.facebook.com/pages/Diorama/20921056622
Music & Performance

Just a few weeks ago I saw DIORAMA at Amphi Festival where they delivered already a fantastic show. Today, they took it to the next level and delivered an absolutely fantastic show, full of energy from the beginning to the end. The set started with a fan favourite, 'Why', when anyone in the yard joined in the singing. Great mood and the excitement level did not drop during the whole show… either on and off stage. 'Forgotten' as second song was coming with a new intro. Really nice. And really nice… no, better than just nice… was new guitarist Zura with a perfect guitar play during the whole show. And even though I still miss Sash I must admit that Zura fits very well into the band. With 'Odyssey into the Vacuum' a song followed being not played so often lately.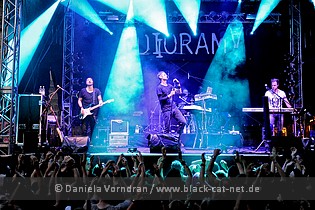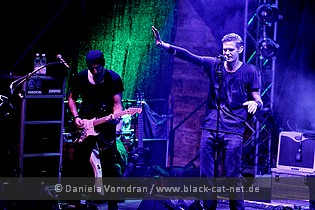 'Exit The Grey' was up next and everyone, either on or off stage, joined in with the beat right away. This song is and will stay a real fan favourite… rightly! 'Hope' took the dancing mood further. Then it was time for something new. As I already said, DIORAMA are working on a new album. With 'Defcon', the band presented a new song now which fitted perfectly into the set. In the course of the remaining main set, more classics and sing-along-songs followed: 'Child of Entertainment' and 'Synthesize Me'. 'Ignite' from the 2010 'Cubed' album finally ended the set. But well, this wasn't all. Instead of this usual "go off stage – clap – go on stage" thing, Torben said they would just stay on stage for the encore. As very last song, a really old DIORAMA song, 'Advance' was presented, but in a very new and modern version. This was surely a great end of the show! I want more, I want it longer! Hope DIORAMA return soon with a new album and an accompanying tour!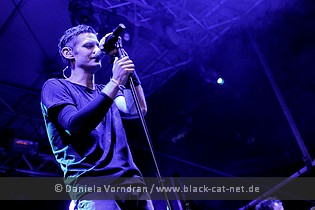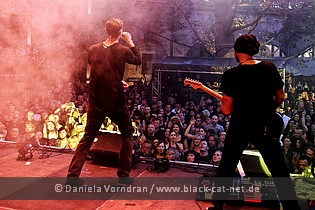 Setlist

01. Why
02. Forgotten (New Intro)
03. Odyssey into the vacuum
04. Exit the Grey
05. Hope
06. Defcon (New Unpublished Song)
07. Child of Entertainment
08. Burning Out
09. Synthesize Me
10. Ignite
---
11. Advance (R. Steward Version)
Rating

Music: 9
Performance: 10
Sound: 7
Light: 8
Total: 8.5 / 10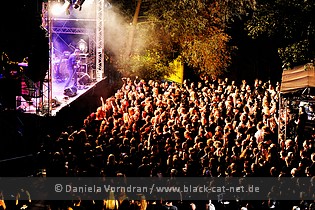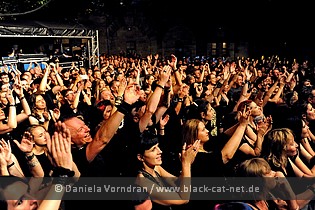 Diary of Dreams

DIARY OF DREAMS is a German Darkwave band around Adrian Hates who is a classically trained guitarist and pianist who started out as the bass player for GARDEN OF DELIGHT. He initiated the DIARY OF DREAMS project in the late 1980s, taking the name from one of his early classical guitar compositions, "Tagebuch der Träume". The first album, 'Cholymelan', appeared in 1994 on the Dion Fortune label. Encouraged by this success, Adrian formed his own label called Accession Records and released a series of albums over the following years building a loyal fan base each step of the way. After 12 albums (including the E.P.'s) they have released 'Elegies In Darkness' in March 2014 and are already working on a new album to be out in October 2015. DIARY OF DREAMS in stage currently is Adrian Hates (vocals, guitar), Gaun:a (guitar, big bass, backing vocals), Flex (guitar, cello, backing vocals) and Dejan (drums).
http://www.diaryofdreams.de
/
https://www.facebook.com/officialdiaryofdreams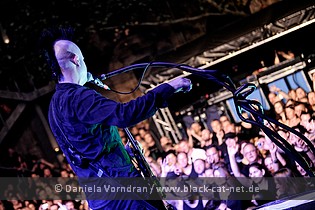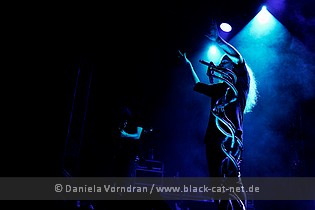 Music & Performance

The stage changeover was short and around 22:00, the evening's headliner entered the stage, being welcomed with thundering applause. What a reception at Festung Königstein! Together with DIORAMA, I had seen DIARY OF DREAMS at Amphi Festival and in my review about the show I wrote about the sheer power the band brought on stage. Well, they were in similar mood this time and presented themselves enthusiastically and full of power and energy. 'Malum' as first song is really a good choice. It is not only the first song of the new album, it also has huge power, setting the right mood for the following show. And it is played live with even more rock than on the album. Great! The following set of course contained several songs from the newest album, but also some older fan favourites like 'Chemicals', 'Psycho-Logic' or 'Butterfly:Dance!'. During the show, Adrian stated that this will be the last show with the played setlist. There will be a new album soon… as he said a Friday mid of October… and during the supporting tour, the setlist will change. Not only will of course new songs find their way into the set, the band will be also playing different old songs than during the last shows. So, we can be really curious what's coming in November when the band is on the road again.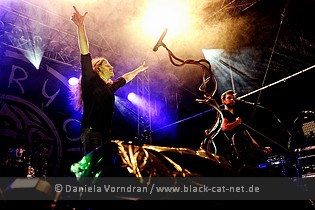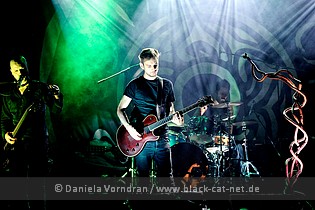 Finally after more than 90 minutes, the set went towards its end with smasher 'Kindrom' and wonderful 'Undividable'. Huge applause soon called the band back to stage. The encore started with 'Lebenslang'. Finally, 'The Curse' made anyone happily should "The Course" when Adrian reaches out his microphone into the crowd. The atmosphere during the show was just magic and you could see that the spell was not only casted on the audience. No, the special mood on the fortress' yard was also catching the band. When the guys left the stage you soon recognized that something uncommon would follow now as second encore. The keyboards of Torben and Helge were put on stage as well as the bass of Alex Alice. Finally, DIARY OF DREAMS in full line-up, Torben, Helge, Alex Alice and Alec Fu returned to stage to present an acoustic version of 'Traumtänzer' altogether. If you were always looking for definition of "magic" you have found it now! Amazing! Many voices, wonderful keyboard sounds, slight guitar, bass and drums… all this made the final song of the show very special. I heard 'Traumtänzer' really often during the last years and was kind of tired of this song. But today, I was bewitched! DIARY OF DREAMS are still good for a pleasant surprise!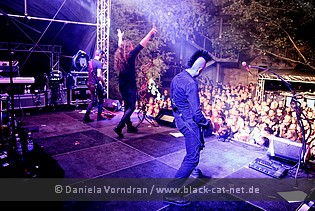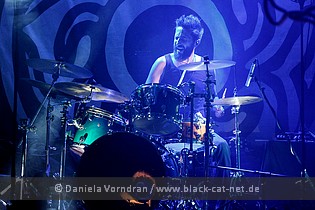 Setlist

01. Malum
02. Chemicals
03. Psycho-Logic
04. the Wedding
05. Haus der Stille
06. O' Brother Sleep
07. Butterfly:Dance!
08. Nekrolog 43
09. Daemon
10. Dogs of War
11. Luxury of Insanity
12. StummKult
13. King of Nowhere
14. a dark embrace
15. Kindrom
16. Undividable
---
17. Lebenslang
18. The Curse
---
19. Traumtänzer (acoustic with Slave Republic and Diorama)
Rating

Music: 10
Performance: 10
Sound: 7
Light: 8
Total: 8.8 / 10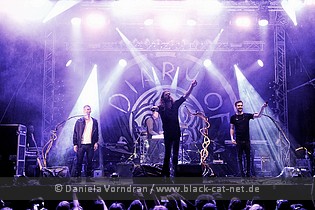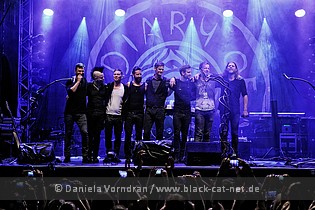 When the show had ended, the yard did not empty quickly. People were staying for chats, some drinks and of course the after show party in the rooms of the old building. This last concert of the Festung Königstein Open Air season was a huge success and I am sure after this great experience, the band(s) will return to the fortress!
All pictures by Daniela Vorndran (
http://www.vorndranphotography.com
/
http://www.facebook.com/blackcatnet
)
See also (all categories):