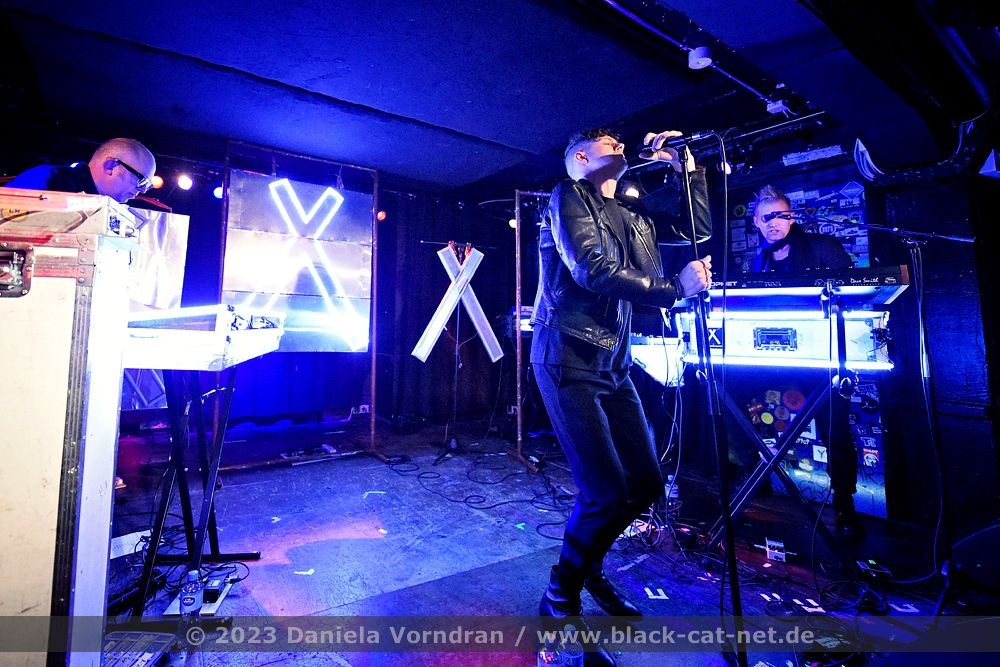 Gleis 22, Münster, Germany
10th November 2023
Agent Side Grinder - "Jack Vegas Tour 2023"

The Swedish AGENT SIDE GRINDER combine the sound of early DEPECHE MODE with ALPHAVILLE and KRAFTWERK sounds and underscore this with hauntingly dark vocals. Synth Pop, Post Punk, Minimal and Industrial samples mix into a sombre, driving sound. For the first time, the band came to Münster to present the new album 'Jack Vegas', released in spring 2023.
'Jack Vegas' is already the sixth album by Swedish Electro / Post Punk outfit AGENT SIDE GRINDER. It marks the band's first exploration of American culture, drawing heavily on the beatnik-era works of Jack Kerouac and William S. Burroughs, as well as the proto-punk and avantgarde movements - while maintaining a contemporary storytelling perspective. The American dream becomes a symbol for escape from a Europe ravaged by pandemics, war and financial instability. Lyrical themes revolve around boredom, resilience, government and corporate intrusion, and mental health - with the occasional glimmer of light. It's a drum machine-driven road movie, plotting its course through the desperate heart of rural Sweden.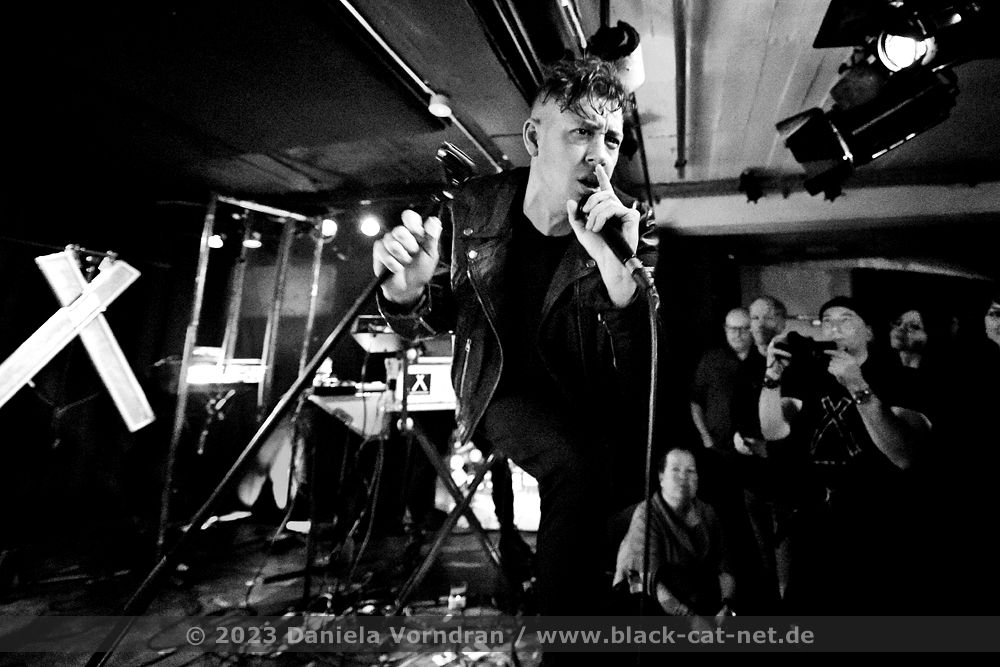 The name 'Jack Vegas' is derived from a Swedish chain of low-stakes slot machines. The album has been produced by former ASG member Henrik Sunbring, and recorded in Stockholm during 2022. Genre-wise AGENT SIDE GRINDER has always existed in some kind of twilight zone. Deeply rooted in early Electronic and Industrial music as well as Proto- and Post Punk, their sound is driven by iterative, suggestive beats and sudden bursts of untamed ferocity, built on equal parts dissonant samples and elegant melodies.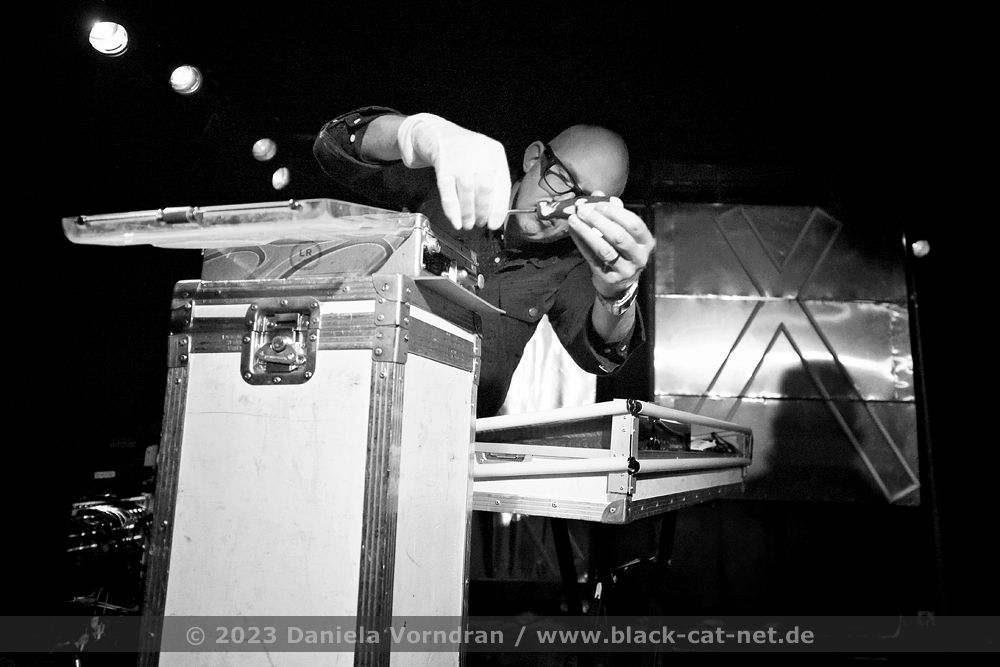 Music & Performance

"Short but intense" is probably the best phrase to describe this concert on last Friday evening in Münster. Different to the announcement, there was no support act. Doors opened at 19:30, the show started one hour later and another 70 minutes later, it all was over. Sure, I always wish for a longer ASG show, but nevertheless I was really happy how the evening went on and about the concert. It was already too long ago since I saw one of my favourite Swedish bands live on stage. First, I was a bit frightened that not so many people would show up. A lot of people I knew were sick and had to sell their tickets. But when the band entered the stage, the club was very well filled and people were looking forward to the concert.
In total, the setlist contained the same number of songs like on shows before, but it was slightly changed. Be "hardest" change for me was that 'Wolf Hour' was not played in Münster. But overall, I was very happy with the setlist. It contained several songs from the new album of course, but also some of my all-time favourites like #This is us' or 'Giants Fall'. Peter and Johan mastered their instruments perfectly; Johan delivering perfect backing vocals as well. Emanuel is a really powerful front man. Not only was he in perfect vocal shape, he also was very close to the audience, addressing the fans several times or climbing onto the monitor speakers or posing for the fans' cameras.
The sound was very well too, perfectly balanced and not too loud. The stage design showed big illuminated "X" light elements in the background and the instruments were illuminated with strip lights as well. Only the club's stage lighting was a bit sparse. But I expected nothing else. At the end, the club has its special charm and is awarded as one of the best clubs in Germany. After the concert, the band was available at the merch for some signings, pictures or just a chat. What more can I say than "this was just perfect". Thank you, AGENT SIDE GRINDER. Please come back soon!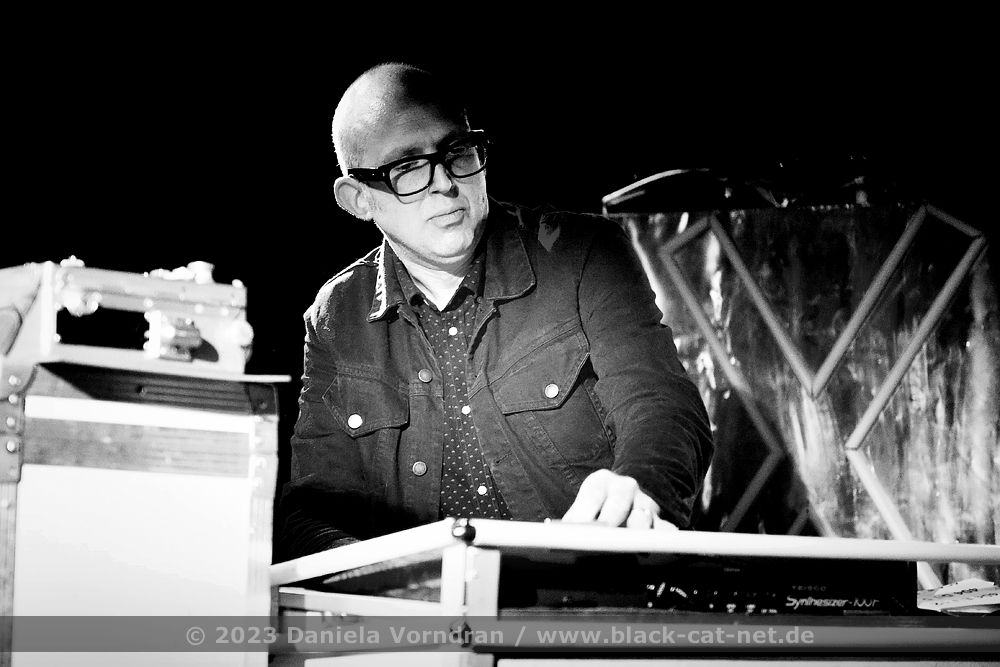 Setlist

01. Waiting Room
02. Live in Advance
03. Love at First Sight
04. Giants Fall
05. Madeleine
09. Bloodless
07. Doppelgänger
08. This Is Us
09. In From The Cold
10. Stripdown
---
11. Decipher
12. Into the Wild
Rating

Music: 10
Performance: 9
Sound: 9
Light: 8
Total: 9 / 10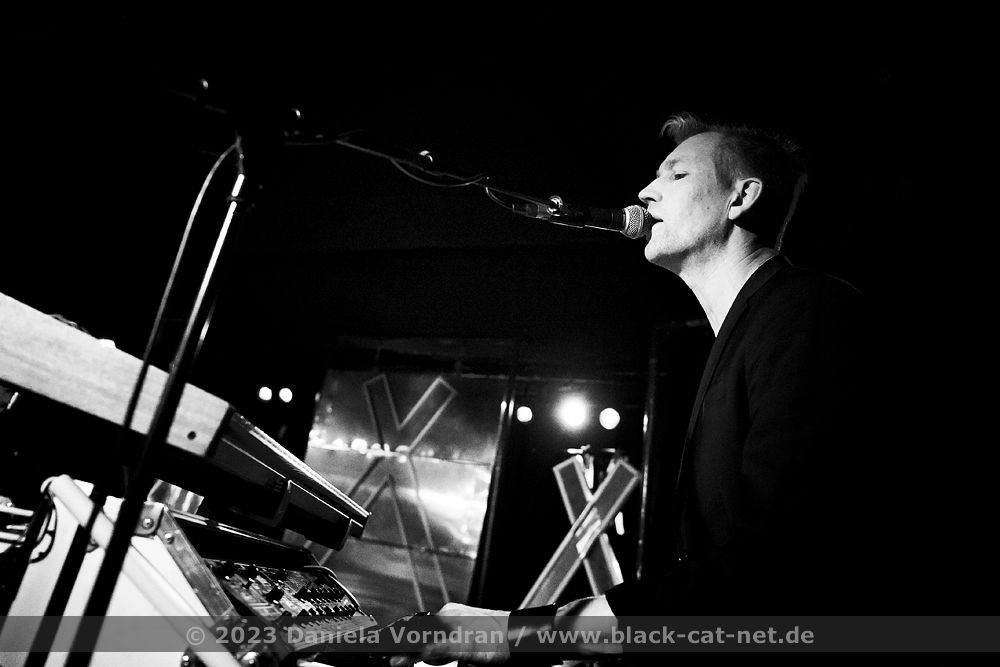 All pictures by Dani Vorndran (
http://www.vorndranphotography.com
/
http://www.facebook.com/blackcatnet
)
See also (all categories):