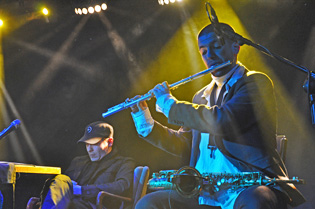 Substanz, Munich, Germany
25th February 2010
Holly Loose & Benni Cellini & Karl Halbig: "Das weiße Buch des Jadefalken"

Now after my reading with Johannes Steck and CORVUS CORAX' 'Die Zwerge', I visited again a musical reading in Munich, this time of Holly Loose who is known most probably as singer and front man of the Dresden based Folk-Rock band LETZTE INSTANZ. And indeed, he still has other talents: Alongside he is also active as an author! His newest work, the novel "Das weisse Buch des Jadefalken", appeared on the 1st December 2009. On account of that, Holly Loose started to a reader's tour, accompanied by Benni Cellini (e-cello) who also plays in the band LETZTE INSTANZ and Karl Helbig (saxophone) who forms the project LANDÜBER together with Benni Cellini.
www.myspace.com/hollyloose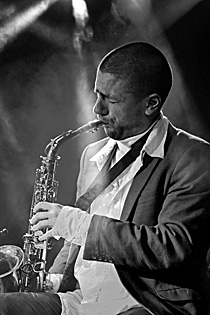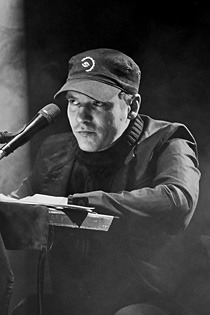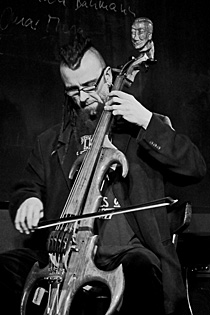 Music & Performance

Shortly after 8:30 PM, Holly Loose, Benni Cellini and Karl Helbig entered the stage in the Substanz stage in Munich. The Location was not the biggest, but the prepared seats were all occupied and there, a pleasant mood prevailed. After a short introduction, Holly began with the reading in extracts of his sensitive and affecting history of the Catholic Laura, who comes from a little village in Saxony, and the Muslim Cingiz from Istanbul. Both become acquainted in the 50s in Germany and the young Laura still decides after a short time that she returns - against the will of her parents - together with her big dear Cingiz into Turkey. There, she recognises that there are many differences in the faith, the culture and language of which they demanded too much at that time and she made the decision to return to Germany.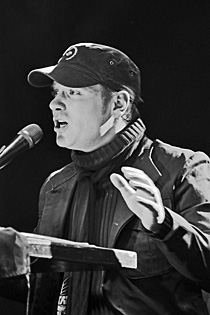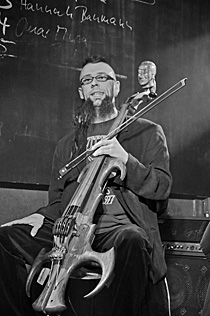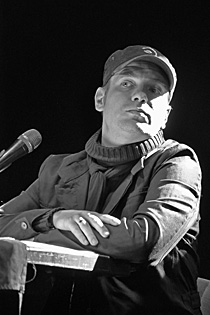 After years, both meet again and try their luck once more in Berlin - and this time it works. They return to Istanbul and find a way for themselves to handle with the differences and experience something - also together with their son. Holly told the story extremely empathetically and with his quiet voice, the reading impressed the tense listeners very much. Occasionally, Benni and Karl played, either only with their instruments or accompanied by Holly's voice, a few suitable pieces. From time to time, Holly incorporated the listeners and broke up with a few explanations or amusing remarks. After approx. two hours he came to the end of the story with the sudden death of Cingiz and made too many listeners desire to read up more of this story… Then there was still a loose sitting together in the Substanz with Holly, Benni & Karl after the official finish and a really nice evening came to an end.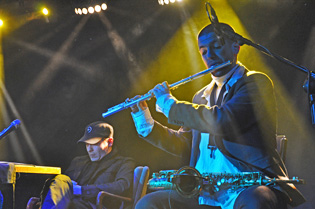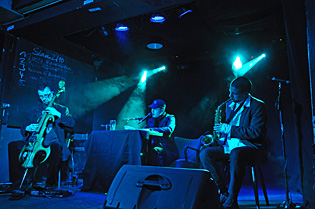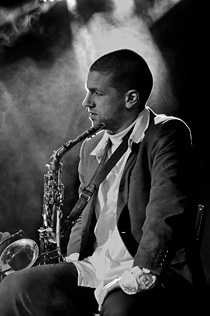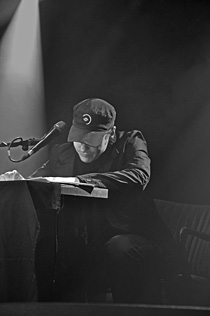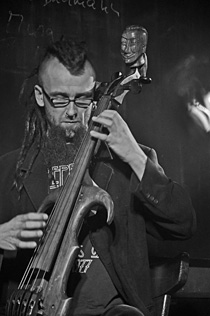 All pictures by Erika Knepper (
This email address is being protected from spambots. You need JavaScript enabled to view it.
,
http://www.myspace.com/antecanis
)
{jos_sb_discuss:17}