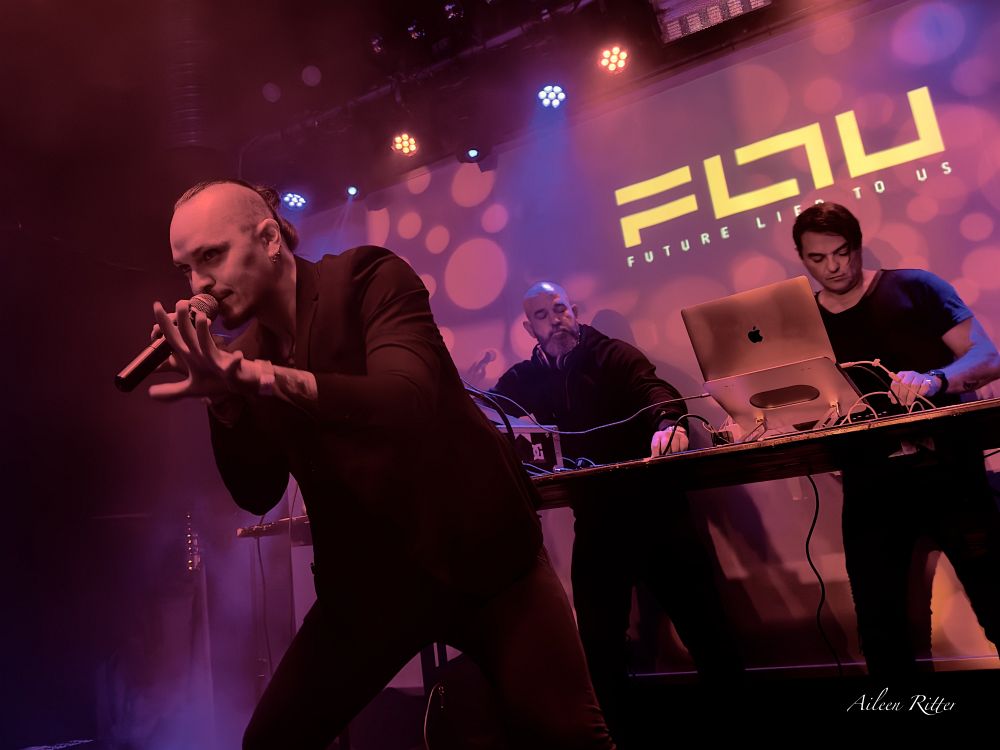 SubKultur, Hanover, Germany
26th August 2023
Future Lied To Us - Support: Desastroes

The beginning of the new concert series "Synthetic X Ascension" at SubKultur Hanover was not under a lucky star. The very first concert of the series had to be postponed in May due to illness of FUTURE LIED TO US singer Damasius "Dama" Venys. After his recovery, I had the pleasure of seeing the trio live on stage multiple times in the meantime. FUTURE LIED TO US (FLTU in short) performed several times at various festivals and as support for SOLAR FAKE.
Today, the long-awaited full-time show finally took place. For this, I am more than willing to undertake the 450 km journey to Lower Saxony, especially since I felt extremely comfortable during my last visit at the SubKultur. Even today I feel right at home here. I truly appreciate the friendly, family-like atmosphere of the club. And I can hardly get enough of the lovingly designed interior. But first things first, but not necessarily in that order.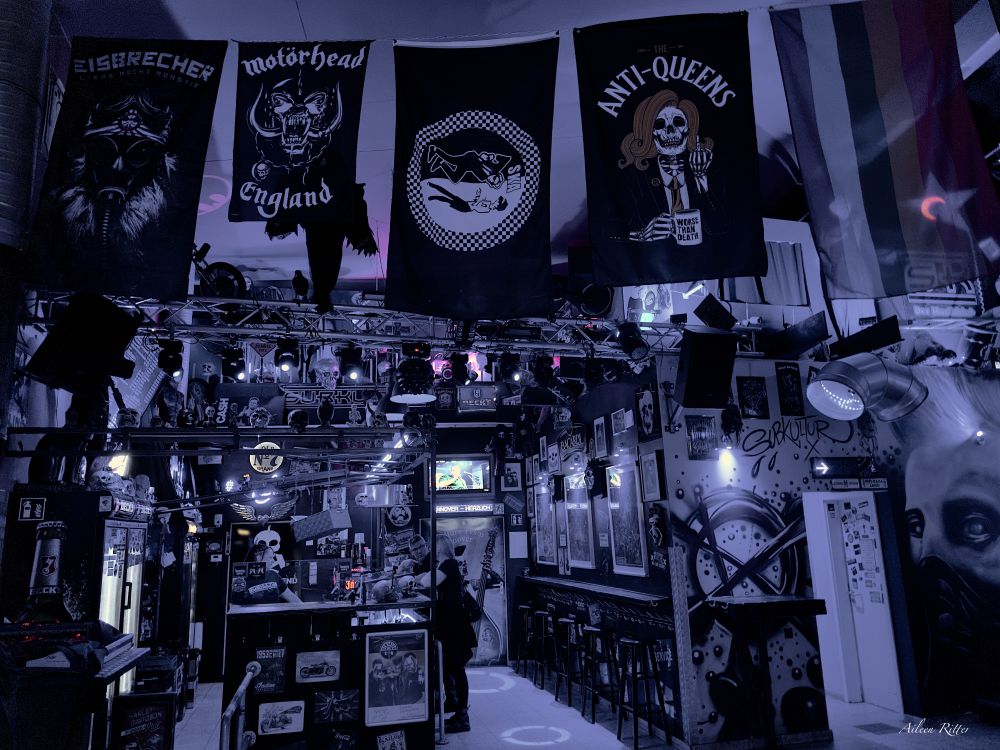 As I have about a 4-hour car ride ahead of me, the day starts early in the morning with a refreshing shower, followed by a hearty breakfast. Another cup of coffee for the road and then I can get going. I can't make it through the journey to Lower Saxony without that caffeinated elixir. Fortunately, I make good progress and I'm already at the hotel by early afternoon, where I meet up with my friend. Together, we head to a Thai restaurant for dinner and then take the way to Jens Klostermann's club on feet. Outside, they've set up beer table sets where people are still leisurely enjoying their coffee. We join them and can thus witness the creation of the setlist for today's performance. It's put together spontaneously by Dama, Krischan, and Vasi, while DESASTROES are inside doing their soundcheck.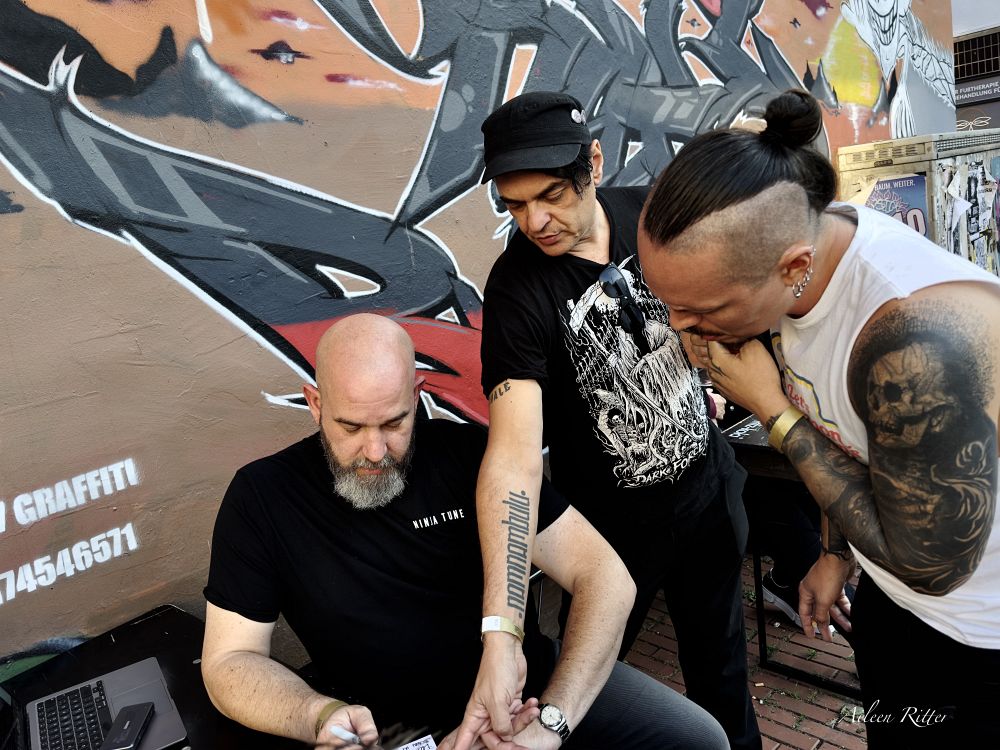 Doors are planned to open at seven o'clock. However, there are only a few people there so far, and everyone is still comfortably sitting outside. (Little fun fact on the side: Krischan has a sensitive scalp. At least that's what Vasi claims after Krischan comes out of the restroom with a freshly shaved head.) The atmosphere outside is very relaxed, leading the musicians to share some funny and extremely interesting anecdotes. Around quarter past seven, we decide to take a look inside. However, most people are still outside, enjoying the warm summer evening. Inside the club, there isn't much going on yet, and the show starts a bit later than planned. That gives us enough time to visit the restroom and grab some drinks. Gradually, some acquaintances and friends arrive, and we engage in lively conversations. So, the time until the start flies by.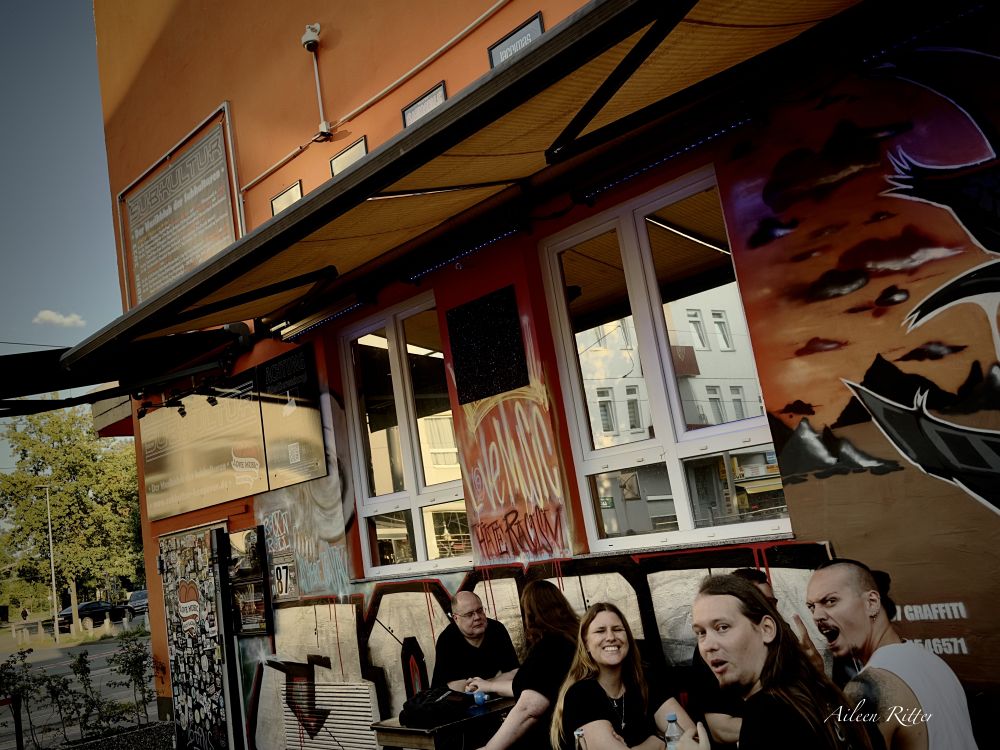 Desastroes

Already in 2011, Jan C. Hoffmann released his first album 'Electric Butterfly' as DESASTROES, a digital promo album. In the summer of 2013, the first official studio album 'In Ewigkeit' came up to life. Further releases followed, most recently the album titled 'NIM:MER:TOT' which came out last May. The multifaceted Gothic Electro Pop is characterized by predominantly German-language intelligent lyrics that deal with topics such as love, politics, different life situations, and interpersonal relationships. Musically, the project is influenced by artists like ASP, Joachim Witt, and [:SITD].
www.facebook.com/Desastroes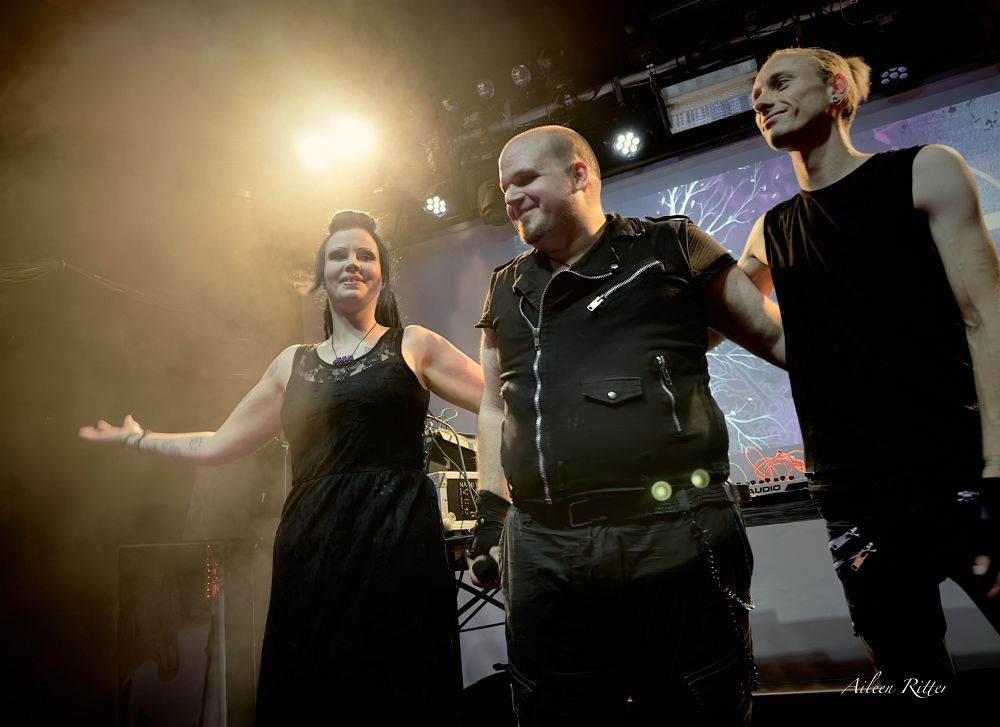 Music & Performance
The focus of today's set is naturally on the current album. However, a few older tracks can still be heard. DESASTROES start with 'All The Glory Must Die' from 2020 shortly after half past eight. Unfortunately, during the first verse, Jan's vocals are hardly audible. Somehow, the microphone is acting up. But, it's only brief, and the sound is fixed from the second verse. "The next song is called 'Melancholia'." Jan is not alone on stage and introduces the band, "today on the keyboard, our dear Jenny, and on drums, our dear Lon." Both receive a hearty round of applause. DESASTROES don't only have "depressive songs" in their repertoire.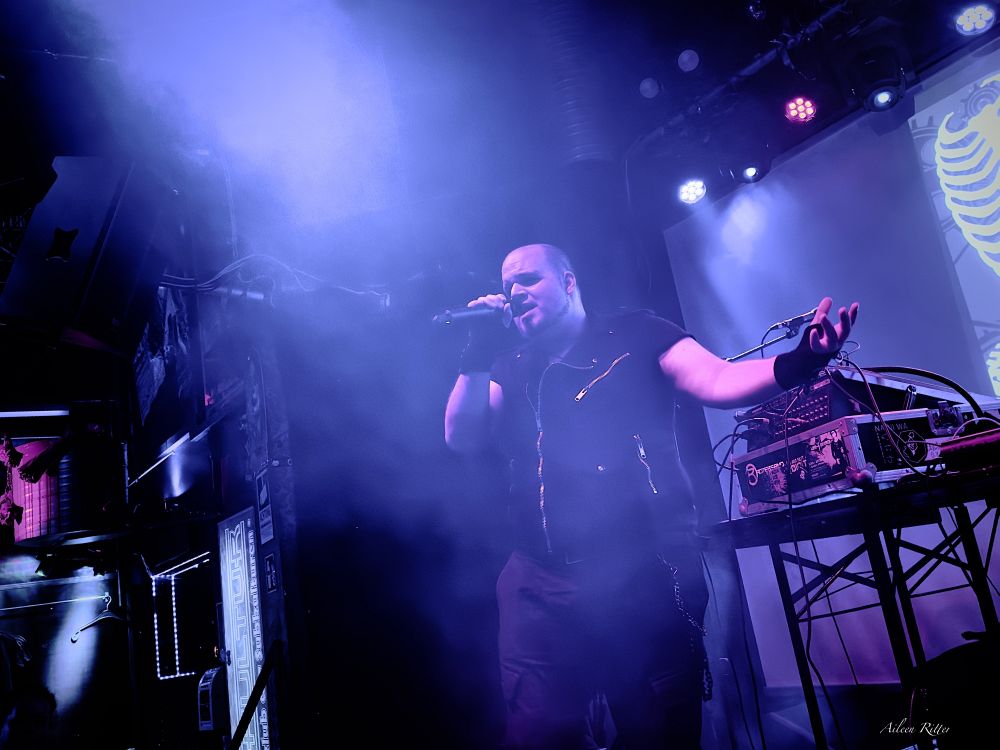 With 'Anderswo' from the current album, they present a live premiere. A fantastic song that resonates well with the audience. It's a shame that more people haven't made their way to the SubKultur today. It would have been great to have a few more guests. But as with many things, it's not the quantity but the quality that matters, and the present audience is in great spirits. The available space in front of the stage is extensively used for dancing. Jan is overwhelmed, "it's totally cool. The next song is a bit more positive. It's called 'Funkenmarie'." With this lively track from 2020, the audience starts clapping along, and just like the protagonist in the song, the audience in front of the stage dances exuberantly.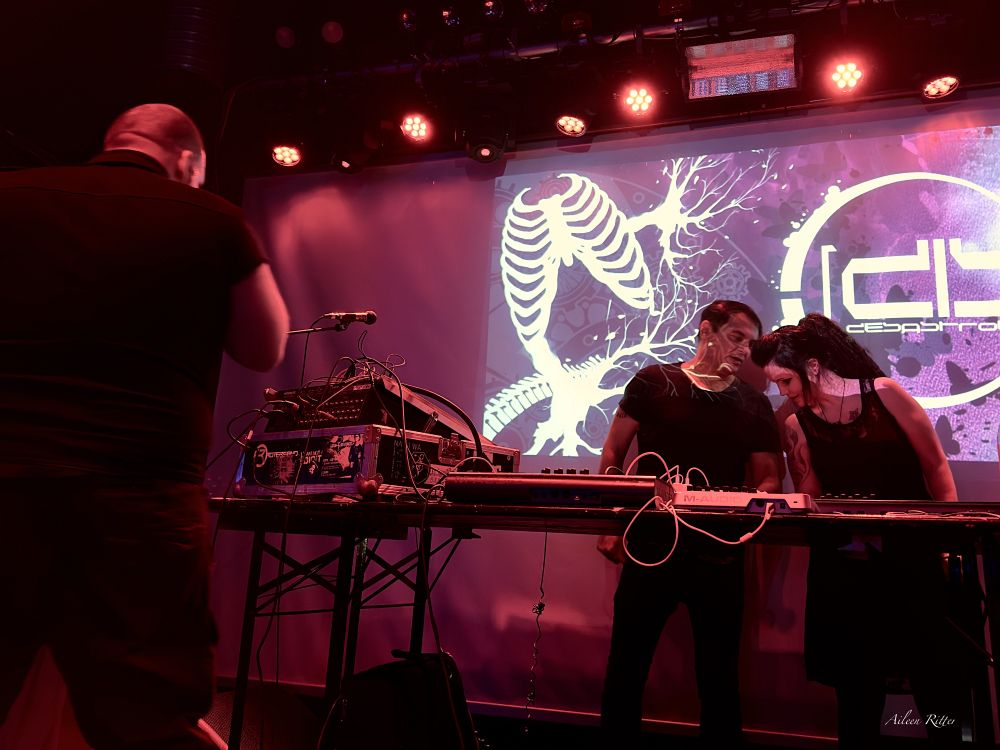 "You all know the Puss in Boots. DESASTROES have reimagined it a bit, 'Puss In Space'. Enjoy." The song from the current album immediately gets you moving, and you just can't stand still. 'Zwischenmensch' is from the current album as well, and "a bit for people like you. A little thinking and not always seeing everything as negative." By the way, it's a cool, highly energetic song with extremely intelligent lyrics. The audience enthusiastically sings and claps along. With 'Kopfgefängnis' (2017) and 'Dein Gift' (2015), there's a little trip into DESASTROES' past. "The following song is the last one created for the current album and holds a very emotionally high value." 'Eintausend Träume' is another beautiful song with great lyrics. Even though Jan claims "it's like Schlager." I'm currently wondering why I don't yet own the album. That will probably change shortly.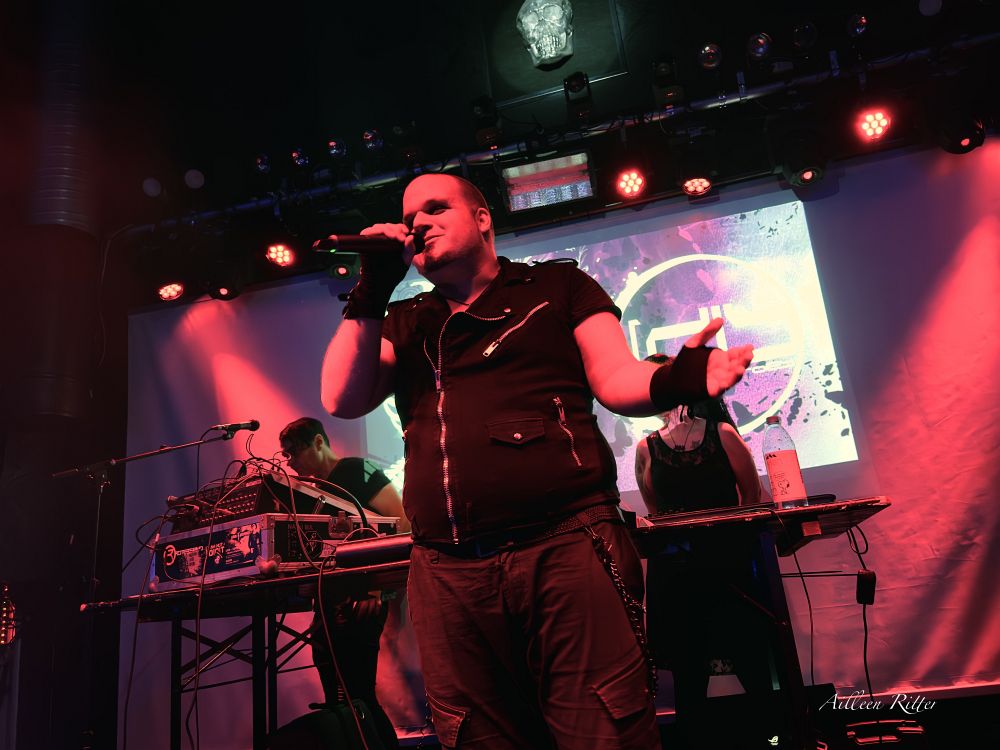 For today, however, "the last song" is coming up. Jan doesn't want to perform it alone though. But Vasi "is not coming from the bar, haha. Some of you may have noticed that I had the great privilege of witnessing one of his projects. (Editor's note: Vasi's project REAPER is being referred to). The song is called 'Tanzen durch die Nächte', for those who don't know it. I'd like to thank him again at this point." Vasi has finished his drink by now and made his way to the stage. Together with him, DESASTROES bid farewell around 9:20 pm with a real banger. "Thank you! Thank this man! I rarely had so much fun." We had a lot of fun too. A successful start to a great evening. The musicians are bid farewell with plenty of applause and cheers, and we're well warmed up.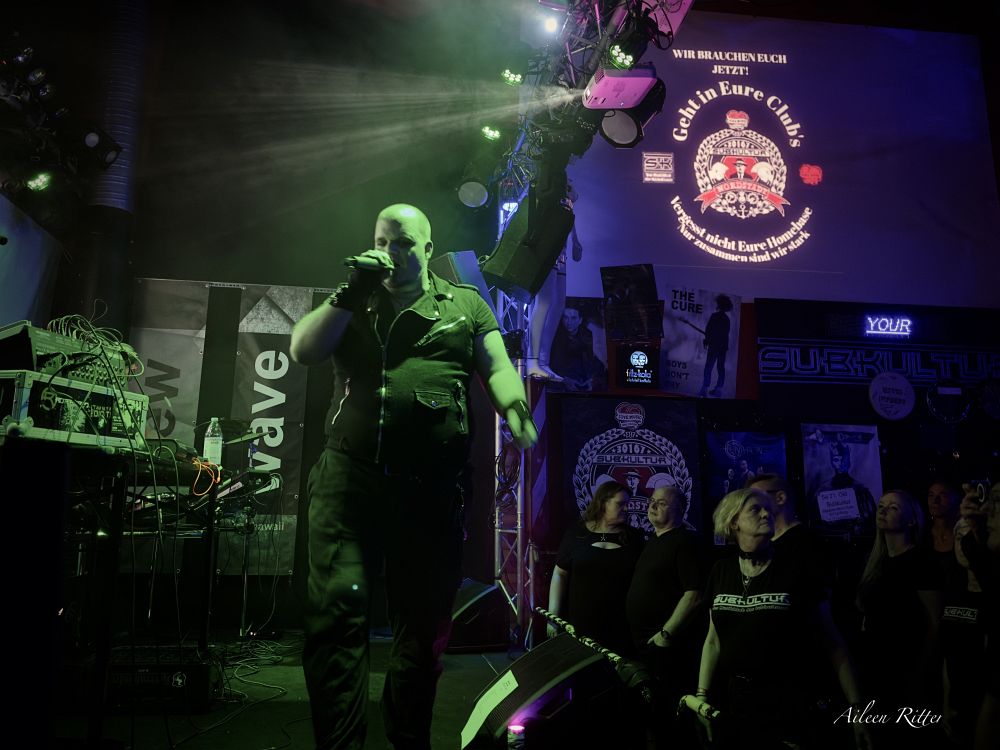 Setlist
01. All The Glory Must Die
02. Melancholia
03. Anderswo
04. Funkenmarie
05. Puss In Space
06. Zwischenmensch
07. Kopfgefängnis
08. Dein Gift
09. Eintausend Träume
10. Tanzen durch die Nächte (feat. REAPER)

Rating
Music: 9
Performance: 8
Light: 7.5
Sound: 8.5
Total: 8.3 / 10


Future Lied To Us

The project founded by Vasi Vallis (FROZEN PLASMA, NAMNAMBULU, REAPER), Krischan Jan-Eric Wesenberg (ROTERSAND, CYTO), and Tom Lesczenski ([:SITD:]) started with a lot of promise. Already in its founding year of 2016, the trio impressed the audience at their live premiere during the Charity Festival in Oberhausen. Taken under contract by Infacted Recordings, the EP 'Progress' followed in 2018, as well as their first full-length album 'Presence'. The future seemed to hold great things for the newcomers. However, as we all know, shortly thereafter, many things turned out differently than expected. The pandemic also left its mark on FLTU's musicians. And when vocalist Tom left the project in 2021 for personal reasons, the project's future was nearly extinguished. Yet, Vasi was able to convince singer Damasius Venys (MENTAL EXILE) to join the project. He had recently left MONDTRÄUME and was a real stroke of luck. In 2022 the two EPs 'I, Hope' and 'Fly Away' were released at the label Trisol. Currently, more releases are in the works. The old songs are set to be re-recorded and re-released, and there are already new songs waiting. Although they don't have titles yet, they have been performed live.
www.facebook.com/futureliedtous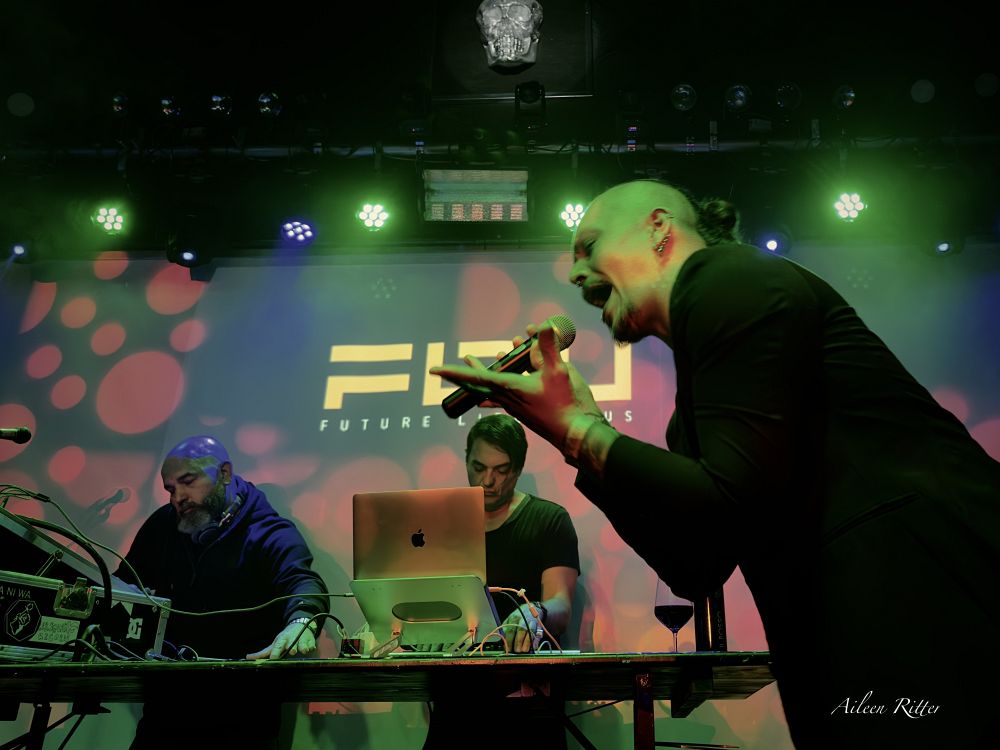 Music & Performance
As the collaborative change over progresses swiftly, Krischan kicks off the performance at quarter to ten by requesting "more gothic, atmospheric lighting," finding the current brightness on stage "unmystical". His request is met, and the appropriate lighting for 'Blue Light' is promptly delivered. Dama's greeting is interrupted by the friendly yet firm request of an audience member, "no chit-chat, keep going." Dama agrees, saying "let's do it that way." However, his microphone seems to have a different opinion and temporarily malfunctions during 'Intentions and Masks'. So, Dama promptly grabs Krischan's microphone, leaving us without Krischan's backing vocals for now. Chief Jens gets the "dud" and replaces the battery. This seems to initially resolve the "battery problem". The "battery is now working". Unfortunately, not for long. Dama has to resort back to Krischan's microphone for 'Suffocate', holding both for a while before handing one back to Jens. However, 'I, Hope' manages to come through before that. Dama's first work with FLTU is simply a fantastic song.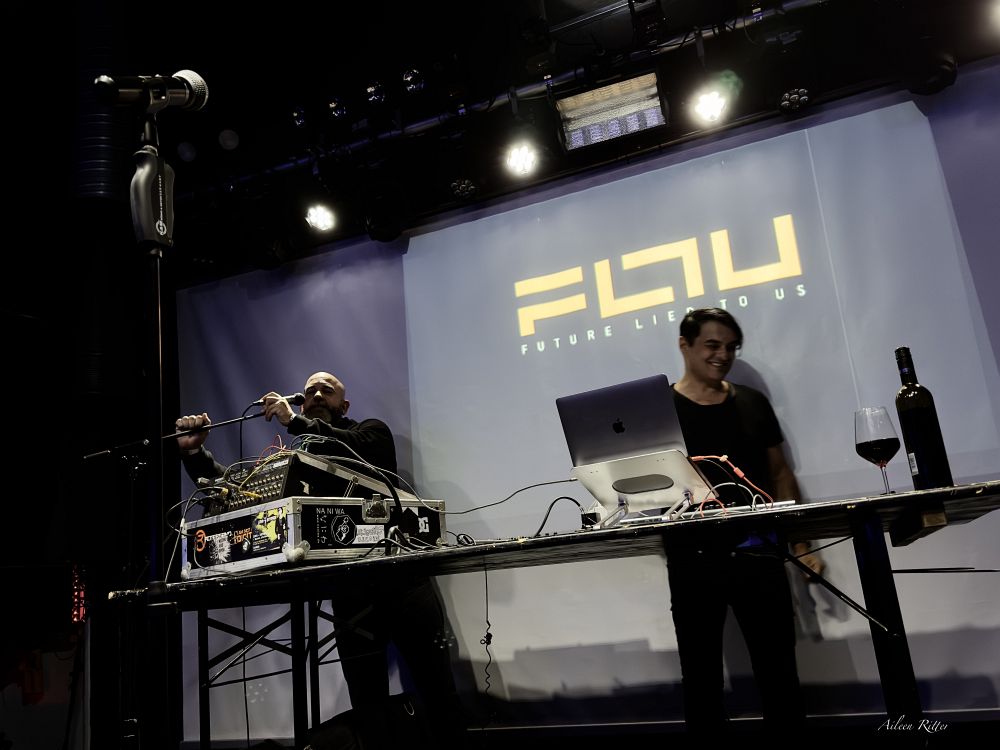 Anyway, it's probably getting warm on stage. After Dama took off his jacket earlier, Krischan now does the same. 'Drops Of Silver' follows. I was just listening to this in the car on the way here. I really like Tom's voice and singing on the old tracks. I haven't seen FLTU live in the previous band lineup. So, I don't have a real live comparison. But somehow, I have the impression that Krischan, Vasi and Dama were searching for each other and found one another. It just fits, and the songs sound amazing live with Dama on vocals. The atmosphere is fantastic, and Dama amps things up as the frontman. Before the next song, there's a quick microphone change. "One, two, three. Check, check, check. Hey, hey, it's working!" Then we can continue. At least if we still have the energy for a full-time show. The cheers clearly indicate that we do, and "we're all sweating together tonight". That's not hard to do with the first brand-new song. It still doesn't have a proper title and has been given the working title 'Prodigy' on the spot, because it (according to Krischan) sounds a bit like that.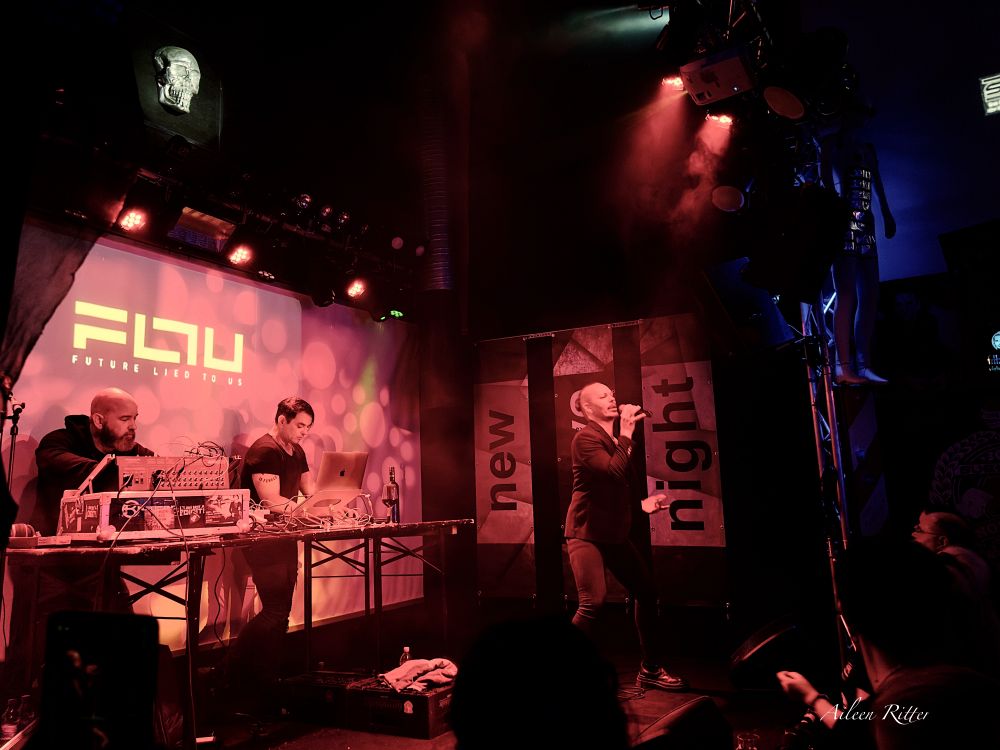 'Fly Away' is melodic again and is sung along by everyone and everybody's dancing. Krischan is also singing. This time, no backing vocals, even though he has his microphone back. More like "badabap..." during the bridge. Dama is constantly making eye contact with the audience; it's fascinating how he involves the crowd. "Krischan and Vasi, folks. Let's applaud for the two!" I'm actually a little grateful that it's not so crowded. Dama is "sweating like a pig" (although pigs can't actually sweat). The question whether we're also sweating, we can (still) answer with a no. That's why they're playing ballads now. "What's coming up next?" "Well, ballads, I told you", says Krischan. The audience requests 'Lost'. That's what's coming up now, and I'll be gone for a moment. I was hoping for this song during the concert with SOLAR FAKE in Königstein and then wished it would be in the set tonight for it wasn't played there. One of my absolute favourite songs. As mentioned before, I really love the songs with Tom on vocals. But especially with this one, it feels like it was always meant to sound exactly like this. Amazing! 'Break Me into Pieces' follows directly. What an awesome set, and no time to catch a breath for Dama. Because it continues right away with 'Tellurian'.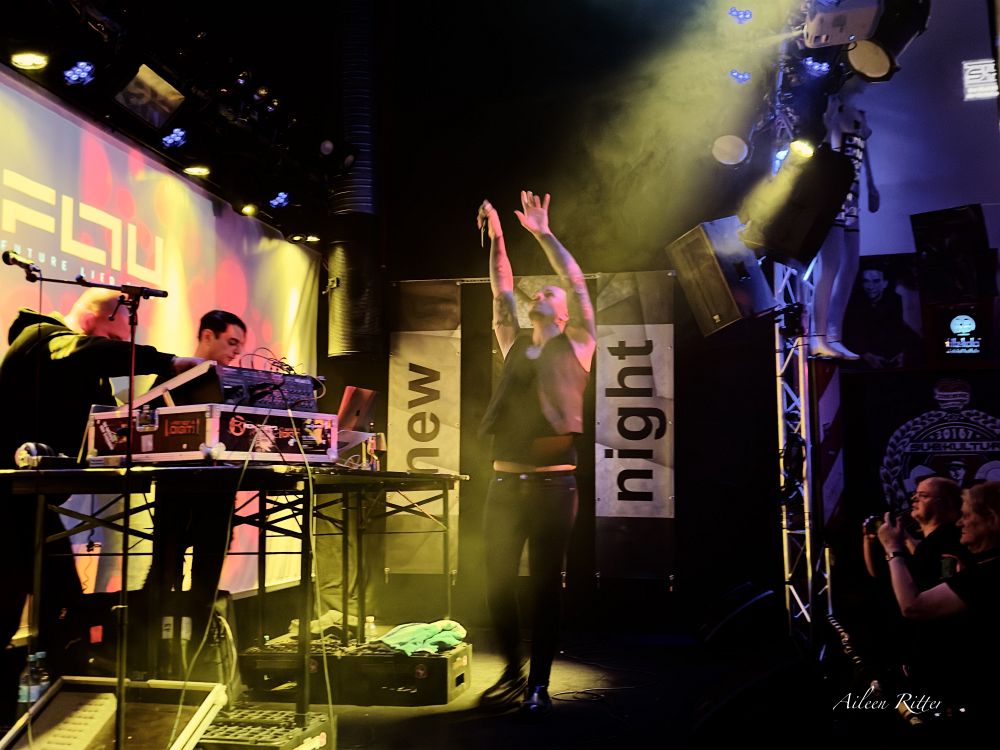 Dama is a bit out of breath. He needs to drink water and catch his breath, which prompts Krischan to chime in, "What, you need air? What's that about?" Dama ignores that and asks us, "Is it hot where you are too? Are we all sweating now, or not yet? What should we do?" Krischan is in a particularly good mood today and ready to joke around. "A little Paso Doble?" Vasi starts the chant, "Olé! Everyone!" We manage to get an "Olé!" in as well. But there's no Paso Doble. Instead, it's the next new song, which has been given the working title 'Stranger'. This one, too, doesn't have an actual name yet. (We were joking earlier outside about whether we should maybe ask ChatGPT for a suitable title for the new songs.) Anyway, I'm liking the song more and more with each listen, even without a title. Krischan is in the flow, singing, while Vasi concentrates intently on his screen. "Are you all still here? Come on, everyone together!" Really awesome, the atmosphere couldn't be better, and yet they kick it up a notch with 'Blaze In The Dark'. By now, we're truly all sweating together. Dama's boundless energy is infectious, he's getting everyone fired up.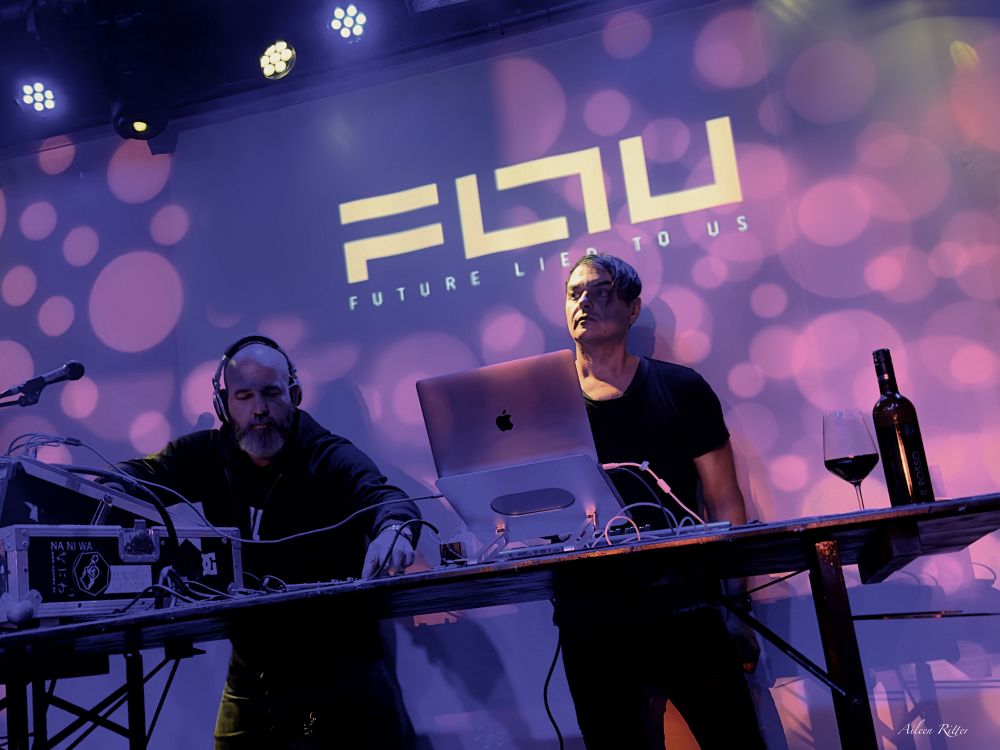 Then comes a song that "nobody knows except us". Although, Dama doesn't know it either. At least, that's what he claims. "This is a pretty shot in the dark. Does anyone know CENCAB from the USA as a band? No, that's not to be expected either. Um, not really. Well, it's a good band. Technically speaking, it's also a cover version. But that's not so bad. Since nobody knows the original either, nobody notices how different it is. So, in a way, that was an announcement for the feet. But we don't want to leave the stage either. Let's just give it a try." The cover is quite cool, and I decide that I definitely need to listen to the original at some point. Unfortunately, I haven't found it yet. (By the way: Behind the mixing desk, Chief Jens is in the midst of sorting out the dinner that has arrived. He checks a stack of pizza boxes and then takes them backstage.) On stage, they decide to stay right there ("we can't really go far anyway") and continue directly with the encore. However, a few bars of 'Embrace a World' are heard, then a moment of silence, and then 'Falling' starts. "Hey, not yet!" Dama intervenes. "Yeah, what now?" Krischan wants to know. They don't seem to quite agree on how to proceed. "The singer has to decide now." While he doesn't really care, somehow, they do end up choosing 'Embrace a World' after all.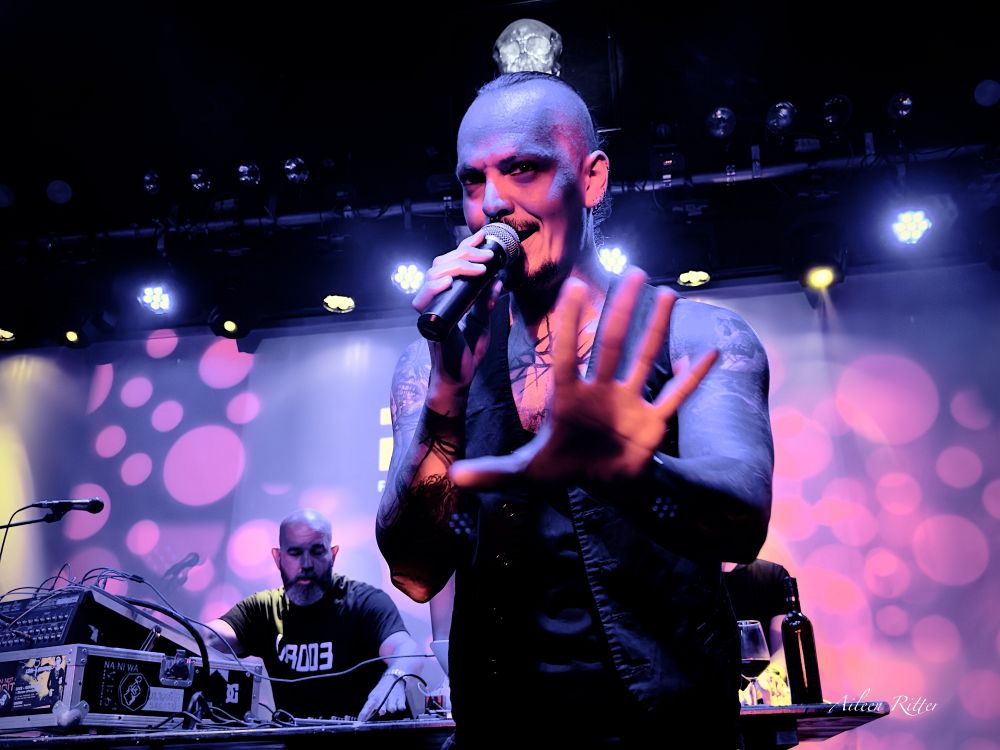 "So, folks, now it's your turn! Now! Are you really here? Show me!" The atmosphere in the SubKultur is fantastic, as if we had a full house. Like I mentioned above, sometimes it's not about the number of spectators. It just takes the right people, and they're all in a great mood tonight. The energy in the room is incredible. "Are you here? Are you here? Now you're here! Ready?" I'm repeating myself: it's just incredible! Or as Dama says, "that was awesome!" Vasi applauds before capturing 'Falling' on video once again. There's clapping, singing, dancing, and cheering. "No break. Now we're all sweating!" Said and done. The audience and the musicians are encouraging each other. What a blast. "Now we're all wet. Aren't we? So, how much longer do we play?" "Two hours," I hear from the background. I wouldn't mind that. But Krischan says, "One, one more song!" Disappointment among the audience. "We don't have that much, you know." Dama agrees, "okay, one more song. Then we'll drink together. Are you ready for the end?" Of course not! It´s 'Born in Silence,' but tonight no silence, everyone sings and claps loudly. "Thank you, Hannover, SubKultur. Many, many thanks! Have a lot of fun!"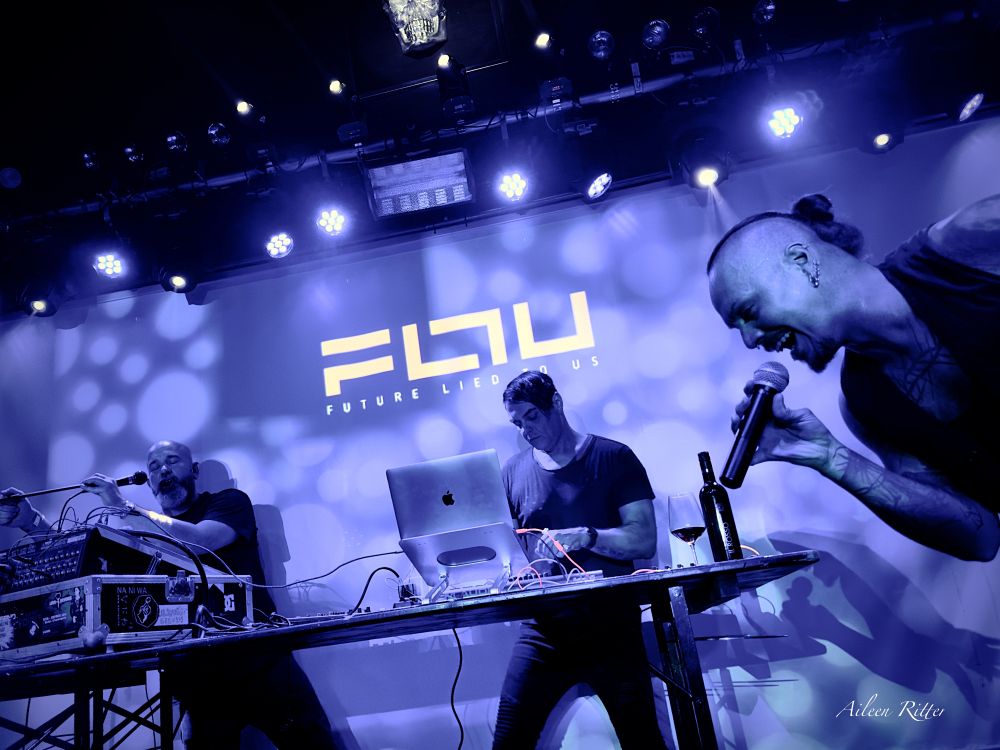 They actually want to say their farewells from the stage. However, the audience demands an encore so vehemently that they don't dare. "What's going on here?" They don't have anything left. But then Dama asks, "Should I sing something in Spanish?" Krischan is on board immediately, "Yeah, sing something in Spanish." Dama ponders, but he can't think of anything. "Yeah, what now. We just can play a song again." But then Dama starts singing 'Happy Birthday' in Spanish before he comes up with a better idea and sings an old Spanish song. He's a bit embarrassed about it, but it's one of his favourite songs. 'El jinete' was covered by HÉROES DEL SILENCIO singer Enrique Bunbury in 2001. Now, we hear it acapella. Dama ends with "Gracias, fertig!" and at 11:20 pm, the three musicians are actually allowed to leave the stage. They hand over the reins to Kai Hawai for the after-show party.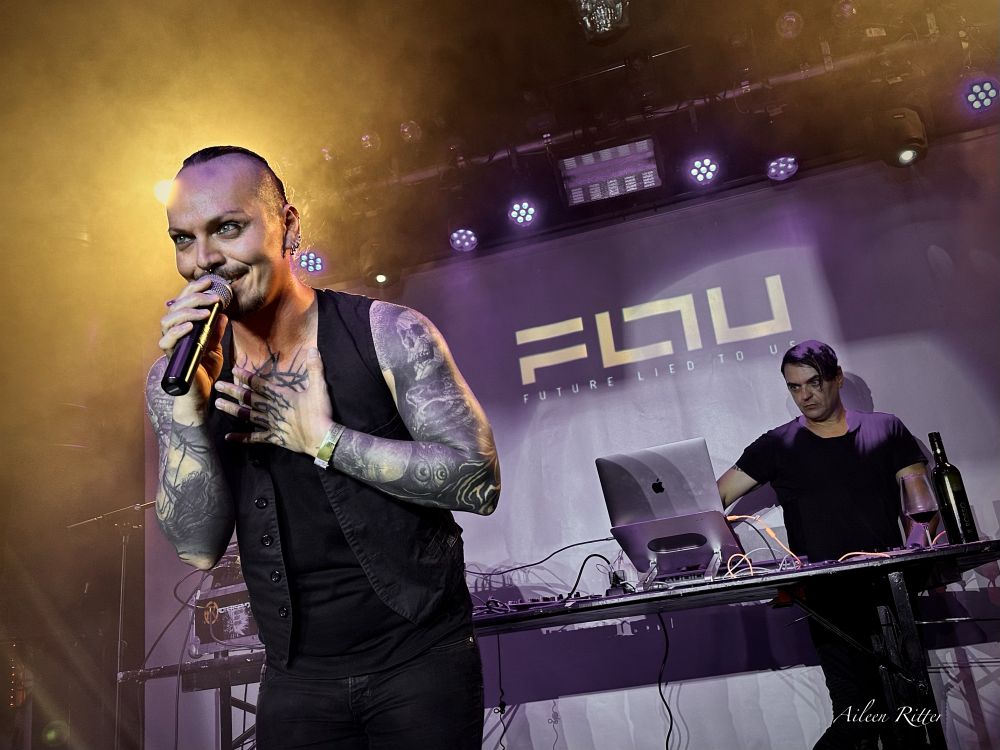 We decide to catch some fresh air first and "occupy" an available beer table set. Somehow, it's so cozy outside that time flies by. Jokes are exchanged, laughter fills the air, and Vasi shares some more stories. Around 2 am, Chief Jens asks the group to join the few remaining guests on the dance floor for a bit to keep them company, so they can start cleaning up outside. We happily comply with the request and dance for another hour before finally heading back to the hotel shortly after 3 am. My second visit to SubKultur, and just like the first time, I thoroughly enjoyed the evening. The family-like, friendly atmosphere, the charming decor, the kind staff, and two amazing acts on stage - everything was simply in perfect harmony again. I'm already looking forward to my next visit in October to Hannover's musical living room. That time, it'll be with WIEGAND and DIORAMA in a sold-out house.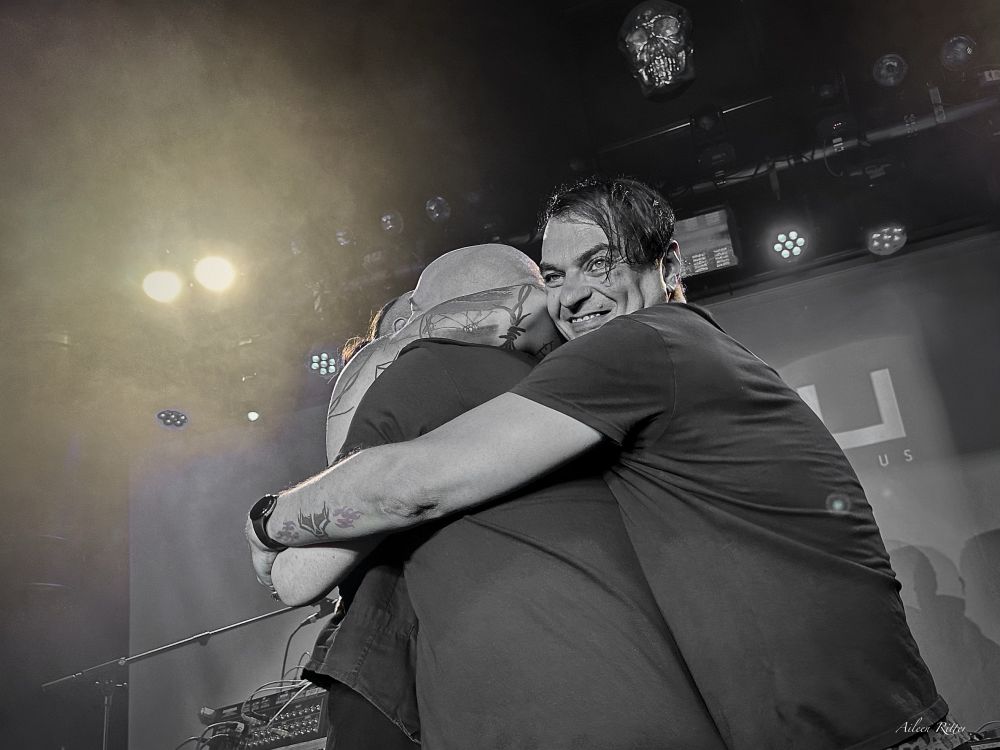 Setlist

01. Blue Light
02. Intentions and Masks
03. I, Hope
04. Suffocate
05. Drops Of Silver
06. Prodigy (working title)
07. Fly Away
08. Lost
09. Break Me into Pieces
10. Tellurian
11. Stranger (working title)
12. Blaze In The Dark
13. I'm Finished (cover)
---
14. Embrace a World
15. Falling
16. Born in Silence
---
17. El jinete (cover)
Rating

Music: 10
Performance: 10
Light: 8
Sound: 8.5
Total: 9.1 / 10
All Pictures by Aileen Ritter
See also (all categories):