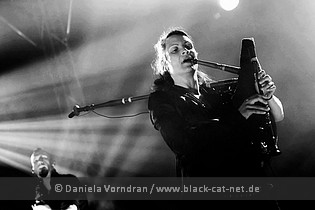 Jovel Music Hall, Münster, Germany
18th April 2012
Schandmaul & Burn

Due to illness of their singer Thomas Lindner, German Folk Rock band SCHANDMAUL had to cancel their February gigs of their 'Traumtänzer' tour. Fortunately the Munich band could make up for it and play all the cancelled gigs in April after the vocalist has recovered.



Burn

When you listen to BURN from Münster/ Germany you wouldn't believe that this is a band which released their debut just one year ago. They rather sound like a band who is more than 15 years in the business. Actually both is correct for BURN: The band was founded in the early 1990s but it took them 15 long years until they released their first proper album, 'The Truth', in March 2011 on Blind Records. Numerous gigs, a dedicated local fellowship, many line-up changes and a close call to ultimate disbandment were behind BURN before singer and guitarist Felix Friberg saved his baby and gathered new band members around him for a successful re-launch of the band. Since the release 'The Truth' there were many highlights for BURN, including well received support slots for acts like CLAN OF XYMOX, UNHEILIG and SCHANDMAUL and festival gigs, e.g. the Blackfield festival, and even recording and releasing a second album, entitled 'Black Magnolia' and produced by UNHEILIG's Henning Verlage. All this didn't take BURN another 15 years but less than one year! A fresh start with full force for the German band, who gained a lot of new fans in these twelve months with their melodic Wave Rock!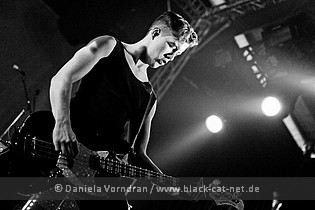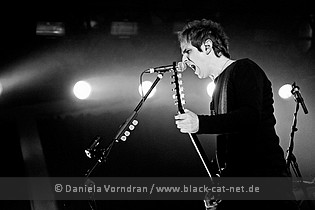 More often than not BURN is compared with THE CURE, first and foremost because of Felix Friberg's voice which really sounds a bit like Robert Smith. But BURN are somewhat rockier than the Goth godfathers and at the same time BURN's songs have a stronger Pop appeal than most of Robert Smith's dark elegiac anthems. Throw in some ECHO & THE BUNNYMEN, a touch of early NINE INCH NAILS and more recent EDITORS and you will have an idea how BURN actually sounds musically. BURN is Felix Friberg (vocals, guitars, composing), Sven Krachten (guitars), Felix Flögel (bass guitar), Jörg Schwaer (drums). http://www.burnmusic.de / http://www.myspace.com/burnmusicdotde

Music & Performance
Touring with SCHANDMAUL isn't a first for BURN as they already played a number of gigs with the Folk Rock band from Munich last year. Although BURN's music is quite distinct from the lead act they were welcomed by the SCHANDMAUL fans with open arms. And as there's been also a growing cordial friendship between the two bands it's no surprise that BURN were invited again to perform with SCHANDMAUL. The gig in Münster was of course special for BURN, as it is their home town and perhaps the first time ever that they play there in front of such a huge crowd. When Felix Friberg and his band mates entered the stage the BURN fans (and family members, apparently) at the front cheered loudly, and the smashing opener 'Burn For You' called for everybody else's attention.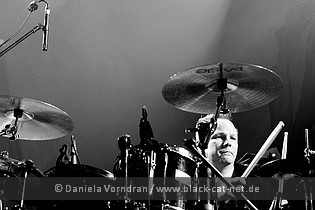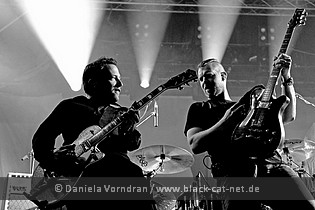 The classic 'Ghost' followed, a song from the earliest day of BURN, and as a nice surprise SCHANDMAUL guitarist Martin "Ducky" Duckstein joined BURN to perform this one. A big stage like this really suits BURN, and with every song BURN won over more people. At song number four, 'Bunny', Friberg made the whole crowd sing along. Okay, the line "Hey hey ho ho" is not exactly complicated and hard to remember. On the other hand, which other support acts achieve to get the whole crowd involved like this? Not many, I guess. BURN closed their show with three songs from their new album 'Black Magnolia' and left the stage to a roaring applause - BURN certainly also left an impression on everyone and I'm sure they gained some new fans again with this show.

Setlist
01. Burn For You
02. Ghost
03. Ninety-Nine Floors
04. Bunny
05. Bursting Clouds
06. The Negative Me
07. Ultraviolet
08. Why Don't You Find Out For Yourself

Rating
Music: 8
Performance: 9
Sound: 8
Light: 7
Total: 8 / 10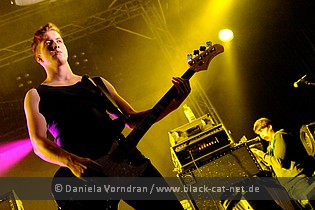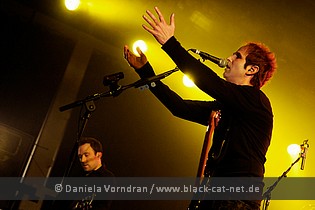 Schandmaul

Munich-based band SCHANDMAUL was founded in 1998, when six musicians decided to organize a concert with Folk songs, but mere covering of songs was not their cup of tea and so they started to write own songs, which in the end resulted in the debut album 'Wahre Helden' in 1999. At this point SCHANDMAUL were still an unsigned band, so their first CD was self-released without the support of any label. Due to lots of creative energy, the band was able to release the 2nd album 'Von Spitzbuben und Halunken' only one year later. In 2001, finally a record company took notice of the band, leading to the recording of their third album 'Narrenkönig' in a professional studio, followed by their first big tour. Now, in their 10th year of existence, they've gathered an incredibly big fan base around them and the newest album 'Anderswelt' was just unleashed. In November, the band will play a special show in Munich to celebrate their 10th anniversary.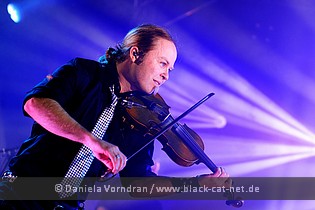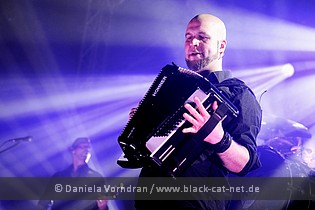 SCHANDMAUL is Thomas Lindner (vocals, accordion, acoustic guitar, piano), Anna Katharina Kränzlein (violin, symphonia), Stefan Brunner (drums, percussion, and fanfare), Martin Christoph "Ducky" Duckstein (guitar), Birgit Muggenthaler (bagpipe, wind instruments) and Matthias "Hiasl" Richter (E-bass, string-bass). http://www.schandmaul.de / www.myspace.com/schandmaulmusic

Music & Performance
After a short wait an orchestral intro blasted through the Jovel Music Hall, accompanied by a perfectly synchronized light show. SCHANDMAUL entered the stage - and the first surprise was in front of the fans' eyes. While singer Thomas Lindner was back again certain other band members were missing and replaced by guest musicians. To be precise, violinist Anna Katharina Kränzlein was absent because of her pregnancy and replaced by Tobias Heindl (FIDDLER'S GREEN). Flutist Birgit Muggenthaler was also well advanced in pregnancy at the time of the show in Münster but she felt fit and at ease enough to perform the full show. I guess things would be easier for the female members of SCHANDMAUL if these recent shows happened as planned in February already. Oh well...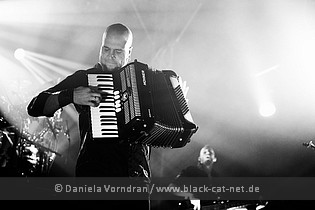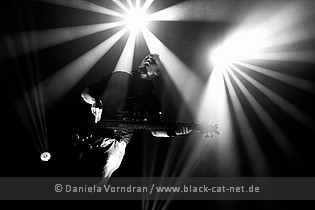 However, SCHANDMAUL did not play their set with dampened enthusiasm despite all the pregnancies and singer Thomas Lindner suffering from an awful pain in the back - his latest acquirement in terms of physical handicaps after his sore throat earlier this year. Quite the contrary, SCHANDAUL started with full forces and performed of their most popular tunes, like 'Herren der Winde', quite early in the set. SCHANDMAUL audiences always seem up to have a big party, and that was no different in Münster as well. Even though some casual fans in the back proved that the reputation that people from this part of Germany are rather phlegmatic and disimpassioned is not totally unfounded. But in front of the stage it was party time and smiling faces all over the place, even when SCHANDMAUL played a few less spectacular songs in the middle of the set.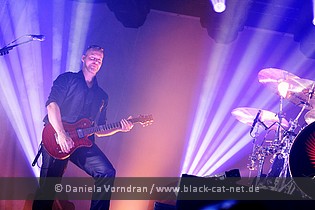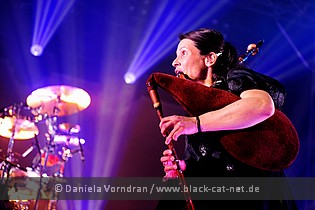 Thomas Lindner, the master of ceremonies, cared for some cheerfulness and amusement with his jokes and anecdotes between songs, even when the music became a little more meditative and melancholy. Towards the end of the set SCHANDMAUL speeded up the pace again, especially with the 'Henker-Gebt8'-medley. As true musicians through and through who love what they are doing SCHANDMAUL was pretty generous with the encores. After the classic crowd pleaser 'Walpurgisnacht' they left the stage just for a moment to return for a total of three encores featuring no less than seven songs! Quite impressive - as well as the light show, by the way! You hardly see a show at venues of this size with such a lavish and perfectly choreographed light show! Extra points for that!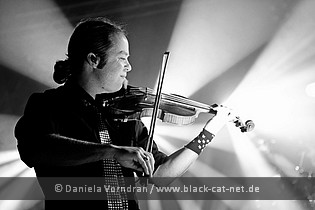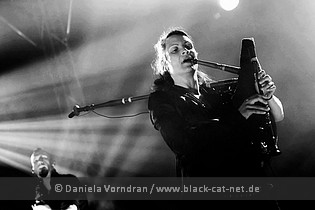 With the touching ballad 'Willst Du' the concert was officially over, though Thomas Lindner returned quickly to sing the praises of his audience with the a-capella song 'Auf euch'. Two and a half hours of feel-good music performed by technically brilliant musicians in front of a crowd of happy bunnies - there's not much more you could ask for on a Wednesday night!

Setlist
01. Intro
02. Powerdudler
03. Auf hoher See
04. Herren der Winde
05. Hexeneinmaleins
06. Hofnarr
07. Wolfsmensch
08. Assassine
09. Geas Traum
10. Bis zum Morgengrauen
11. Die goldene Kette
12. Vogelfrei
13. Lichtblick
14. Pakt
15. Henker-Gebt8-Medley
16. Traumtänzer
17. Walpurgisnacht
---
18. Teufelsweib
19. Dein Anblick
---
20. Sturmnacht
21. Krieger
22. Wandersmann & Trinklied
23. Willst Du?
---
24. Auf Euch...

Rating
Music: 8
Performance: 9
Sound: 7
Light: 10
Total: 8.3 / 10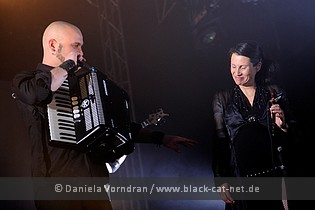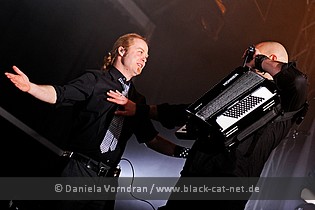 All pictures by Daniela Vorndran (http://www.vorndranphotography.com / http://www.black-cat-net.de/ / http://www.myspace.com/vorndranphotography / http://www.facebook.com/blackcatnet)