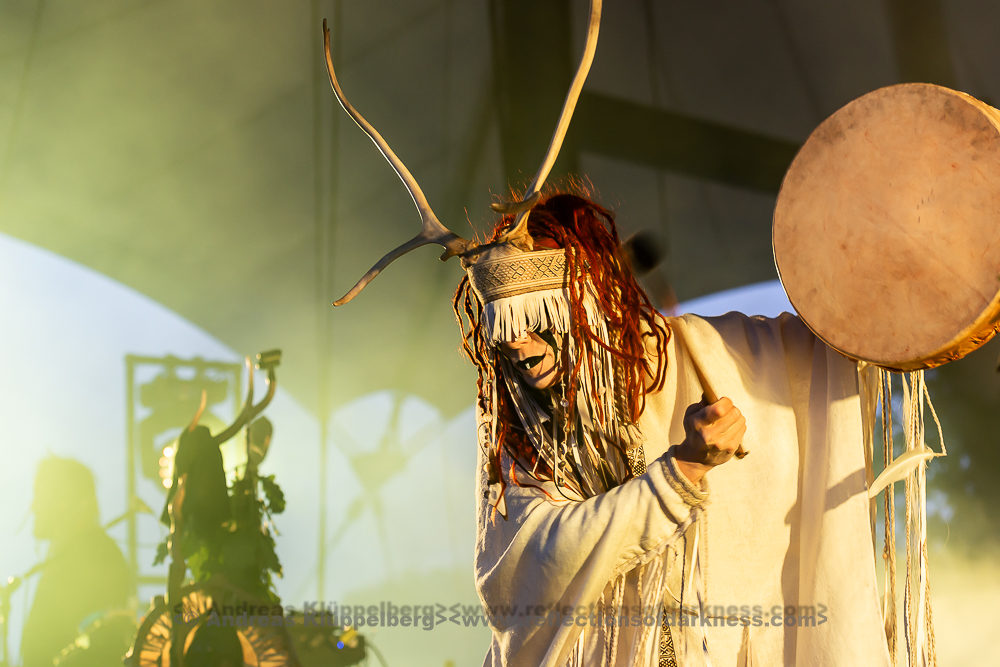 Amphitheater, Gelsenkirchen, Germany
30th July 2023
Heilung - Open Air Show - Special Guests: Zeal & Ardor and Myrkur

HEILUNG fascinate people all over the world with their visually stunning live ceremonies. The German-Danish-Norwegian trio consisting of Kai Uwe Faust, Maria Franz and Christopher Juul transfers historically transmitted texts in the most diverse languages with archaic instruments from different cultures and subtle electronic influences into the modern age - "amplified history", just like their own style describe.
In order to bring them onto the stage, they are reinforced at their concerts by numerous warriors, who are also dressed in traditional robes. As in the music, there are influences that can be traced back to the Iron Age and the Vikings. Last year HEILUNG released their third album 'Drif', which means "meeting". They are increasingly looking at cultures outside of Europe. "We want to honour them with these original songs and reflect on all of our beginnings. All of us, from east to west, from the past to the present, are connected through the exchange of ideas and mutual inspiration," explains the band.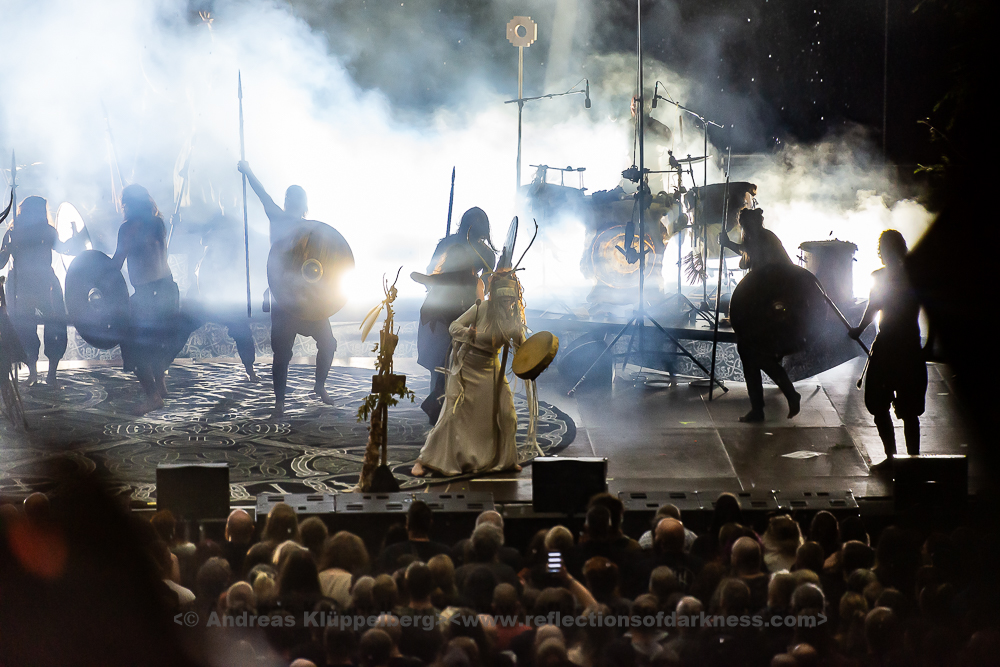 For the exclusive "gathering" in Germany this year, on July 30 in Gelsenkirchen, HEILUNG performed their spectacular ritual in the Amphitheater. Joining them were ZEAL & ARDOR, whose fusion of Metal and Gospel is as rousing as it is political, and Amalie Bruun, better known as MYRKUR, who is equally inspired by Black Metal and Scandinavian folklore and opened the evening. Please enjoy our pictures of the event.
Myrkur

Setlist

01. Ramund
02. Fager som en ros
03. Leaves of Yggdrasil
04. Dronning Ellisiv
05. Harpens Kraft
06. House Carpenter
07. Tor i Helheim
08. Ella
Zeal & Ardor

Setlist

01. Intro
02. Church Burns
03. Götterdämmerung
04. Blood in the River
05. Don't You Dare
06. Run
07. Death to the Holy
08. We Can't Be Found
09. Devil Is Fine
10. Feed the Machine
11. Baphomet
Heilung

Setlist

01. Opening Ceremony
02. In Maidjan
03. Alfadhirhaiti
04. Krigsgaldr
05. Hakkerskaldyr
06. Svanrand
07. Norupo
08. Othan
09. Traust
10. Asja
11. Anoana
12. Elddansurin
13. Hamrer Hippyer
14. Closing Ceremony
All Pictures by Andreas Klüppelberg
See also (all categories):