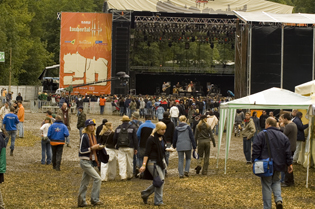 Taubertal Festival, Rothenburg ob der Tauber, Germany
11th – 13th August 2006
Taubertal Festival Day 2: Spitting Off Tall Buildings, Christina Stürmer and band, Boozed, La Vela Puerca, Eat the Gun, Donots, ASP, Turbonegro, Schandmaul

The second day of the festival began with rain. Knowing that the festival ground is set on a beautiful meadow we expected some problems. This was proofed to be true. Reaching the meadow we saw mud, lots of mud. The special guiding tour with the organizers and the German Nature Office started quickly past midday. With many interesting details they summarized the history of the "Sounds for nature"-project and the part of the Taubertal Festival in it. Although the meadow is used for this festival it is still a part of the FFH-areas. These are special areas, which are protected to keep the nature. We got to know many facts about the organisation of the festival, i.e. how to get electricity in a meadow deep in a valley. It was the first time we saw something like that on a festival.



Spitting Off Tall Buildings

The Punk band was founded in Berlin by the couple Jana Pallaske (vocals) and Paul Rademacher (guitars). Jana Pallaske is also known as a VJ on German music television and as an actress (i.e. the German movie "Engel & Joe"). Together with some friends they are Spitting Off Tall Buildings. They released their self-called debut album in 2005. http://www.spittingofftallbuildings.de/

Music
They are making straight punk music with a very talented and dedicated singer. In tradition with mostly all punk songs they have a very fast speed and so the songs are short and straight to the point.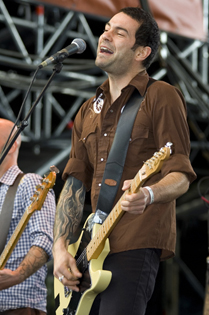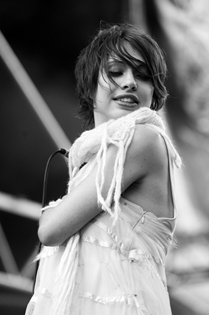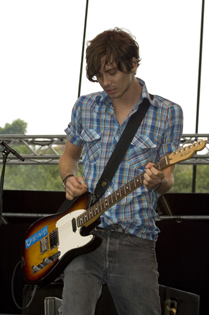 Performance
Although they were the first band at this day and there weren't many people yet they were making a good show. They tried to make the best out of this situation. Unfortunately, Jana sang so fast we couldn't nearly understand what she was singing.

Rating
Music 5
Performance 5
Light –
Sound 6
Total 5 (5.2)


Christina Stürmer and Band

The Austrian Singer reached rang two at the "Starmania" – a TV casting show. Her first album "Freier Fall" was released in 2003. With the song "Ich lebe", she reached place four of the German charts in 2005. With her songs "Engel fliegen einsam" and "Mama (ana Ahabak)" she became one of the best known pop singers in the German-speaking countries. http://www.christinastuermer.de/

Music
Knowing Christina Stürmer from nearly all German radio stations and music television, we expected a typical casting show member. To be honest – it was a very enthusiastic show. Christina has really power in her voice. The live quality is very good. Although she is still very young (24 years) she is really professional. Her musicians were supporting her with strength and good work on their instruments. The songs are all pop, but this is not a bad note. They have catchy melodies and they still remain in our minds. The German and English lyrics are good, but still easy to remember.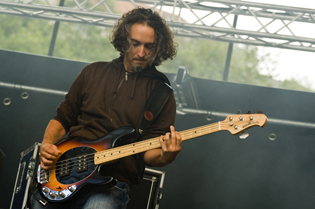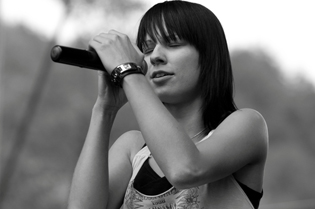 Performance
They act like a real band although Christina is only seen as a solo artist in German television. She was dancing and smiling and having fun with her fans. The audience knew nearly all lyrics. They were really young and it was shown that Christina is mostly supported in teenager magazines and TV shows. It was very funny hearing her speaking German with her Austrian accent.

Setlist

01. ?
02. Immer an Euch geglaubt
03. An Sommertagen
04. Ich lebe
05. Scherbenmeer
06. Lebe lauter
07. Vorbei
08. Geh nicht wenn du kommst
09. Augenblick am Tag
10. Nie genug
11. Engel fliegen einsam
Rating

Music 7
Performance 8
Light –
Sound 8
Total 8 (7.6)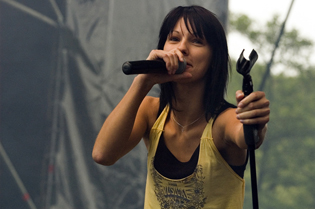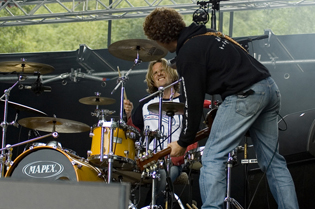 Boozed


The band was founded in 2001 in Bramsche, which is a really small town in the north of Germany. Now they are all around 20 and have played more than 200 concerts! They were signed by Bitzcore Records and released their first album "Tight pants" in 2005.
http://www.boozed-rocks.com/


Music

It's nearly unbelievable – the stage seemed to drive more than 20 years back in time. This was a show full of classical rock like it was invented a long time ago.
Performance

It was a kind of funny. There are these young guys on stage and they are acting like old rock stars. Especially guitarist Poni reminded us of Angus Young (AC/DC). Their acting was really supporting their fast and powerful songs. There were not so many people in the crowd, who seemed to know them, but this has been changed after the concert.
Rating

Music 6
Performance 8
Light –
Sound 7
Total 7 (6.9)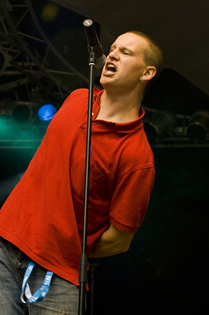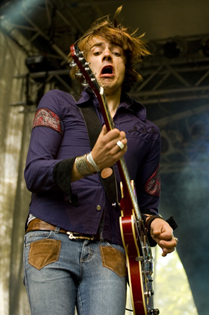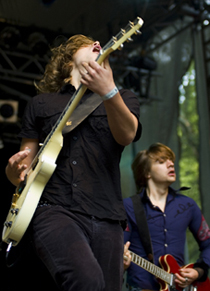 La Vela Puerca

This special band was formed in 1995 in Uruguay, so they brought some South-American flair and atmosphere to the festival. They released three albums until now. Unfortunately their official homepage is only in Spanish.
http://www.velapuerca.com/


Music

Have you ever heard Latin-American melodies combined with Ska-music? At first it sounds strange but it is a special and funny combination. With lots of rock attitudes and two singers they brought unique sounds to the festival.
Performance

This was a new look for a rock band. With a trumpet and a saxophone they complement their line-up and so this was more a little orchestra. The audience needed some time to warm up with them, but then they liked their special style.
Rating

Music 4
Performance 7
Light –
Sound 7
Total 5 (5.6)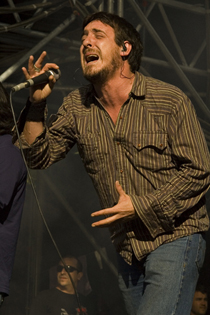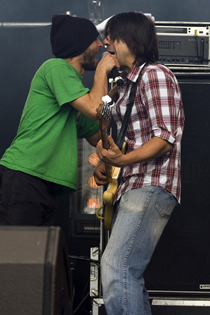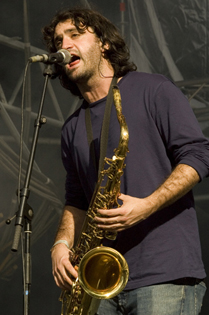 Eat the Gun

The boys founded the band already when they were all around 16 years old. After a long and hard way they got a record deal and released their first official album "Cross your fingers" in 2006. They were supporting HIM, Exilia, Donots and many more.
http://www.eatthegun.com/


Music

This band was really our discovery on this festival. With classical rock sounds which are refreshed with modern influences they convinced us of their power and talent.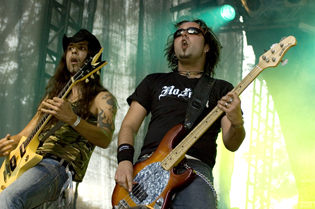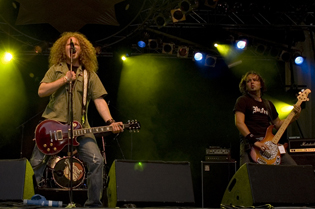 Performance

The guys are from Münster in Germany but we would have bet that they are from England. With mostly perfect English songs and a straight rock star acting they were forcing the audience to the top.
Rating

Music 8
Performance 8
Light 7
Sound 7
Total 8 (7.7)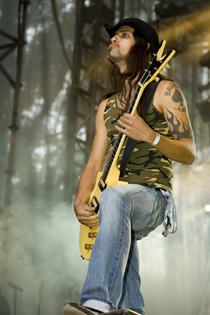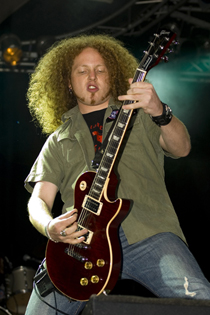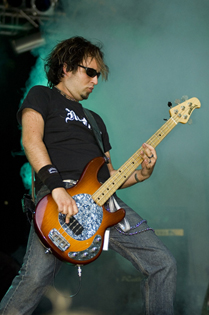 Donots

The band was already founded in 1993. Since 1996 the band consists of Ingo Knollmann (vocals), Guido Knollman (guitar), Jan Dirk Poggemann (bass), Eike Herwig (drums) and Alex Siebenbiedel (guitar). The band is one of the well-known German punk bands even outside the German-speaking countries. They are very successful in Japan and they were the only non-American band to be featured on the "Rock against Bush Vol.2" compilation. Actually they are working on a new album which will hopefully be released in 2007.
http://www.donots.de/


Music

The Donots are one of these bands which got famous in the late 90ies. With very melodic punk and alternative songs they were one of the headliners of this festival. They played a second set on Sunday too which was an acoustic one.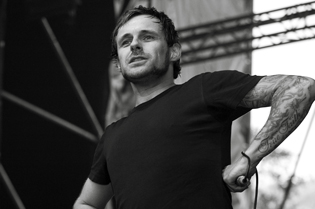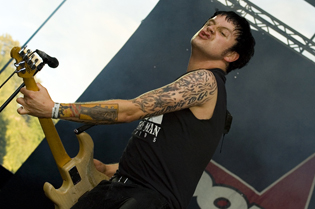 Performance

They are something like a "houseband" of this festival – this was their fifth audition at the Taubertal Festival. The audience was really getting nuts. It seemed there could not be anything topping this concert. The band danced a lot, jumped, made jokes a.s.o. Although they didn't need to do anything they pushed the audience further and further.
Rating

Music 5
Performance 7
Light 7
Sound 7
Total 6 (6.2)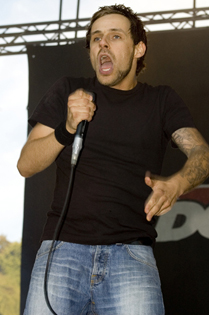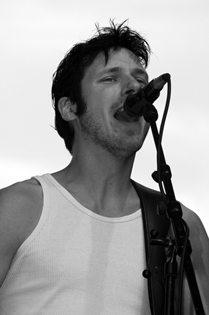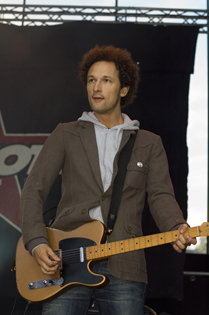 ASP

The German band is named by the singer Alexander Spreng. Together with his friend and multi-instrumentalist Matthias Ambré, he founded the band in 1999. Tossi (bass, backing vocals) and Oliver Himmighoffen (drums) joined the band later. Their albums are not only music - they are all special pieces of art. They will release the new single "Wahrer Satan" at 13th of October.
http://www.thetalesofasp.com/


Music

ASP played a kind of "Best of" show with the introduction of the new single. With a very good selection of songs off all their albums they represented their music to an audience that seemed not to know them at all.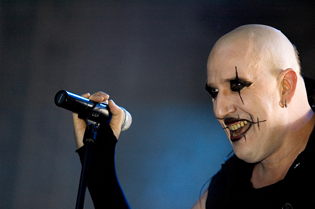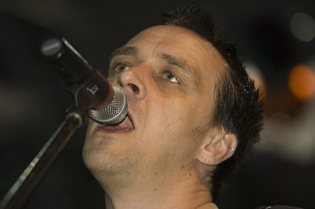 Performance

There was a special fire show for this concert. This fitted perfect to the first song, their new single. Unfortunately there were some people in the crowd, who did not concentrate to the lyrics but just to the show. They could have understood the intention of the song if they would have listened to the words. So they made fun of ASP and his appearance. Although ASP had already some auditions at the Taubertal Festival this year there seemed to be fewer fans in the crowd than in the past years. Especially the very personal and romantic song "Und wir tanzten" lost the necessary support of the audience. In summary this was a good concert of ASP, but a mostly non-interested and intolerant audience.
Setlist
01. Wahrer Satan
02. Besessen
03. Sing child
04. Stille der Nacht
05. She wore shadows
06. Demon Love
07. Weltunter
08. Schwarzer Schmetterling
09. Kokon
10. Lykantrophie
11. Tiefenrausch
12. Schwarzes Blut
13. Und wir tanzten
14. Werben
15. Ich will brennen
Rating

Music 8
Performance 8
Light 7
Sound 8
Total 8 (7.9)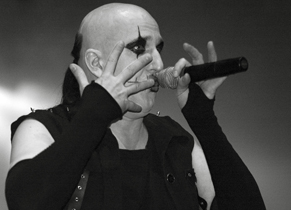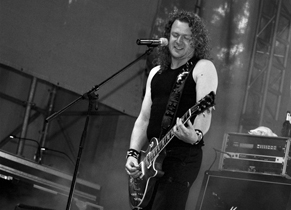 Turbonegro


The strange band was formed in 1988 in Oslo, Norway. From the beginning this was more a fun band than a serious attack to the charts. With their unique combination of punk music, funny styles and strange auditions, they pushed themselves to become a cult. This is not only based on their music, but also on the "Turbojugend". This fan club started in St. Pauli - Hamburg, Germany and spread all over the world. The band itself calls their style "Deathpunk". Their last album "Party Animals" was released in 2005.
http://www.scandinavianleather.com/


Music

First of all this was fun. Already their last album was announced as a piece of stadiums rock and so it was. This crazy Norwegians knew how to rock and to party up the audience. There was nearly nobody in the crowd who had no fun. There were many jackets with a "Turbojugend XY"-button to be seen and they came from whole Europe and even San Francisco.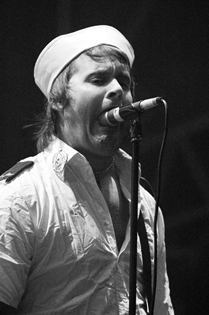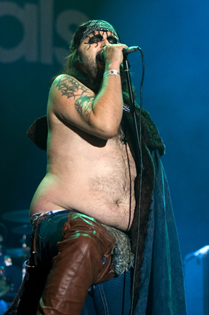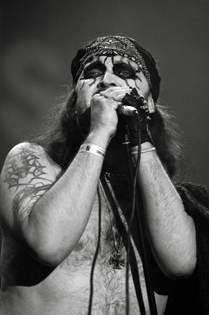 Performance

They are really strange. Hank van Helvete (vocals) wore really bad make-up and showed his huge body and unlikely underwear; Euroboy (guitar) wore an old officer's hat. This is his tribute to "The Stoogers". The most impressive one is surely Happy Tom (bass, songwriter). He wore a sailor's uniform and female make-up. He even took his microphone in the mouth, so what shall we say more… This was more a stage happening than a concert, but it was fun and entertainment.
Rating

Music 5
Performance 8
Light 7
Sound 8
Total 7 (6.7)
Schandmaul

The German folk-rock band was founded in 1998. They started with cover songs but quickly changed to their own songs. Their style, mixing folk rock melodies with medieval instruments and stories, found many friends and so they played a lot. Now, they are one of the best-known German medieval rock bands and they released six regular albums so far.
http://www.schandmaul.de/


Music

They were the only medieval band on this festival, but there were many fans in the crowd. The setlist was very close to the "Mit Leib und Seele"-Tour. With their fairy-tales and fantastic stories they found an interested audience. Many visitors knew the lyrics. Schandmaul already played the festival in the past and so there were some people, who you would not see on a "normal" concert of the band.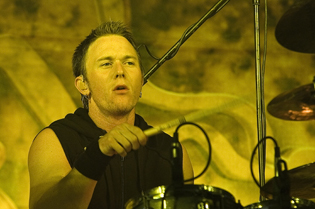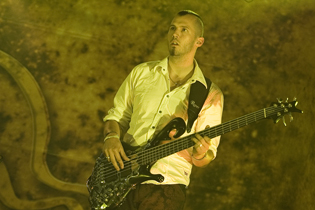 Performance

As always Schandmaul are pleasant and friendly musicians. They were telling stories, making jokes about themselves and making the crowd having fun. It is pleasure to watch them, because they are always having fun on stage. They are dancing and jumping. So it was funny for all visitors that Thomas (singer) head seemed to smoke because of the cold and the floodlight.
Setlist

01. Intro
02. Drachentöter
03. Kein Weg zu weit
04. Vogelfrei
05. Tür in mir
06. Vor der Schlacht
07. Weit überm Meer
08. Feuertanz
09. Der Lichtblick
10. Der Untote
11. Teufelsweib
12. Mitgift
13. Walpurgisnacht
14. Dein Anblick
---
15. Der Tyrann
16. Herren der Winde
---
17. Der letzte Tanz
Rating

Music 9
Performance 9
Light 7
Sound 8
Total 9 (8.6)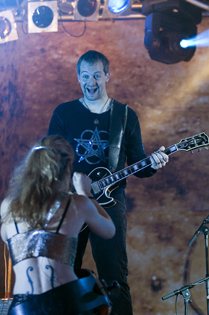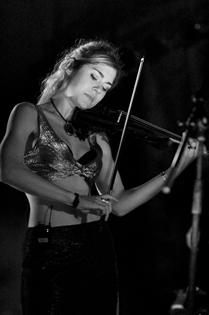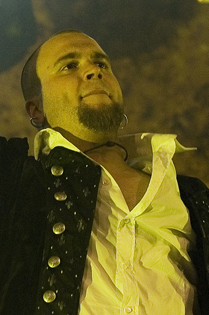 {jos_sb_discuss:18}