C-Halle and C-Club, Berlin, Germany
27th and 28th April 2013
Monster Bash 2013 Day 1: Kmpfsprt, Smoke or Fire, Radio Havanna, Nothington, Polar Bear Club, The Front Bottoms, Sparta, Vinnie Caruana, Less than Jake, Rocky Votolato, Milencolin, Flag, Ska-P

The Monsters Bash was re-placed from the open air location Maifeld to the closed locations C-Halle and C-Club, surely cause of the cold and rainy weather. This fact, the bad weather, took away some of the charisma of an open air event, but nevertheless, people were in a good mood and waiting patiently for their idols.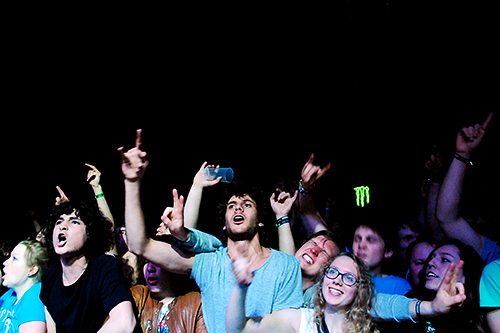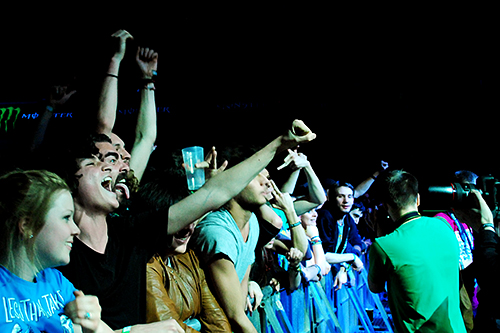 I was a little bit surprised that only few of the people were wearing the typical style of Ska, Oi ore Punk, whereas most of them could have been also visitors of a Rock or Indie event. Because of two locations, the photographer and I jumped between the two halls all the time, until, during the concerts of the headliners, it was impossible to enter the C-Halle and we gave up the idea to assist the last concerts in the C-Club.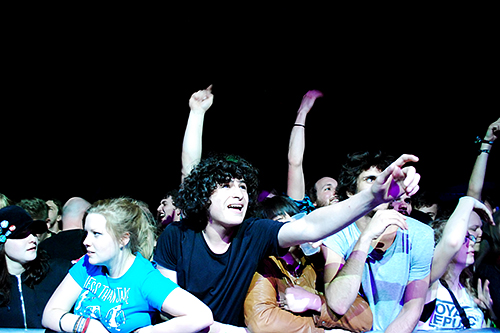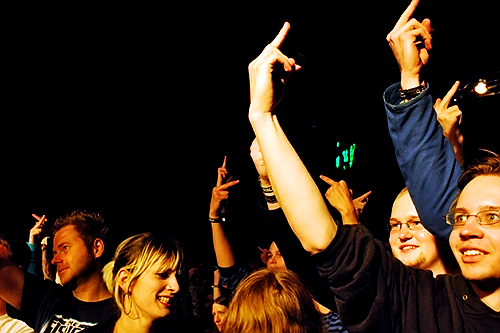 Kmpfsprt

KMPFSPRT consist of Richard Meyer (vocals, guitar), his brother Dennis (bass), Max Meyer and Dennis Schumann. KMPFSPRT is a band which apparently seem to have no connections with hard German Punk. The guys have the appearance of students who make some music together, but below the surface they are a real Punk Rock formation, although they integrate some elements of Emo and Hardcore into their music. They managed it to bring good vibes into the C-Hall, although they were one of the first bands playing. http://kmpfsprt.de / https://www.facebook.com/kmpfsprt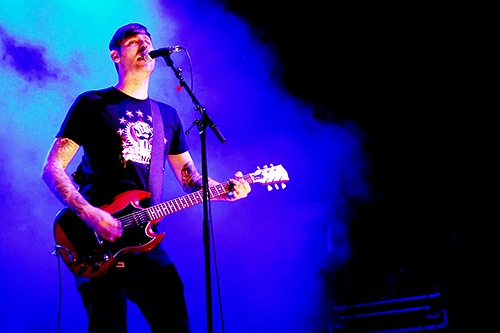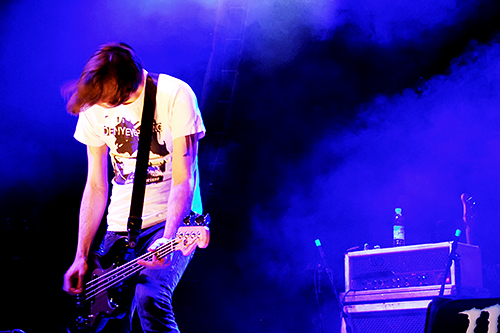 Smoke or Fire

SMOKE OR FIRE were founded in 1998 under the name Jericho. Nowadays, they consist of Joe McMahon (vocals), James Muñoz (bass), Jeremy Cochran (guitar) und Dave Atchison (drums). The band convinced with their charming attitude and their rough cordiality ("Fuck you, you guys are great"), but above all with their really competent musical performance, which impressed without spectacular show performance. McMahons performance was really authentic, from the tattoos on his arms until his spitting on the floor. Their music was pure punk rock, without embellishments ore mannerism, and this was honoured by the audience with a big applause. http://www.myspace.com/smokeorfire / https://www.facebook.com/SmokeOrFireOfficial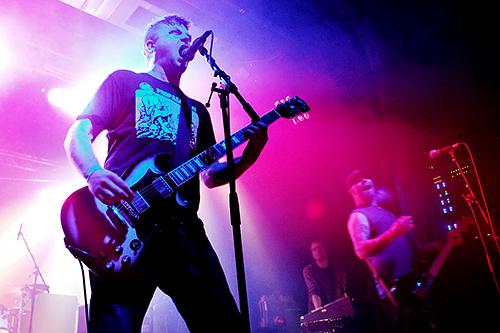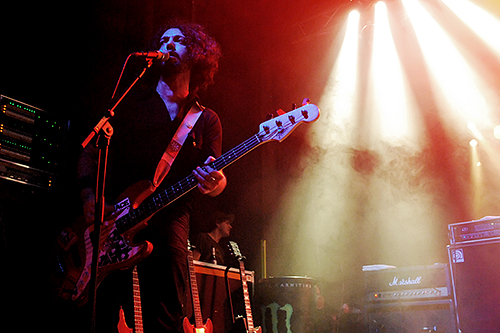 Radio Havanna

RADIO HAVANNA, founded in 2002, consists of Fichte (vocals), Olli (bass), Arni (guitar), and Anfy (drums). This Punk Rock band was founded in Suhl, Germany. "An applause to you, who made possible this festival, in which racism, sexism and homophobia have no place in", spoke Fichte to the public, reminding that Punk Rock was, days ago, a very political issue. Most of the songs were socially critical and in German, and the audience started to sing together with the band. Above all, during the song 'Unvergänglich' (Eternal), when they sung "Für eine Nacht unsterblich" (immortal for one night), the mood became emotional. But not all songs were serious – with a song dedicated to "our best friend, the alcohol", RADIO HAVANNA spread good mood between the public. http://www.radiohavanna.de / https://www.facebook.com/radiohavanna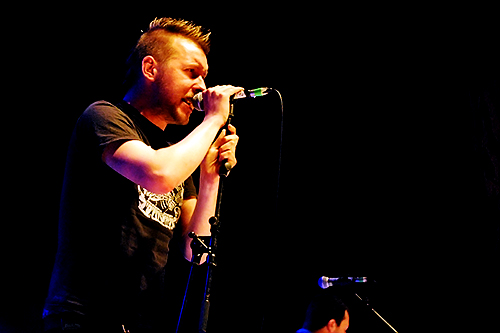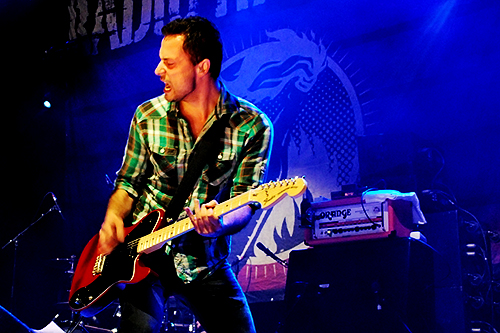 Nothington

The classical Californian Punk Rock band consist of Jay Northington (vocals and guitar), Gabe Lindeman (drums), Chris Matulich (guitar, vocals) und Tony Teixeira (bass, vocals). Jay Northington begged the public "to give the bird", which arranged for good mood in the C-club. It can be said that the guys spread a lot of fun and did catch the sympathy of the audience, due to their good show and solid music. http://www.nothingtonsf.com / https://www.facebook.com/nothington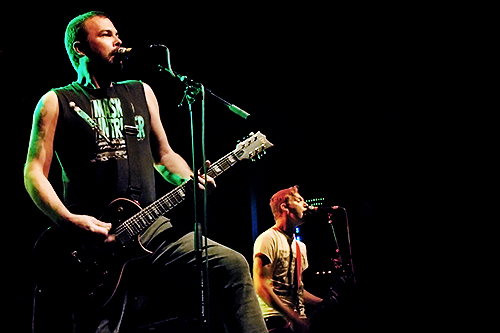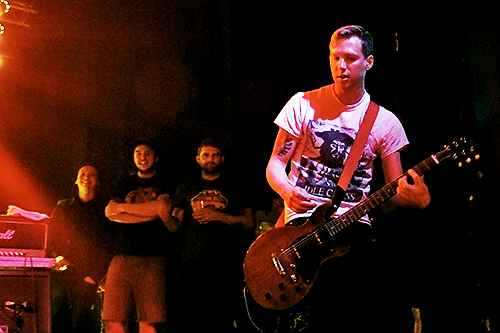 Polar Bear Club

The American Post Hardcore combo consists of Jimmy Stadt (vocals), Chris Browne (guitars), Erik Michael "Goose" Henning (guitars, bass) and Steve Port.Jimmy (drums). Jimmy Stadt gave it all, but it was not enough for the audience. He jumped over the whole stage, singing with passion and power, giving a big performance – but he didn't catch the audience. Maybe he was too present and the rest of the band to invisible. Maybe the music was too quiet and Jimmy too quick – who knows? http://polarbearclubband.com / https://www.facebook.com/PolarBearClub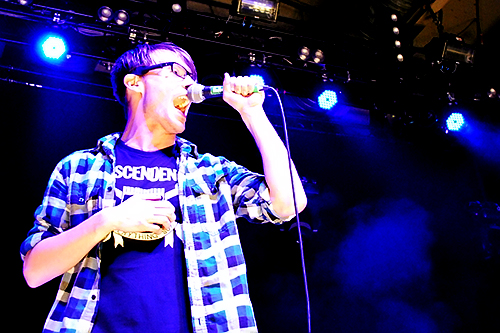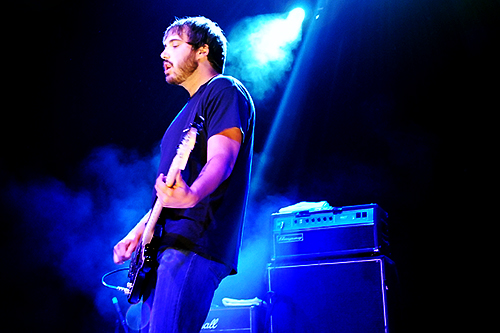 The Front Bottoms

The American Indie band was founded in 2006. Their actual members are Brian Sella (vocals, guitar, lyricist), Ciaran O'Donnell and Mathew Uychich (drums). Coolness is their not concept, that's something which the guys showed not only with their outfit (white T-shirts, patterned pullovers and checked shirts), but also with their performance. With their sense of humour they gained the sympathy of the public and earned a lot of laughter, e.g. when Mathew wanted to show his knowledge of German language saying: "Meine Mutter hat langer braune Schnurrbart so wie ich" ("My mother has a long brown moustache, as I have"). Also in musical terms the band showed a different style of music, in comparison with the other bands: It was a really indie sound, very acoustic and with beautiful melodies. http://thefrontbottoms.com / https://www.facebook.com/thefrontbottoms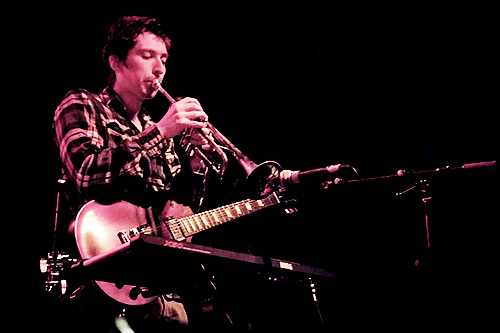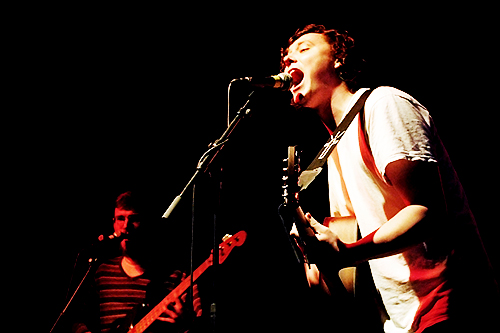 Sparta

SPARTA was founded in 2001 in El Paso, Texas. The band consists of Jim Ward (vocals, guitar), Keeley Davis (guitar), Tony Hajjar (drums) and Matt Miller (bass). SPARTA opened their performance with a beautiful instrumental intro, but their later concert didn't offer any surprises. Their music, which reminded me of a mixture between LINKIN PARK and Brit Pop, did not catch neither the audience's attention nor mine. Although Jim's voice is worth to listen at, their songs are all very similar and not very imaginative. http://spartamusic.com / https://www.facebook.com/spartatheband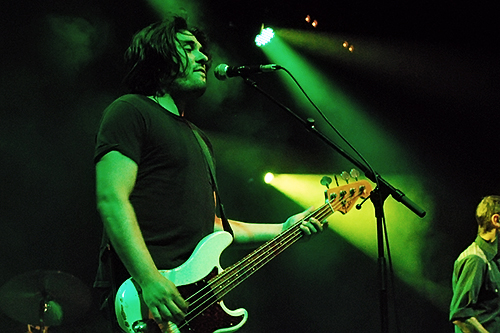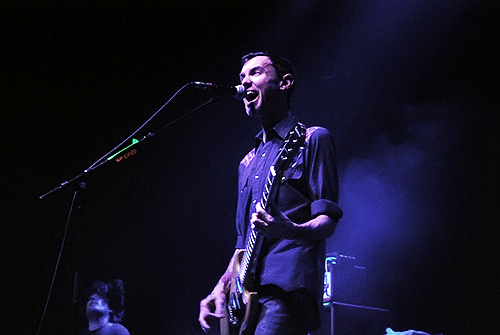 Vinnie Caruana

The singer, born in 1979 and originally from the USA, has participated in different Punk and Indie band projects, one of them named I AM THE AVALANCHE. A boring mixture between Country an Indie, that would be the description of Caruana's music style. He made same as well boring jokes about drinking beer, but people started leaving the hall. "That's no punk rock", some of the visitors said disappointedly. https://www.facebook.com/vinniecaruanamusic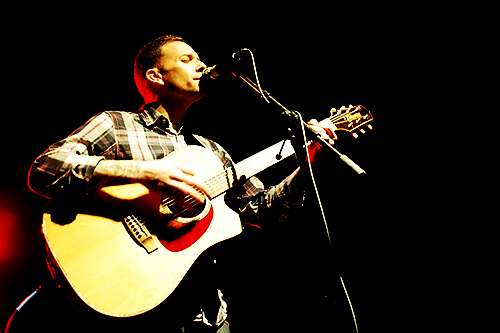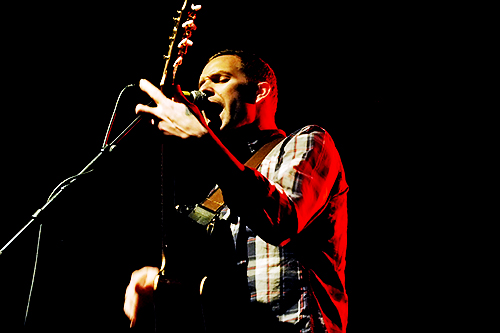 Less than Jake

LESS THAN JAKE was founded in 1992 and the band's name is connected to a funny history about the dog owned by one of the band founders parents. LESS THAN JAKE is Chris Demakes (vocals), Roger Manganelli (bass, vocals, guitar), Vinnie Fiorello (drums),Pete (J.R) Wasilewski (Saxophon) and Buddy Schaub (trombone). http://www.lessthanjake.com / https://www.facebook.com/lessthanjake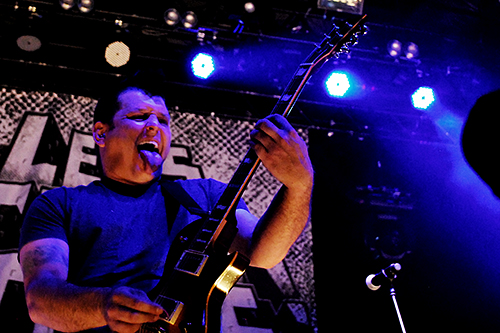 Music & Performance
It can be said that with LESS THAN JAKE not only the Punk and Ska entered the stage, but also the audience's enthusiasm. What a difference to the foregoing bands! Good mood, exciting wind instruments, a nice voice – the party time begun. LESS THAN JAKE were not only musically good, but also very likeable in their attitude toward the public, thanking them for the invitation to Berlin and saying that they come to Germany since 1993. "We are old", they joked. Their funny and fast Ska Punk did catch the public since the first second, although most of them didn't have been to a concert of them before. I know this cause the singer asked the public to raise the hand if they have never been to a concert of them before. One of their most acclaimed songs was 'Good bye Mr Personality' against the U.S. American Government.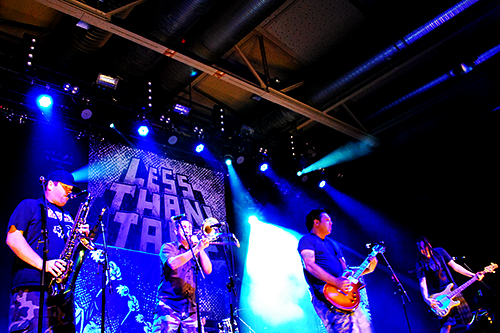 Setlist
01. Automatic
02. The Ghosts of Me and You
03. The New Auld Lang Syne
04. Look What Happened
05. Sugar in Your Gas Tank
06. The Science of Selling Yourself Short
07. History of a Boring Town
08. All My Best Friends Are Metalheads
09. Good bye, Mr Personality
10. Help Save the Youth of America from Exploding
11. How's My Driving, Doug Hastings?
12. Johnny Quest Thinks We're Sellouts
13. Plastic Cup politic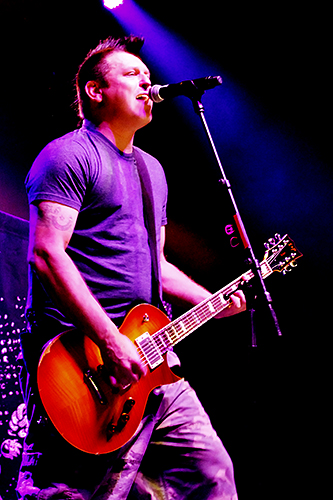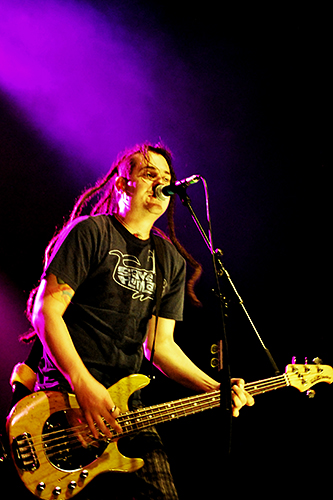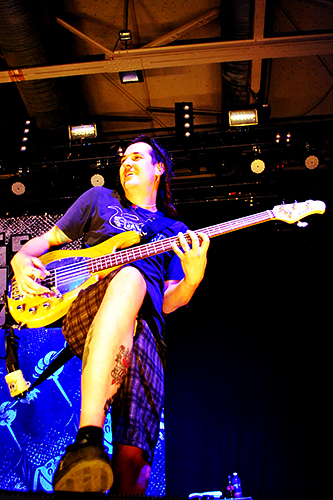 Rocky Votolato

Rocky Votolato is an U.S. American singer and songwriter, born in 1977 and active since 1995. Well, it seems that the C-Club, there Rocky played, was reserved for the more quiet artists. There is nothing to say against this concept, but I would have wished that there wouldn't have engaged so many country singers. Although Rocky did made a nice and quiet mixture between Rock and Country, with many ballads, and did have a nice voice, people were disappointed of the lack of rhythm and passion and did leave the stage. http://rockyvotolato.com / https://www.facebook.com/rockyvotolato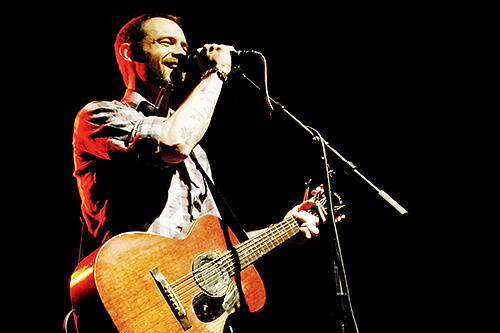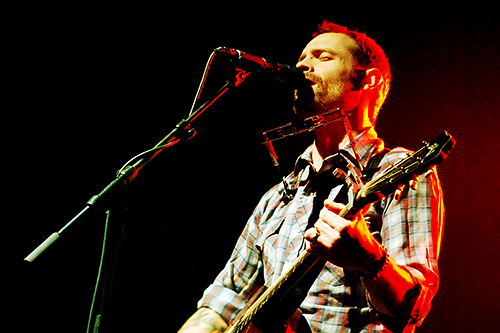 Millencolin

The expectation increased before MILLENCOLIN entered the stage. The Swedish Punk Rock band was founded in 1992 by Erik Ohlsson (guitar), Nikola Sarcevic (vocals) and Mathias Färm (guitar), joined in 1999 by Fredrik Larzon (drums). They are a well-known, melodic Punk Rock band, famous for their album 'Pennybridge Pioneers'. http://www.millencolin.com / https://www.facebook.com/millencolinofficial

Music & Performance
Already their second song, 'Cash or clash', was a furious Punk Rock song, a real piece of Rock music, with a lot of physical commitment. "The Saturday is the best day of the week" the musicians cried out, counting the days in German. "Samstag, ich liebe Dich" (Saturday, I love you) cried Nikola, before playing the third song. The Swedish guys showed their affection for the people of Berlin, inviting them to lift their hands.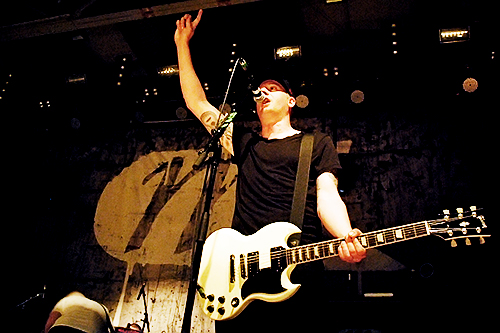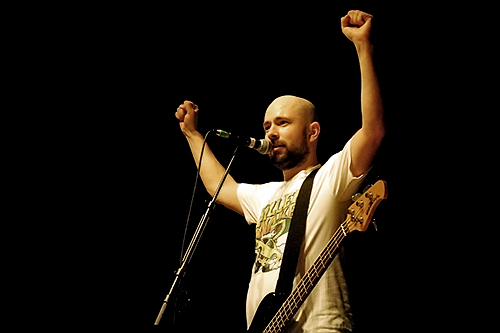 The band kept in touch with the audience constantly, and Nikola even quoted Kennedys famous sentence: "Ich bin ein Berliner" (I'm from Berlin"). They finished the performance with a beautiful instrumental outro.

Setlist
01. Farewell My Hell
02. Cash Or Clash
03. Happiness for Dogs
04. Fazil's Friend
05. Kemp
06. Fox
07. Penguins and Polar Bears
08. Bullion
09. Man Or Mouse
10. Domestic Subway
11. The Ballad
12. No Cigar
13. Ray
14. Carry you
15. Black Eye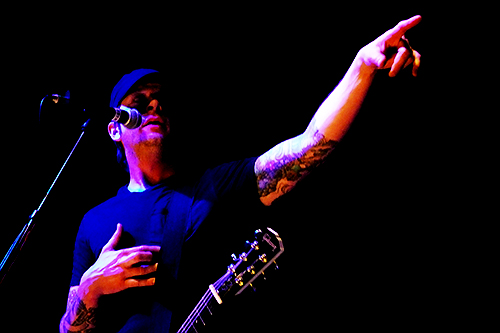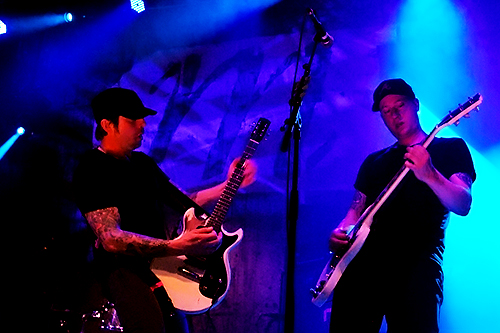 Flag

Who the fuck is FLAG? I asked myself before the festival. I found a lot about BLACK FLAG and ANTI-FLAG, but nobody seemed to know anything about a band called FLAG. Fortunately, I found out the answer: FLAG is the re-union of three of the foundation members of BLACK FLAG, the legendary Californian punk rock band. Keith Morris, Chuck Dukowski und Bill Stevenson were members of BLACK FLAG between 1976 and 1986. FLAG consists of Keith Morris (vocals), Chuck Dukowski (bass), Bill Stevenson (drums) plus Dez Cadena (guitar & vocals) and Stephen Egerton (guitar). https://www.facebook.com/flagband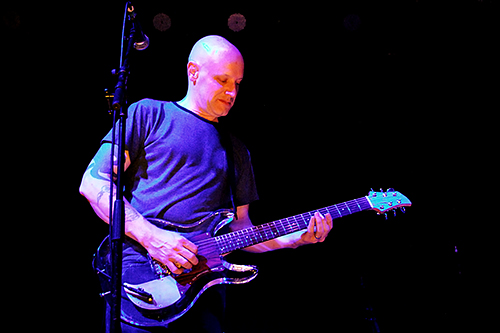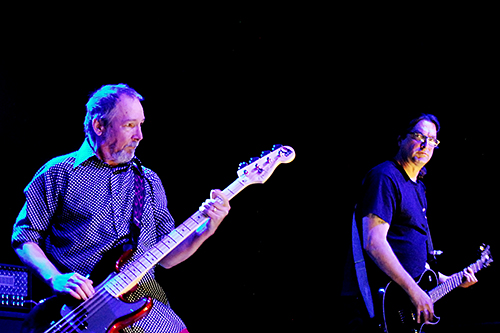 Music & Performance
Although the second song of FLAG, the famous 'Black Coffee', did enthuse the audience, people did soon lose the interest in the band's music. FLAG did, above all, one thing: cry out loud, and obviously this wasn't the performance the public did expect. With their simple rhythms and their broken voice, Flag did not convince Berlin people – who started, instead of listening, to kiss each other. Only at the end they got a big applause – and thanked for it playing an encore song.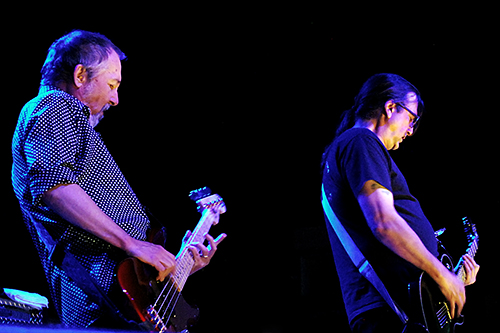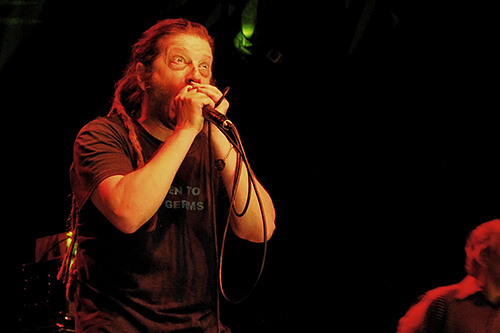 Ska-P

SKA-P, founded in 1994 in Madrid, are one of the most important Ska bands in Europe and surely the most famous Spanish band of Ska. Often acclaimed, sometimes hated, but always in a good mood: That's SKA-P. SKA-P consist of Pulpul (vocals), "Pipi" (background vocals), "Joxemi" (guitar), Julio César Sánchez (bass), "Kogote" (keyboard), "Luismi" (drums), "Gari" (trumpet) and "Txikitin" (trumpet). http://www.ska-p.net / https://www.facebook.com/pages/Ska-p-official/217272851670942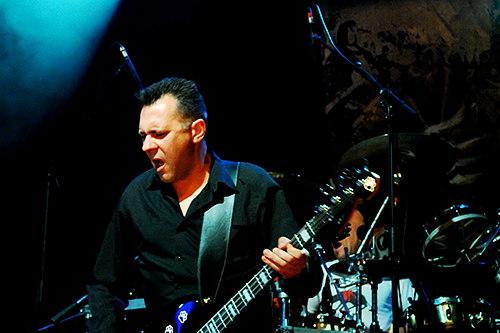 Music & Performance
SKA-P started, literally spoken, with 'Full Gas', and they didn't remove their feet from the gas pedal during the whole concert. Wow! What a mood they create since the first second! They did drive crazy the public, and they enjoyed every minute of their concert. Not all their show elements were clever or amusing, but they had fun and they spread fun from the first until the last moment of their performance. With a lot of political statements, they attacked politicians as well as the church or other institutions. On their fifth song, they charged against Angela Merkel; on the seventh, against the police, with Pipi faced as monkey wearing a police uniform. On their eleventh song, 'Sexo y Religion', Pipi entered the stage wearing the clothes of an Catholic priest – with a big plush penis poking out of the cassock.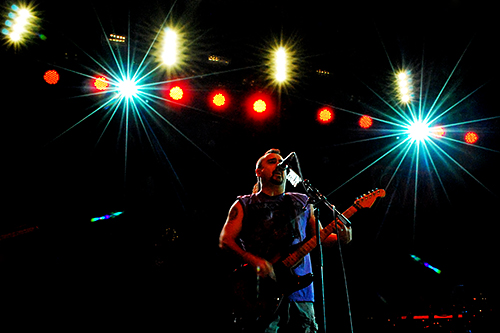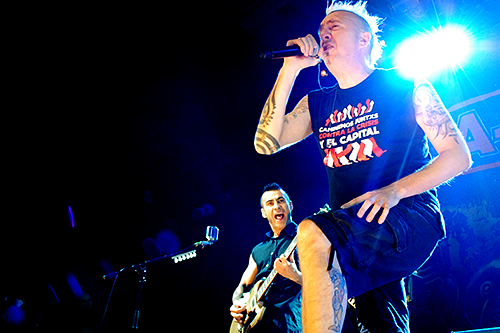 Whereas Pulpul gave his best singing, Pipi made a lot of obscene jokes with a sex shop doll and with other band members. Pulpul made a joke in Spanish about Angela Merkel difficult to traduce to other languages, but it had to do with "mujeres teutónicas" (German women) "con tetas titánicas" (with enormous breasts). "Hasta la Victoria" he cried, quoting Che Guevara, during the twelfth song of the evening. Like ever, 'Intifada' was one of the highlights of the evening, although SKA-P didn't perform their highly controversial show, which gained them some accusations of anti-Semitism – although they sing clearly in this song that they are not against Jewish people, but against Israeli politics.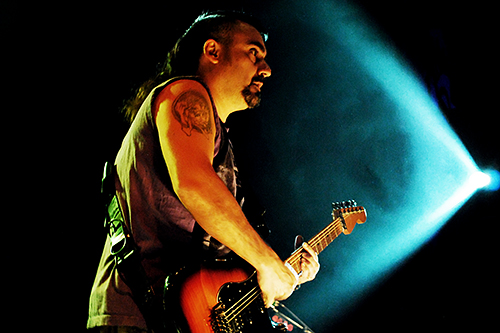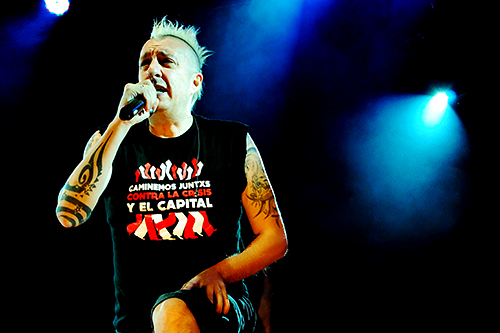 After finishing, they appeared again on stage, due to the enormous applause of the public, and performed 'Canto a la Rebeliòn', 'El Gato Lopez' and a reprise of 'Vals del Obrero'. SKA-P were, as expected, a real highlight worth to see.

Setlist
01. Full Gas
02. Consumo Gusto
03. A la Mierda
04. Mestizaje
05. Kasposos
06. Se acabó
07. Solamente por pensar
08. Niño Soldado
09. Cannabis
10. Romero el Madero
11. Sexo y Religión
12. El Vals del Obrero
13. Intifada
---
14. Canto a la Rebelión
15. El Gato López
16. El Vals del Obrero (Reprise)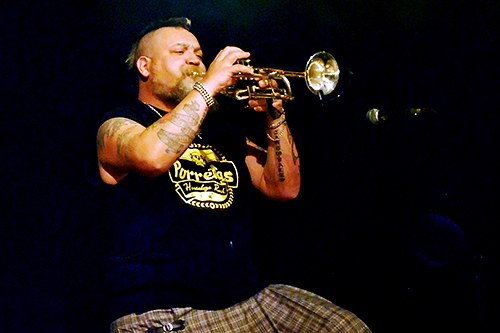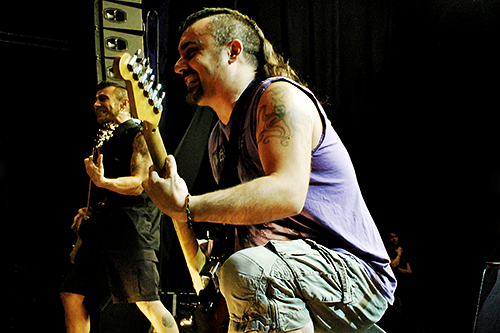 Full Gallery


Warning: No images in specified directory. Please check the directory!

Debug: specified directory - https://www.reflectionsofdarkness.com/images/concert/2013/april/monsterbash20130427
All pictures by Luna Heine