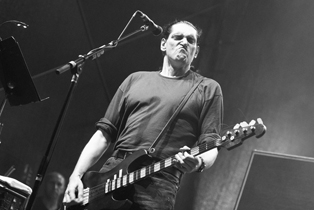 Gründelpark, Glauchau, Germany
16th to 17th June 2007
Woodstage Festival Day 1: Felsenreich, Lacrimas Profundere, Agonoize, Welle:Erdball, Tanzwut, Paradise Lost, Blutengel, And One, Type O Negative


Summer and sunshine - what could be nicer? This prescription has proved itself since decades and also made this year's Woodstage a huge success. Beside a brightly mixed, but well-balanced program, above all, the weather took its part for this. Having lain picturesquely behind a lake and in the middle of a nice green park, this festival presented itself in the best frame.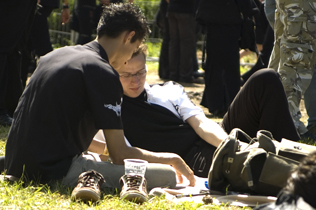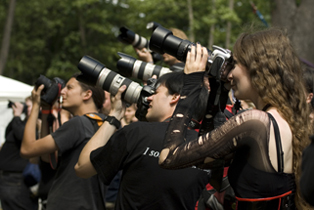 There was only one stage so everybody could take a comfortable place on the meadow and just relax. There is only one negative point at the whole festival. The sound wasn't that good the whole weekend. Nearly all bands started with technical problems for the singer.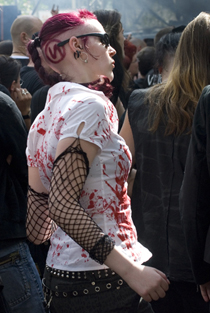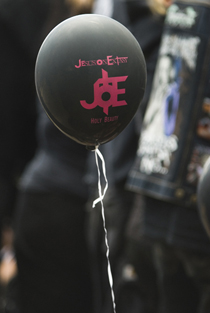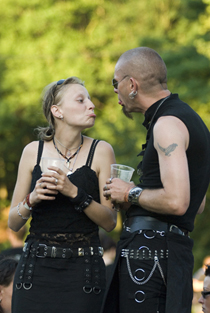 Felsenreich


The band was founded in 1997 as the studio project GRAVES IN MOONLIGHT by Denis Hartzsch and Renato Wesely. They finished their first EP as FELSENREICH in 1999 and released their first album 'Am Ende der Zeit' in 2001. There were many line-up changes during the years and now they are working with the female singer Romy Unger. A new album is going to be released.
http://www.felsenreich.de/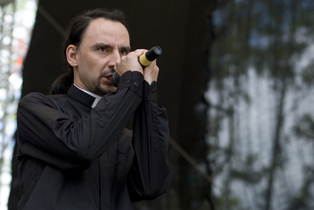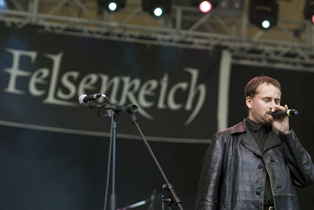 Music & Performance

With the coming album 'Unschuld' and a local fan block in the back, the band from Chemnitz still had some trouble to inspire the freshly arrived audience. Nevertheless, their mixture of Gothic Rock and Gothic Metal with the classical contradiction between male and a very high female voice offered nothing new. Somehow there was a lack of variety. We also could not understand why this band played as a "newcomer" after existing for ten years.
Rating

Music: 5
Performance: 4
Sound: 6
Light: daylight
Total 4.8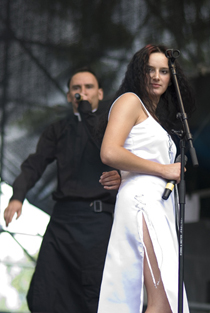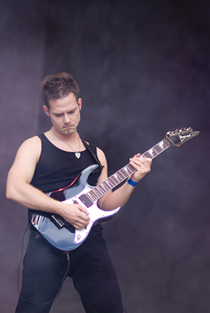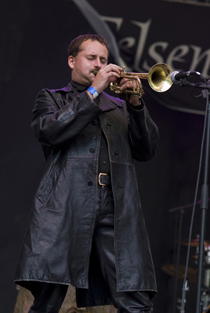 Lacrimas Profundere

The German band was formed in 1993 by the brothers Oliver Nikolas and Christopher Schmid. After a lot of line-up changes and seven fulltime albums Christopher Schmid left the band in 2007. Peter Kafke became the new singer, who is an ex-member of FIDDLERS GREEN. The band changed their style from Gothic and Death Metal into Gothic and Dark Rock. With 'Amber girl' they had their first hit on German music television.
http://www.lacrimas.com/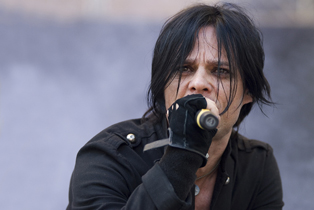 Music & Performance

The German Gothic rocker with Finnish sound can base their success on a growing fan crowd. Although he is just working with them for just 2.5 months, Peter Kafka has well set up as a new singer and knew how to convince optically and vocally. Especially the hits 'Ave end' and 'Again it's over' he mastered perfectly. He had some problems with 'Amber Girl', which was celebrated by the audience, nevertheless. In our opinion he matches perfect with the other band members and made their sound even clearer. Somehow optically he reminded us of THE 69 EYES.
Rating

Music: 8
Performance: 8
Sound: 6
Light: daylight
Total: 7.7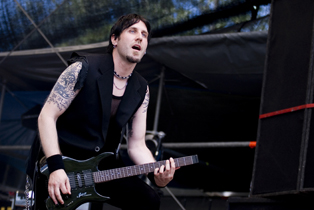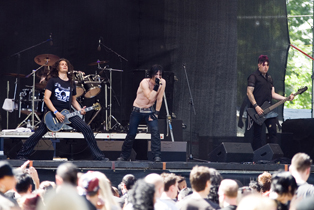 Agonoize

The Electro band was founded in 2002 and is still set with Chris L. (vocals, lyrics), Mike J. (composition, programming, production, mastering) and Olli S. (composition, programming). They had several club hits and released their last album 'Assimilation:Chapter two' in April 2006.
http://www.agonoize.de/
Music & Performance

AGONOIZE split the present Electro world in two groups. For some they are a brilliant live act, others find them embarrassing. Everybody has to decide this on their own. Here they based their set on their danceable beats and ingenious show. Unfortunately the blood shower of singer Chris reached this time only for himself. The photographers were very happy about that though.
Their energetic songs met a happy audience. There was nearly no free space in front of the stage. Here the talented dancers pushed themselves to the limit. They often wore some unusually masks. Because of the hits 'Koprolalie', 'Sacrifice' and 'Bängbäng Goodbye' they lost uncountable litres of sweat. Unfortunately, they tried to cover the KISS classic 'I was made for loving you', which is not made for a voice decoder. Although we are not fans of that kind of simple Electronic music, we have to add that they made a great show and really impressed the audience.
Rating

Music: 6
Performance: 9
Sound: 6
Light: daylight
Total 7.1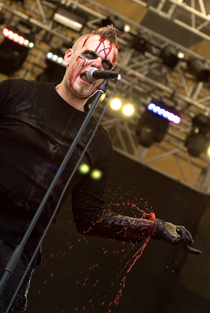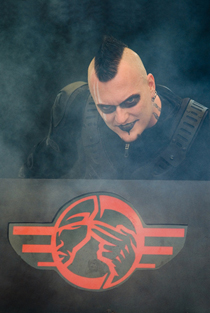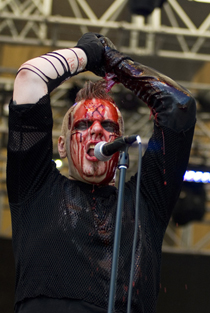 Welle:Erdball

Since 1990, WELLE:ERDBALL are sending their program. With very classical and minimal songs they keep their loyalty to the C-64 (one of the first personal computers). They released several fulltime albums and remixes. They are truly unique and honestly there is nearly no other band like them. Now the line-up is set with Honey, A.L.F., Frl. Venus and Plastique.
http://www.welle-erdball.de/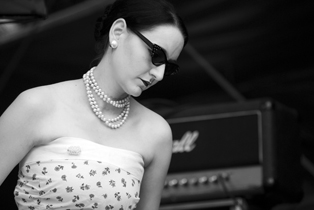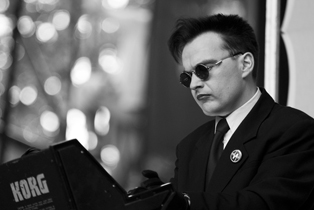 Music & Performance

Fortunately, the live qualities of WELLE:ERDBALL were seen by the concert agents and their extensive presence pays off. Already the first song 'Wir wollen keine Menschen sein' was celebrated by the audience. The next songs 'Mensch aus Glas' and 'VW Käfer' were made just with a C-64, too. Although Honey missed his oil tank for 'Arbeit adelt!' the song was an immense hit. As usually the absolute highlight was 'Starfighter F-104G'.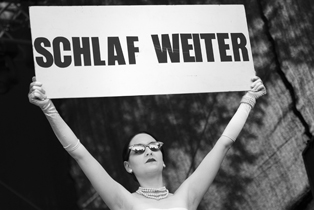 Their special effects are basics of the shows and so mostly all were glad about the gigantic balloons belonging to 'Schweben, Fliegen, Fallen'. Also Honey's social-critical calls were known, but still seemed to be honest. Unexpectedly Plastique had her solo-debut with 'Ich bin aus Plastik'. As always the concert of WELLE:ERDBALL was a long-time remaining highlight of the festival.
Rating

Music: 9
Performance: 10
Sound: 6
Light: daylight
Total: 8.8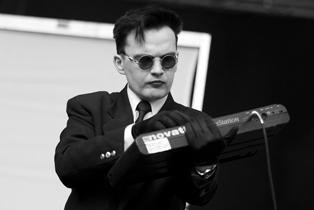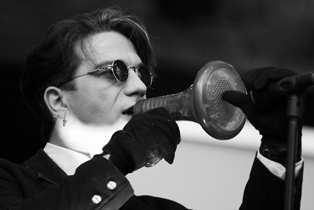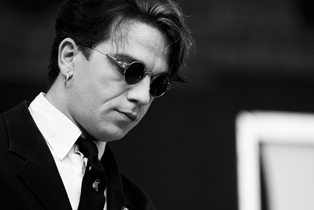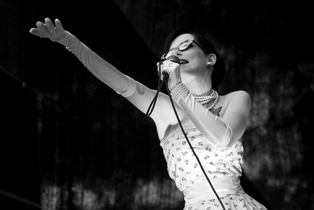 Tanzwut

The band was formed in 1999 and the line-up was based on the medieval band CORVUS CORAX. They wanted to make more electronic music, which didn't fit to a medieval band. Although some old fans didn't like the new style, they found lots of new fans, even in Mexico. They released four fulltime albums, the last one 'Schattenreiter' in 2006.
http://www.tanzwut.com/
/
http://www.corvuscorax.de/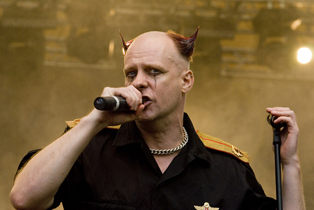 Music & Performance

They were the only medieval band this time. Now they are touring with the headline "Russian's punk and fun, besides". For this they got a new styling. On this occasion, they mixed uniform elements with Beetle-juice suits. Optically as well as musically they reminded us of RAMMSTEIN. Climax of the appearance was 'Lügner'. The song matched most to their old style and concerts. As usually mostly all eyes were on Teufel (singer) and Ardor (bag-pipe). All musicians did their best to make a good and energetic show, but somehow there was something missing.
Rating

Music: 5
Performance: 6
Sound: 6
Light: daylight
Total: 5.5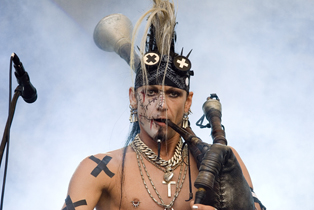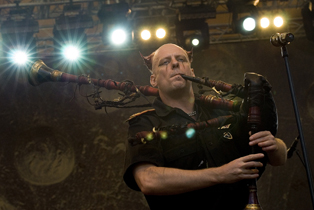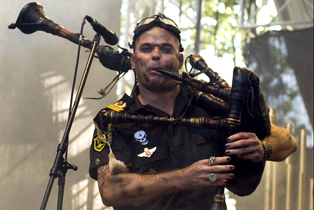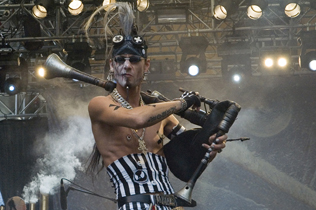 Paradise Lost

They were founded in England in 1988 and became one of the most important Metal bands ever. Over nearly twenty years they released eleven fulltime albums and a 'Best of – Reflection'. The last album 'In Requiem' just came out in 2007 and now they are playing some festivals in Germany. The line-up is set with Nick Holmes (vocals), Greg Mackintosh (lead guitar), Aaron Aedy (rhythm guitar), Steve Edmondson (bass) and Jeff Singer (drums).
http://www.paradiselost.co.uk/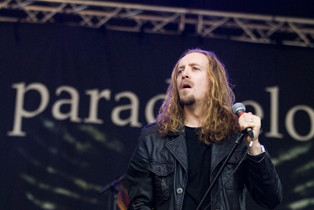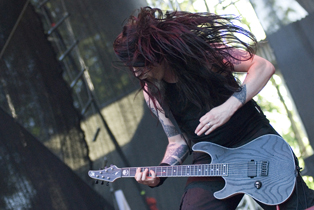 Music & Performance

PARADISE LOST - for nearly twenty years this name stands for demanding rock music. Their album 'Gothic' was the basic for the whole music direction Gothic Metal. About the years they have invented themselves more than one time. Because of those reasons it was more than surprising that these musical forefathers appeared in the afternoon and into the bargain before BLUTENGEL. So singer Nick Holmes had to make a joke about the average age of the audience. After the initial technical difficulties where the voice was not to be heard at all, he found to his old form and led usually disgruntled through the program. Maybe this sounds a little bit of a bad concert, but it was truly one of the best appearances of the whole festival. The guys from England are always known to be grouchy.
They played a good mixture from the topical album ('Enemy'), about nearly all publications ('Grey', 'Erased', 'No celebration', 'One Second') up to the live classic 'Say just words'. Especially Greg Mackintosh showed his power and strength as a guitar player. Although all of them got older and sometimes seemed to be a little bit tired of the non-thankful position, they presented a solid concert with many musical highlights. There were many people in the audience wishing them to be the headliner of the evening.
Rating

Music: 9
Performance: 7
Sound: 6
Light: daylight
Total: 7.6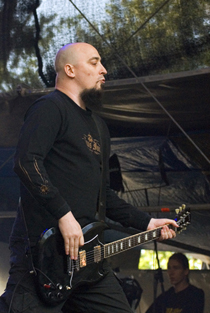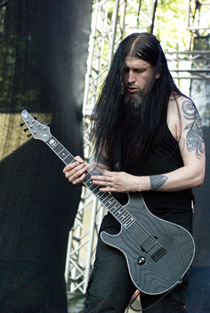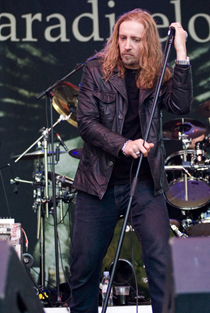 Blutengel

The mastermind of this German band is Chris Pohl. He also appears as part of TERMINA CHOICE, SEELENKRANK and TUMOR. The female singers changed during the foundation of the band in 1998 and now there are Constance Rudert and Ulrike Goldmann. Since the last years the dancer Sonja Semmler became a solid part of the band, too. They released four fulltime albums and some maxis and EPs. The new album 'Labyrinth' is announced for September 2007.
http://www.blutengel.de/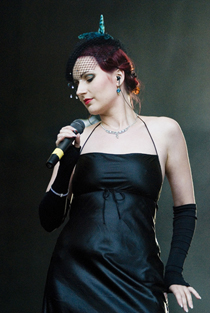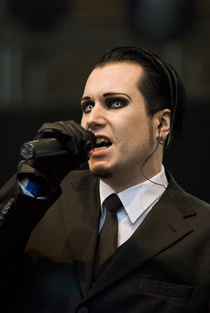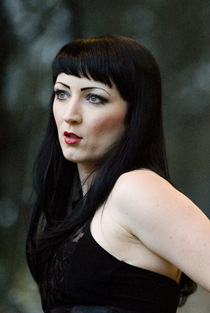 Music & Performance

They are always splitting the audience on festivals. Although they are really successful and got lots of fans, there are always critics. This time they presented new scenery mixed with well known show effects. Only the vocal qualities of singer Ulli (ex-Say Y) were a surprise. In comparison with older concerts we visited in the past, she really got a good and clear voice. Thanks to her support especially 'Navigator' was a good song.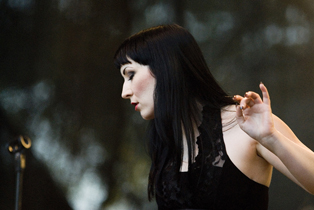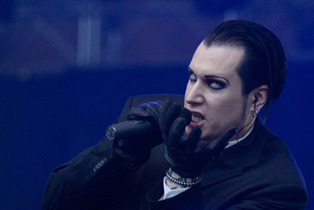 The rest of the concert was the usual mixture of sex, blood and dance. The audience celebrated 'Bloody pleasures', 'Children of the night' and 'Vampire romance'. The male visitors were impressed by the barely half-naked show of the dancers.
Rating

Music: 5
Performance: 6
Sound: 6
Light: daylight
Total: 5.5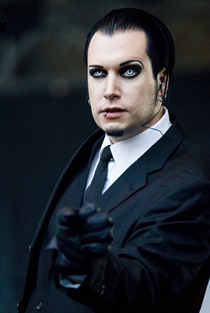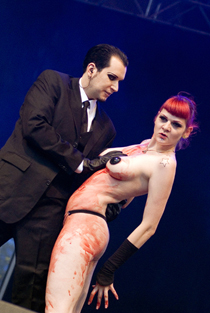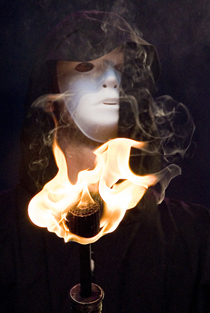 And One

They are part of the German Synth Pop scene since 1989 and are responsible for many club hits. The band was formerly founded by Steve Naghavi and Chris Ruiz, who left them in 1992, but returned in 2001. Over the years they changed the members and even got a female singer (Annelie Bertilsson of CAT RAPES DOG) for a year. Now the original founders are working with Gio van Oli. They released nine fulltime albums, the last one 'Bodypop' in 2006. Although they made some longer rests the album contained the new club hits 'Military Fashion Show' and 'So klingt Liebe', which was also shown on German music television.
http://www.andone.de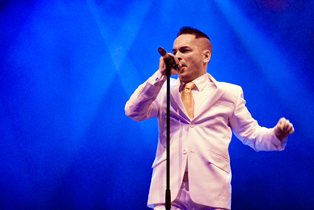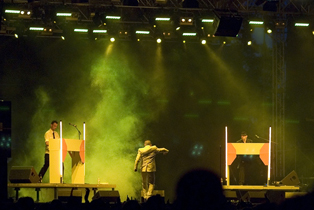 Music & Performance

In the direct comparison with BLUTENGEL they showed how to make good electronic music. This was certainly one of there best shows for a long time. Singer Steve entered the stage wearing a blending and elegant white suit and was not to be held for about an hour. Although his musicians were hidden behind their keyboards, his overwhelming joy and very good mood brought enough action into the show - it didn't matter whether they play old hits like 'Technoman', 'Deutschmaschine' and the sad, but classical 'Für' or the new ones as 'Military Fashion Show' and 'Steine sind Steine'.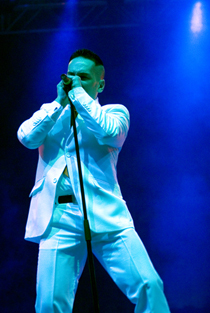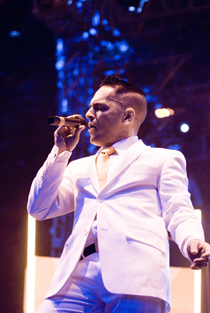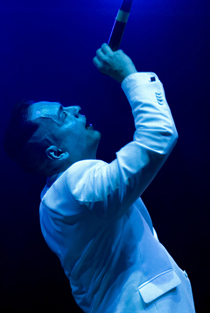 The audience partied during every song. The fans danced in front of and Steve on the stage. In addition, with sarcastic and amusing words he proved his entertainer's qualities. Thus he apologised several times sincerely to the TYPE O fans that they had to endure this. He knew it was hard for them to stand a Synth Pop concert right before. The cover of 'Timekiller' of PROJECT PITCHFORK was a deserved highlight and end of the show. The next day merely Peter Spilles himself showed his annoyance about this interpretation.
Rating

Music: 8
Performance: 9
Sound: 6
Light: 7 (and rest of daylight)
Total: 7.9


Type O Negative

The band was formed in 1989 in America and in totally opposite to so many Metal bands there was just one changing in the set up when the original drummer Sal Abruscato (LIFE OF AGONY) left them in 1993. The band released seven albums, the last one 'Dead again' just in 2007. For promoting this album they came to Germany.
http://www.typeonegative.net/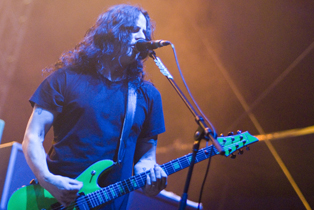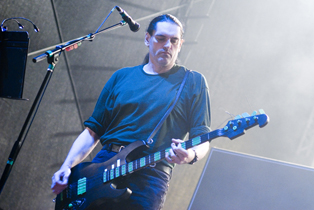 Music & Performance

The German fans had to wait a long time for an appearance of the Americans. That's why the expectations were high and the space was filled in front of the stage. Unfortunately, the concert offered more lengths rather to boredom then musical highlights. Without any enthusiasm the musicians played their guitars and the long-winded Doom melodies could not be broken up by the alternate singing of Peter Steele and Kenny Hickey. They played mostly less known songs and many titles from the new album 'Dead again'. Front man Peter Steele liked his bottle of wine and all in all there were not many emotions on stage. So this concert could not become the highlight or headline of this festival day.
Rating
Music: 4
Performance: 4
Sound: 6
Light: 6
Total: 4.6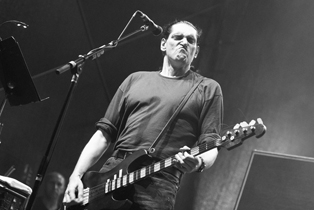 All pictures by Thomas Köhn
{jos_sb_discuss:18}