Capitol, Hannover, Germany
27th December 2009
Christmas Ball: Front 242, Covenant, Welle:Erdball, Suicide Commando, Destroid

The Christmas Ball in Hannover has already some tradition, 2009 was the first time that the agency Protain made a little tour of this event with additional dates in Cologne and Wurzburg. We were at the Hannover show which had FRONT 242 as an extra on the bill. No surprise that the show was completely sold out as the two headliners sold out the Hannover Capitol alone in the past.
Destroid

Daniel Myer, past head of HAUJOBB and new member of COVENANT, created DESTROID together with Sebastian Ullmann as one of his latest brainchildren. DESTROID was started in 2004 with a somewhat straighter and more traditional EBM approach than Daniel Myer's main project HAUJOBB. Since he buried HAUJOBB with a final gig at the Amphi Festival in 2008, Myer focuses on DESTROID and, more than anything, on his new role in COVENANT as a replacement of Clas Nachmanson. After 'Future Prophecies' (2004) and 'Loudspeaker' (2007), DESTROID will release 'Silent World' in early 2010. A limited edition of it was already available at the Christmas Ball shows, and DESTROID fans were eager to hear brand new material live.
http://www.destroid.de/
/
http://www.myspace.com/destroidmusic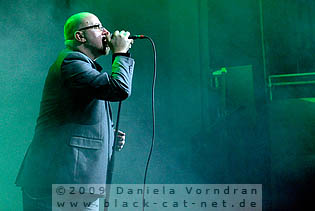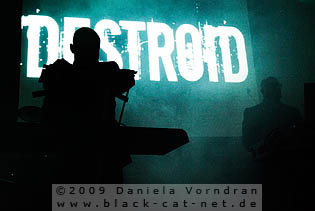 Music & Performance

DESTROID suffers the fate to be most of the time the opener of such small indoor festivals like the Christmas Ball, but in Hannover the place was already packed when DESTROID started their two-man show. So, DESTROID benefitted from the show being completely sold out and, speaking of mere number, they finally met the audience they deserve. But not only in numbers as DESTROID received a very good response from the crowd. Starting with the new song 'Silent World', Daniel Myer & Sebi performed a potpourri of songs from all DESTROID eras, supported by a simple but effective video show. 'Friend or Foe', the second track of the gig, raised the energy levels and with 'Bird of Prey', Myer and his band mate (additional live keyboarder Rinaldo Bite aka "Ribi" didn't join the round for the Christmas shows) finally got all of the audience on their side. A successful gig and for Myer only the first one of the night as he would be on stage again later with COVENANT!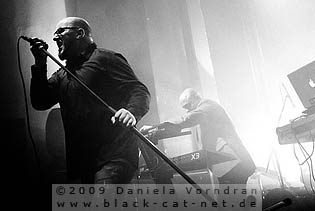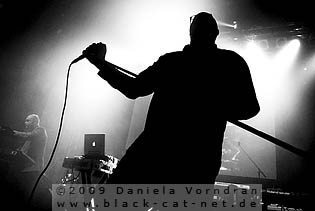 Setlist

01. Silent World
02. Friend or Foe
03. Run and Hide
04. Bird pf Prey
05. Revolution
06. Bonewhite Light
07. Mourn
08. Judgement Throne
Rating

Music: 8
Performance: 8
Sound: 6
Light: 7
Total: 7.6 / 10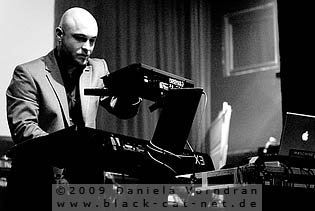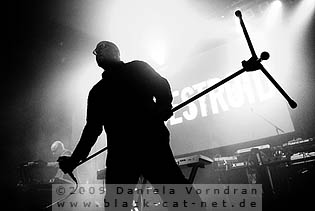 Suicide Commando

Belgian EBM legend SUICIDE COMMANDO is mastermind Johan van Roy plus his live collaborators Mario Vaerewijck (INSEKT) playing the drums and keyboarder Torben Schmidt (LIGHTS OF EUPHORIA, Infacted Recordings). Johan van Roy is one of the figureheads of harsh EBM and Hellectro under the moniker SUICIDE COMMANDO, and the story began as early as 1986. Being heavily influenced by fellow countrymen THE KLINIK in the beginning, van Roy has developed his own vision of dark and aggressive EBM over the years. SUICIDE COMMANDO is today one of the best-known and most successful acts of the genre, copied a bazillion times but still unmatched. SUICIDE COMMANDO's last full-length - 'Bind Torture Kill', released in 2006 - was the project's most successful release to date, and 2010 will finally see the release of its long-awaited successor.
http://www.suicidecommando.be/
/
http://www.myspace.com/suicidecommando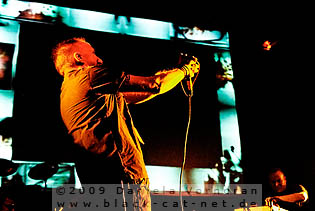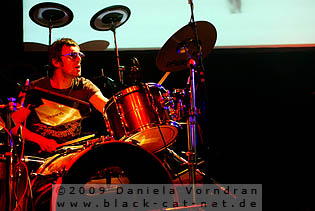 Music & Performance

As I saw SUICIDE COMMANDO live in concert a couple of times over the last few years, I was wondering if they had something new in store for us at the Christmas Ball. After all they have a brand new album coming out in a few weeks time, so I hoped for a new live concept and lots of new tracks. But alas, SUICIDE COMMANDO started their show just one more time with 'Bind Torture Kill', which is a killer track for sure but their standard opener for years now. Setup and video show were also still the same as usual but however, the fans loved it! Track number two gave me reconciliation, as SUICIDE COMMANDO offered us a new track from the forthcoming album 'Implements of Hell' with the club version of 'God is in the Rain'. The rest of the 50-minute set was some kind of a best of with some new tracks thrown in, including the brilliant 'Die Motherfucker Die' single but unfortunately ignoring the equally brilliant 'Until We Die' single released on 7" a few months ago.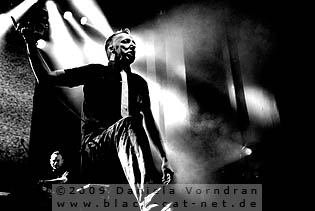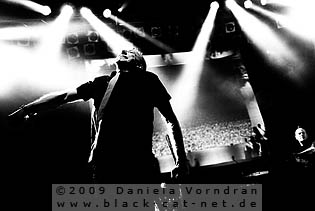 Although SUICIDE COMMANDO didn't offer too many new elements at their gig at the Christmas Ball, it was still a quality show. Johan van Roy let the beast inside go and used all of the space of the stage, and also loved direct contact with the fans in the front rows. The acoustics at the Capitol, however, were really not up to normal standards. Not SUICIDE COMMANDO's fault for sure, as all bands performing this night suffered from that.
Setlist

01. Bind Torture Kill [extended torture]
02. God Is In The Rain [club mix]
03. Conspiracy With The Devil
04. Dein Herz Meine Gier
05. Hate Me
06. Love Breeds Suicide
07. Come Down With Me
08. Cause Of Death: Suicide [2009 RMX]
09. Die Motherfucker Die
Rating

Music: 7
Performance: 8
Sound: 6
Light: 8
Total: 7.3 / 10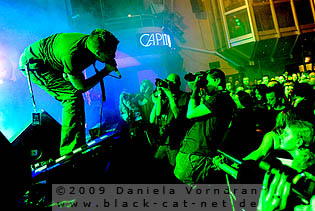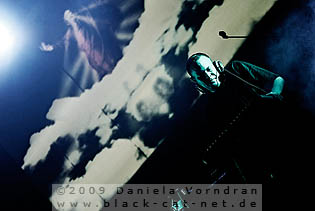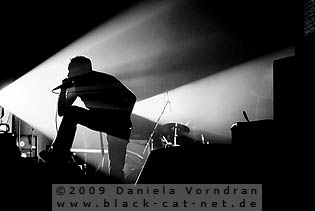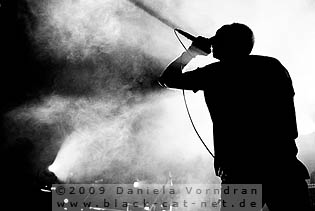 Welle:Erdball

WELLE:ERDBALL are kinda the Pop stars of the Minimal Electro scene, and the band features Honey (lyrics, vocals), A.L.F. (music, programming), Fräulein Venus (percussions, vocals), and Plastique (percussions, vocals). WELLE:ERDBALL are known for their heavy use of the old Commodore 64 home computer to produce their minimal Electro Pop. The name literally means "Wave: Earthglobe", and in fact comes from a German radio play called "Hallo! Hier Welle Erdball!". The band's logo is an upside down version of the symbol of Trabant, the former East-German motor vehicle manufacturer. Everything about WELLE:ERDBALL is about some kind of retro-futurism. Musically heavily influenced by Synth Pop and the 1980s Futurists movement, with lyrics about 1960s and 1950s technology, all presented with good old fun and the tongue firmly in cheek at times. As someone put it once, the UK has Brit Pop while Hannover has "Bit Pop".
http://www.welle-erdball.info/
/
http://www.myspace.com/funkbereit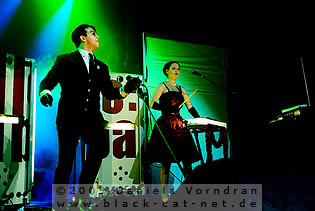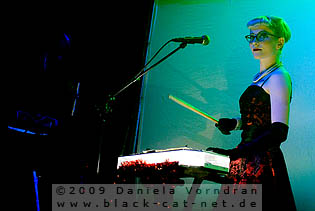 Music & Performance

Hailing from Hannover, the gig at the Christmas Ball was of course a home run for WELLE:ERDBALL in every sense of the word. So it made sense that Honey and his band mates got a better spot in the line-up compared to the Cologne and Wurzburg shows. Bad for SUICIDE COMMANDO who had to play earlier in Hannover, and good for all WELLE:ERDBALL fans in town. And there were a lot of them! While DESTROID and SUICIDE COMMANDO were well received, things went through the roof during WELLE:ERDBALL's performance. But first it has to be noted that founder member A.L.F. could not perform this show due to health reasons and had to be replaced by Andy Catwalk, who usually works as a technician for the band.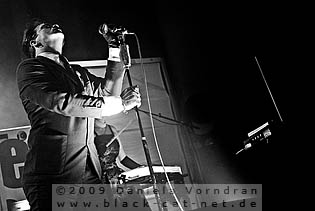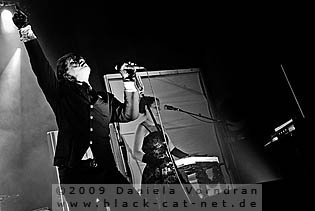 However, this was not detrimental to the success of the show, at all. It wasn't the first time for WELLE:ERDBALL to perform at the Christmas Ball, and the band's home town is one of their strongholds anyway. So soon the crowd was wrapped around the group's little fingers, and the best of character of WELLE:ERDBALL's set just added to this. From the opener 'Wir sind die Maschinen' to the club smasher 'Starfighter F-104-G' to the yet unreleased song 'Die falsche Front', the party level couldn't be much higher, and with '0173-1923954' (yes, the do love odd song titles!) WELLE:ERDBALL even delivered an electronic version of 50s Rock'n'Roll very reminiscent of SILICON TEENS (if anyone remembers them!). The performance was backed up by an interesting stage design and a video show which was deliberately low-res and pixelated, and WELLE:ERDBALL took the chance to celebrate the 70th birthday of the famous VW Käfer car with a glass of champagne, and of course with their song of the same name. A fun show which on the technical side of things also had the best sound of the night!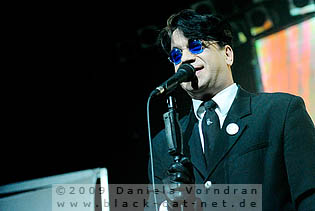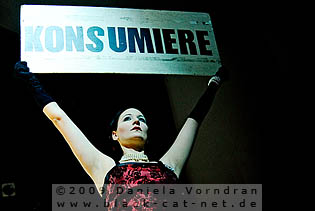 Setlist

01. Wir sind die Maschinen
02. Wir wollen keine Menschen sein
03. Ein Mensch aus Glas
04. Graf Krolock
05. Ich bin aus Plastik
06. Das Alpha-Tier
07. Der Telegraph
08. Und es geht ab
09. Die falsche Front
10. Starfighter F-104G
11. 0173-1923954
12. Arbeit adelt!
13. VW-Käfer
14. Monoton und Minimal
Rating

Music: 7
Performance: 8
Sound: 7
Light: 7
Total: 7.3 / 10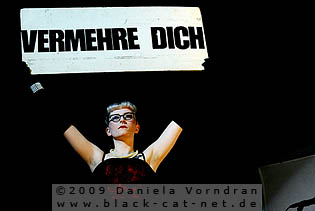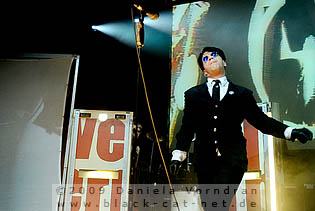 Covenant

Our favourite Swedish band has turned into a Swedish-German formation since Daniel Myer, of former HAUJOBB fame, has joined Eskil Simonsson (lead vocals) and Joakim Montelius (keyboards, computers, vocal noise) 2007 to replace founder member Clas Nachmanson in 2007. Releasing music since 1993, COVENANT is enjoying major success since the turn of the millennium. Together with VNV NATION and APOPTYGMA BERZERK they were part of a troika which, in a way, founded a new genre within the cosmos of electronic music - Future Pop. The three bands were the main forces that helped to shape a new genre, which is rooted in Electronic Body Music but adds elements from Trance, Techno and other contemporary electronic (dance) music, combined with big melodies and Pop appeal. Future Pop was born, although COVENANT rather refers to its music as "Pop music with an edge" than being pigeonholed in a genre that doesn't exactly do justice to Covenant's music.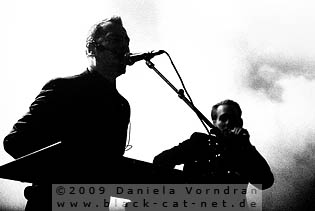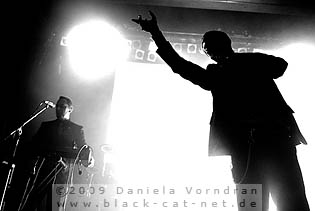 There has always been more to COVENANT's music than "only" Future Pop. The trio proved this with their albums 'Northern Light' (2002) and 'Skyshaper' (2006), which had the typical Future Pop club hits like 'Call the Ships To Port' or 'Ritual Noise' but also challenging little gems like the weird 'Happy Man' or the deeply melancholic 'The World Is Growing Loud', both to be found on the last album 'Skyshaper'. 2010 will - hopefully - see the release of the first COVENANT album featuring new member Daniel Myer. The band is apparently still working on the album which will be called 'Modern Ruin', although they've been presenting some new songs at their live shows for a while now. After playing solo shows at the Hannover Capitol in the past, they were co-headlining this night with FRONT 242.
http://www.covenant.se/
/
http://www.myspace.com/covenant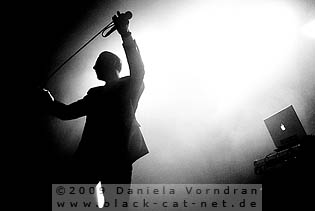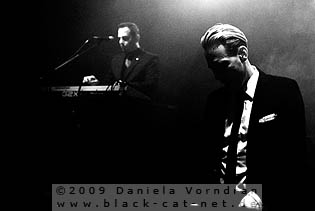 Music & Performance

And next were THE SISTERS OF MERCY! No, wait - it's COVENANT! The amount of fog the boys used on stage in Hannover invited such a cruel joke, especially as COVENANT are rather known for clean-cut stage designs, bright light and impressive LED screenings. It was probably not them who decided for this different approach for their live show, but it was definitely themselves who decided to deliver a killer setlist in Hannover! COVENANT knows what their fans want: The big crowd pleasers, some new stuff, some obscure track, and some nice surprises. In Hannover we got all of it, and COVENANT's performance started with a nice surprise. 'Stalker' definitely also belongs to the crowd pleaser category but hearing it as the opener is a rare thing, and hearing this extra-extended intro to the song was definitely a first. Unfortunately I made the mistake to watch the first songs of the show from the balcony, which had the advantage of not being squeezed between lots of bodies but the definite disadvantage of pretty horrible acoustics.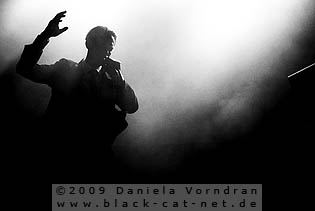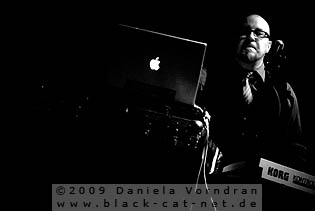 While COVENANT continued with more killer tracks like 'Figurehead' and 'Tour de Force' I considered if jumping down the balcony would be the fastest way to the dance floor. In favour of everybody's safety I decided to rush down the stairs instead, and after getting a nice spot in the crowd I realized that the sound was much better in front of stage. Quite a relief! With 'The World Is Growing Loud', Eskil and his friends performed a rather obscure and dark album track and I think it was the first time ever that I got to hear this one live. Amazing song! With 'Bullet' they raised the pace again just to keep it up with '20Hz' and the never failing 'We Stand Alone'. With 'I Close My Eyes', COVENANT offered a new little teaser for the forthcoming new album, an upbeat track which I quite enjoyed. The band was in high spirits, and although word said that singer Eskil suffered a bit from a sore throat (no surprise with this cold winter weather) his vocal delivery sounded fine.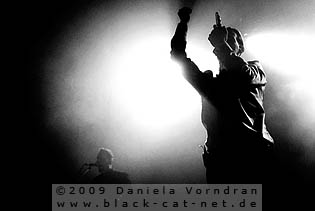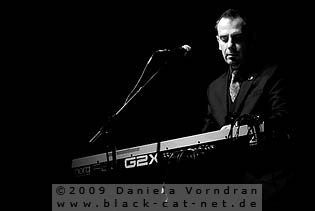 After 'Ritual Noise' and 'Call The Ships To Port', two songs which can do wonderful things to a willing crowd, the lights went on but COVENANT returned to the stage to perform an unplanned second encore with 'Dead Stars'. Too much fog, bad sound depending where in the venue you were, but a great performance which made everybody dance and jump. 'Modern Ruin' may come!
Setlist

01. Intro
02. Stalker
03. Figurehead
04. Tour de Force
05. The World Is Growing Loud
06. Bullet
07. 20hz
08. We Stand Alone
09. I Close My Eyes
10. Ritual Noise
---
11. Improvisation
12. Call The Ships To Port
---
13. Dead Stars
Rating

Music: 9
Performance: 8
Sound: 7
Light: 7
Total: 8.1 / 10
Front 242

Jean-Luc De Meyer, Daniel Bressanutti, Patrick Codenys and Richard Jonckheere are FRONT 242, the Belgian pioneers of Electronic Body Music who influenced a plethora of bands and acts inside and outside their own genre. FRONT 242 was started in 1981 in Brussels, Belgium, by Daniel Bressanutti and Dirk Bergen, who wanted to create music and graphic design using emerging electronic tools. The first single, 'Principles', was released in late 1981. Patrick Codenys and Jean-Luc De Meyer had separately formed a group at about the same time, and the two duos joined together in 1982.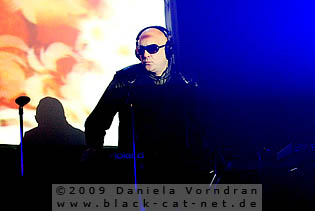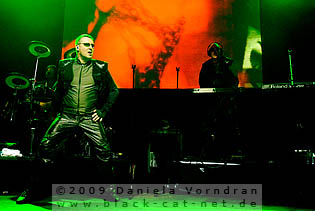 With the subsequent releases, in particular the EP 'Politics Of Pressure' and 1987's album 'Official Version', FRONT 242 gained great popularity in Europe's underground band dance scenes, and a tour with DEPECHE MODE marked the band's breakthrough. Being one of the biggest alternative acts now, the albums 'Front By Front' and 'Tyranny For You' were further highlights in FRONT 242's history with extensive touring in Europe and North America. The mid-90s saw the band on a hiatus, with each band member pursuing new projects until FRONT 242 came back with their 1998 'Re:Boot' tour. Since then playing live is the main focus of FRONT 242, with 'Pulse' being the only album of the new millennium with new FRONT 242 material.
http://ww.front242.com/
/
http://www.myspace.com/front242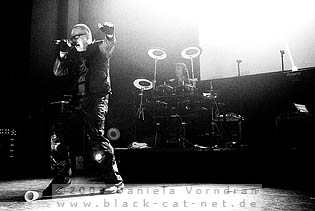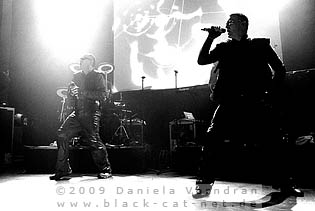 Music & Performance

FRONT 242 still have it all! Starting with the classic 'Happiness', the Belgian legend didn't waste any time and put the energy on maximum. While the opening was a pretty familiar one, the rest of the setlist offered a couple of old tunes which haven't been performed too often in the recent years. 'Moldavia', 'Quite Unusual', 'Circling Overland' were pure bliss for all the die-hards and energetic enough to make everybody else move to. The combination of DeMeyer and Richard Jonckheere as the two protagonists of FRONT 242's show was and is simply irresistible, and in front of stage things got quite physical, if you know what I mean. While the two front men worked the audience, Codenys stayed in the background, and the middle of the stage was dominated by a huge video screen on which FRONT 242 displayed top-notch and very expedient video clips to each song.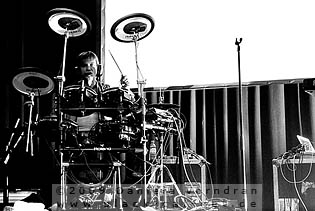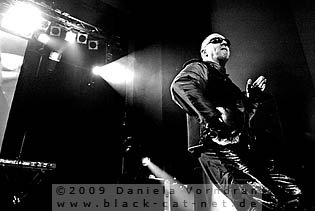 Of course 'Headhunter' and 'Welcome to Paradise' got the most frenetic response of the show, and in the inevitable encore FRONT 242 performed a medley of the dark 'Kampfbereit' with KRAFTWERK's 'Radioactivity'. As I said, FRONT 242 still have it all!
Rating

Music: 9
Performance: 9
Sound: 7
Light: 8
Total: 8.6 / 10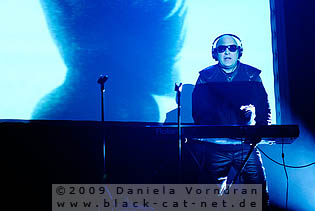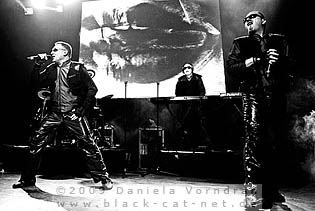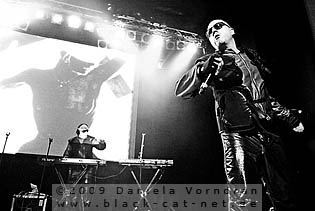 All pictures by Daniela Vorndran (
http://www.vorndranphotography.com/
/
http://www.black-cat-net.de/
/
www.myspace.com/vorndranphotography
)
{jos_sb_discuss:18}