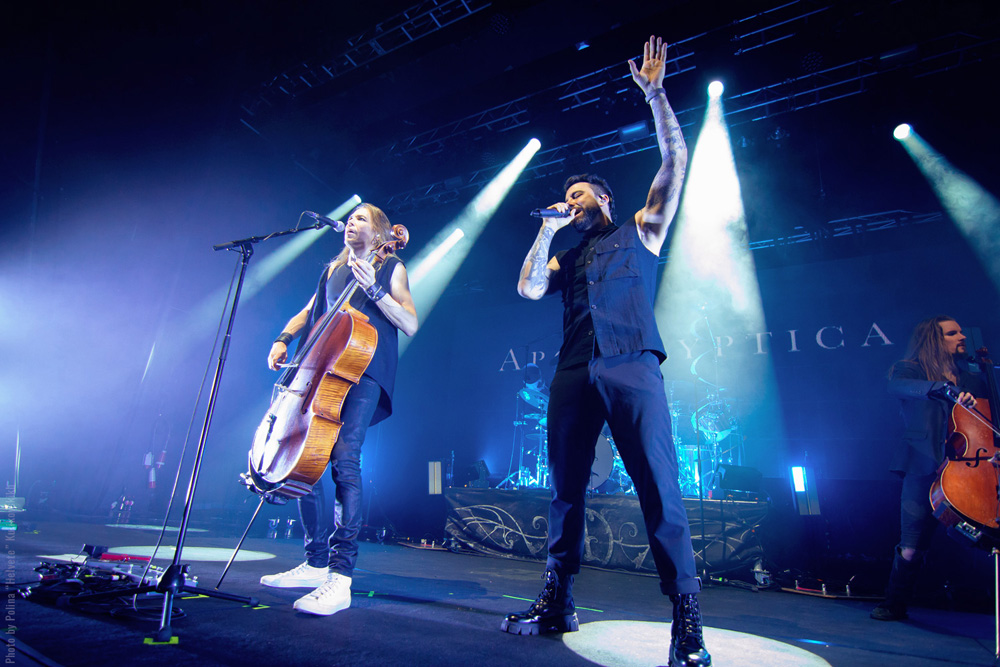 Sentrum Scene, Oslo, Norway
23rd January 2023
Apocalyptica & Epica - "The Epic Apocalypse Tour" 2023 - Support: Wheel

On the 23rd of January APOCALYPTICA and EPICA started their "The Epic Apocalypse Tour" with a concert in Oslo. The tour was planned long ago, but have been postponed a few times because of the pandemic. The two legendary bands were joined by the Finnish band WHEEL as support.
Wheel
WHEEL is Prog-Metal band formed in 2015. They released their debut album 'Moving Backwards' in February 2019, followed by their second album 'Resident Human' in March of 2021. The band draws inspiration from TOOL, KARNIVOOL and RADIOHEAD.
Setlist

01. Blood Drinker
02. Movement
03. Hyperion
04. Vultures
05. Wheel
Epica
The Dutch symphonic metal band EPICA became an international phenomenon when they released their album 'Design Your Universe' in 2010. They were formed by composer Mark Jansen after he left AFTER FOREVER back in 2002. The band uses elements of various genres in their music and have a very energetic show. Their latest album 'The Alchemy Project' was released in November 2022 and was accompanied by official music videos for the songs 'The Final Lullaby' and 'Sirens - Of Blood and Water'.
Setlist

01. Abyss of Time - Countdown to Singularity
02. The Essence of Silence
03. Victims of Contingency
04. Unchain Utopia
05. The Final Lullaby (with Jørgen Munkeby)
06. Fools of Damnation
07. Rivers
08. The Skeleton Key
09. Code of Life
10. Cry for the Moon
11. Beyond the Matrix
12. Consign to Oblivion
Apocalyptica
APOCALYPTICA is a Finnish Symphonic Metal / Rock band that made their entrance on the music scene in 1996 when they released the legendary debut album 'Plays Metallica By Four Cellos'. The band has had enormous success and is a top name on festival posters worldwide. Right before the pandemic APOCALYPTICA released their 9th studio album 'Cell-0'. It is the band's first fully instrumental album since 2003. In December 2022 a new single, 'Rise Again' featuring Simone Simons from EPICA, was released, followed by a video. I'll be honest, I was expecting them to play this song together during the concert, but they didn't. However, on this tour the band was joined by amazing vocalist Franky Perez with whom they performed some of the older tracks.
Setlist

01. Ashes of the Modern World
02. Grace
03. I'm Not Jesus
04. Not Strong Enough
05. Rise
06. En Route to Mayhem
07. Shadowmaker
08. I Don't Care
09. Nothing Else Matters (Metallica cover)
10. Inquisition Symphony (Sepultura cover)
11. Seek & Destroy (Metallica cover)
---
12. Farewell
13. In the Hall of the Mountain King (Edvard Grieg cover)
See also (all categories):