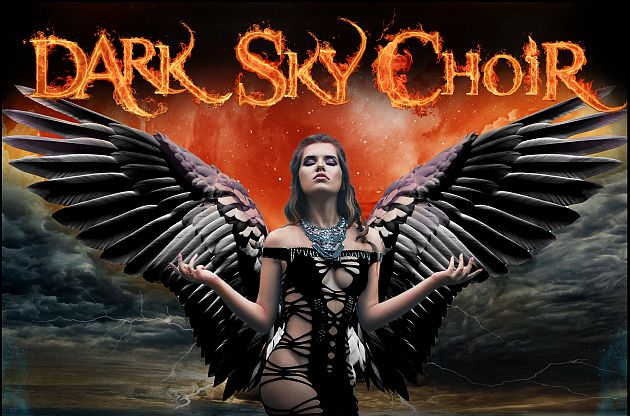 DARK SKY CHOIR is an original Hard Rock / Metal band from New Jersey. Formed in 2016, the band originally consisted of four veterans of the local music scene, playing the classic Metal music they all grew up listening to. As their local popularity increased as a tribute band, it was inevitable that they soon began writing their own music.
In late 2017, original vocalist, Hollywood How, and bassist Joe Stabile were replaced with Brian Allen and John Moyer, respectively. Allen has been the voice of various bands throughout the years, most notably as the front man for VICIOUS RUMORS for almost a decade. Moyer is best known as the Grammy nominated bassist for the world-renowned metal group DISTURBED, with whom he has recorded and toured since 2004.
Inspired by a lifetime love of Metal, DARK SKY CHOIR brings years of live and recording experience to the stage with their own brand of Hard Rock and Metal. Their debut album was released in 2017 and was soon followed up in March of 2018 with a brand-new, self-titled EP featuring the new line-up, as they embark on their first national tour, opening for FOZZY.
In Summer 2019, the band conquers various European stages: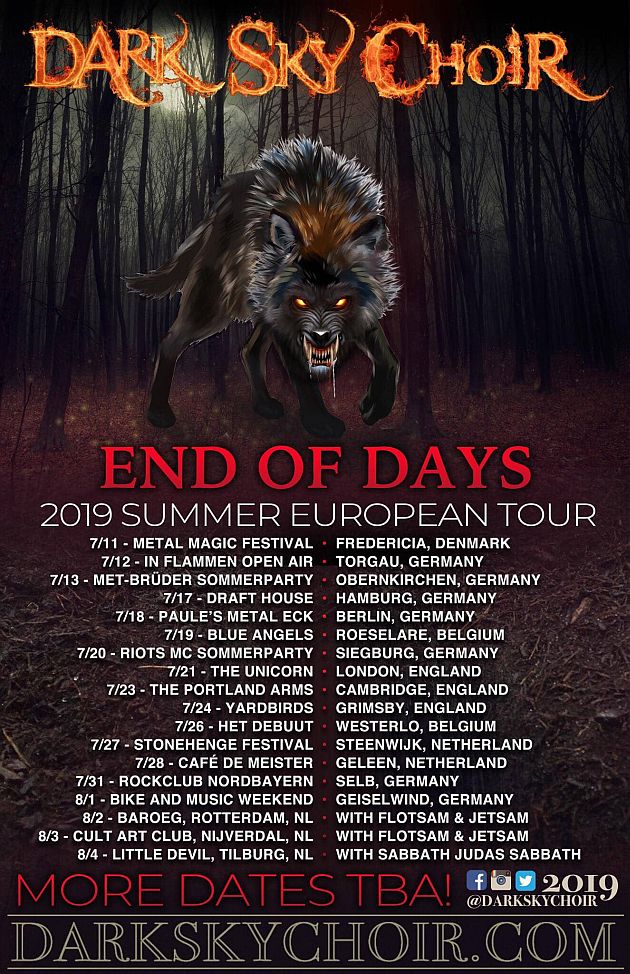 BRIAN ALLEN
Hailing from the Pacific Northwest, Brian Allen is currently the front man for the Bay Area Thrash Metal band VICIOUS RUMORS. He has long been a staple of the Metal scene, singing with such bands as LAST EMPIRE (who signed with the Underground Symphony Label in 1999), and TWO-HEADED BEAST, since 2015. He joined DARK SKY CHOIR in the fall of 2017 to record their self-titled EP.
IRA BLACK
Ira Black recently joined the band in March 2019 and will be a featured on the band's new album 'End of Days' and U.S. tour with BOBAFLEX. Black is a 35 year Metal guitar veteran who has played in many bands including METAL CHURCH, VICIOUS RUMORS, LIZZY BORDEN and I AM MORBID.
JOHN MOYER
John Moyer is best known as the Grammy-nominated bassist and back-up vocalist for the Heavy Metal band DISTURBED. Taking over in 2004 after Steve "Fuzz" Kmak was fired, Moyer has played bass-guitar with the group since their third studio album, 'Ten Thousand Fists'. Moyer was also the bassist for the Texas-based UNION UNDERGROUND, before joining ADRENALINE MOB from 2012 through 2014. After his departure from A-MOB, he was a founding member of the Metal super group THE FOUNDRY, alongside former IRON MAIDEN vocalist Blaze Bayley, guitarist Rick Plester, and legendary TWISTED SISTER drummer, the late AJ Pero. In 2015 he joined OPERATION: MINDCRIME, featuring former QUEENSRYCHE front man Geoff Tate. Following stints with ART OF ANARCHY (with Scott Stapp), and Stereo Satellite, Moyer joined DARK SKY CHOIR in the fall of 2017, and can be heard on their brand-new self-titled EP.
JORDAN CANNATA
Drummer Jordan Cannata is best known for his work with ADRENALINE MOB, STEREO SATELLITE, SUGARMORE, VOICES OF EXTREME and recent fill in dates with DORO!