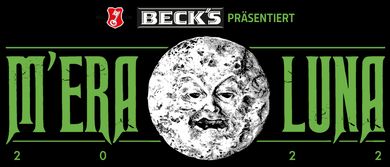 The sun is at its zenith and in its light the M'era Luna casts its shadows auspiciously ahead. These not only tell you the timetable today, but also allow a first look at the supporting program. However, the most important item on the agenda has already been set - namely our reunion, because you know very well what the community of M'era Luna means. The time for our first gathering after the two-year hiatus is near. The time when everything is finally as it should be.
What is, will be and should be for you can be determined for the music program with our timetable. Here you can find it in all its glory:
https://bit.ly/meraluna2022_timetable
.
Where there is light, there is also shadow: Unfortunately, THE CRÜXSHADOWS have to cancel their appearance. However, COMBICHRIST have announced to jump in, and their energetic show will demand everything from you. While the program of the M'era Luna Academy is still in progress, we are already giving you a first glimpse of the rest of the supporting program here:
Look forward to the following readings and lectures: Author Markus Heitz gives a sample of 'AERA2 - Die schwärzeste Nacht' and 'Das Herz der Zwerge'. Isa Theobald reads from Requiem für Miss Artemisia Jones' and Gebet für Miss Artemisia Jones'. Criminal psychologist Lydia Benecke will give a lecture on the topic 'The psychology of manipulation: Of love tricksters, gurus and serial killers'.
Dance into the early hours of the morning and the clouds are purple again at the official festival warm-up with Dancefloor Gladiatorz, DJ Mike K. and DJ AndTrax. On Saturday you can turn night into day with DJane Thenia AF and DJ Marc Urban. You learned to love the crypt talk with Chris Harms from LORD OF THE LOST and M'era Luna chief booker Stephan Thanscheidt during the two digital editions of M'era Luna. This year you can experience the background talk on the music world live!
Metamorphosis of the extra class

The former Hangar Stage has grown into a magnificent open-air stage called Club Stage. For you, this means: no admission stops and even more concert enjoyment in the open air. Although that's actually not quite right, because they darken the sun for you with a huge artificial sky that combines a club atmosphere with fresh air. Black magic! And it's not just the stage that's changing: the festival website and app will soon be out of their cocoons as well.
28 BLACK

Experience the festival summer with 28BLACK! The energy drink guarantees plenty of festival power and ensures that nobody runs out of energy when partying and partying. Vegan and without taurine, mixed or pure - with 28 BLACK it's also after the festival: good vibes only!
Source: Newsletter