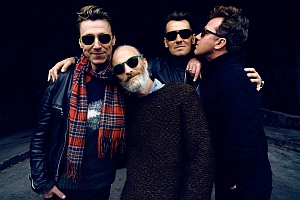 Travis are releasing their new album 'Everything at Once' on 29th April 2016 on their own label Red Telephone Box via Carolina International. The Scots, who are counted among one of the most popular bands of the United Kingdom, went to Berlin's legendary Hansa Studios for the recordings. 'Everything At Once' literally spills with self-confidence and determination while continuing the classic Travis sound thanks to the warm and characteristic voice of frontman Fran Healy.
The new single '3 Miles High' is a wonderfully coy but up-building acoustic track to which the aspiring Norwegian singer Aurora contributed the backing vocals. The brand-new video for '3 Miles High' is online
HERE
. The ten songs of the album show the band in top form. All of them are three minutes long snacks of pure joy or as Fran Healy describes it:
"One shouldn't take longer than necessary. We learned to keep the songwriting easy. One can say whatever one wants, one doesn't need four minutes for that."

'Everything At Once' is the successor of the 2013 record 'Where We Stand' which granted the band its second highest chart position of their career in Germany (position 6). All in one, the band can look back on numerous UK top 10 singles, two Brit Awards and about 8 million sold records. Fran Healy produced the short film 'Everything At Once The Film' along with the album which will be featured on the deluxe version of the album.
The whole tracklist is as follows:

01. What Will Come
02. Magnificent Time
03. Radio Song
04. Paralysed
05. Animals
06. Everything At Once
07. 3 Miles High
08. All Of The Places
09. Idlewild (feat. Josephine Oniyama)
10. Strangers On A Train
Source: Press Release