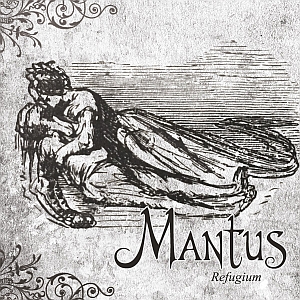 It is always easier to look away. To suppress the truth instead of facing it. Ugly facts like these have turned the world into a barren place, have turned humanity into a disease swelled by resentment, malevolence and jealousy. Yet, they prepare the ground for artists like him: Martin Schindler, a uniquely abyssic poet in a genre rich in apocalyptic weaponry. A restless figure like him is not untouched by the madness this world has come to. Because he doesn't look away. Because he doesn't suppress anything. It doesn't get easier by this, that's for sure. Still, it turns every new MANTUS record into a cleansing catharsis.
Yet, "Refugium" is different. Perhaps this is due to the times we live in. Perhaps, though, this is because Martin Schindler believes there is no other way. After leaving the drawn-in, elegiac world of the wonderful predecessor "Melancholia", "Refugium" has the intensity and force of a breaking dam. MANTUS in a nutshell, you could say to what Martin Schindler has to offer this time around. Like never before in the career of the tireless Gothic icon, the topics are literally torn apart, almost schizophrenic in their oscillating movement between introvert and extrovert.
Musicwise, this brings us nothing short of a sensation. Outbidding the poles of the MANTUS signature sound between Dark Rock grandeur and melancholic longing, this leads to some of the strongest and most haunting pieces in a career almost spanning 20 years. In "Schande", for example, Martin Schindler takes down national pride with forceful intensity whereas the deeply touching and all too true "Welt in Flammen" reveals the absurdity of terrorism.
As plain, direct and personal as never bevor, Martin Schindler vents his frustration. Still, he is not embarking on a blind revenge campaign and prefers to free himself of all these conflicts and struggles weighing on his soul. That he decides to cover Bettina Wegners elegy "Traurig bin ich sowieso", then, can almost be seen as a testimony, a thought binding together this gloomy masterpiece: More than ever before, "Refugium" tells us of the battle against everything that is bad, but also of capitulation. Of resignation. Ironically enough, though, it is mostly works like that fight against giving up with fierce determination. This, essentially, is what makes MANTUS even more valuable in 2016 than ever before.
Source: Trisol