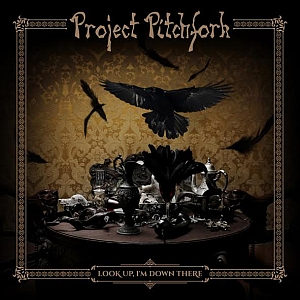 Since the dawn of time, man has been gazing at the night sky - longing, asking, searching and hoping. Are we truly alone in this dark cosmos? What's the meaning of it all? Wars, terror, hunger and pain – the 21st century is not exactly a benefiting epoch for humanity. Gazing outwards, though, is always like gazing inwards, too. "Look Up, I'm Down There". We are right here, in the middle of you. What if we tell you the answers you are looking for are right here, in front of your very nose? What if we tell you there is still hope?
The new PROJECT PITCHFORK record is a turning point. The beginning of something new, built on the foundation of an unprecedented career. "Look Up, I'm Down There" is being released as a huge surprise, commemorating the 25th anniversary of this pioneering act. It is rewriting history once again, too. Like never before, Peter Spilles injects the entirety of his vast artistic work into a single release, embracing the myriad of inspirations, visions and sounds that have orbited him since day one. This is an album unique in its musical thickness and yet proves to inspire and surprise every single second of its duration.
Thus, a precise musical categorization has become utterly obsolete. Being a project that single-handedly invented, hatched, nursed and boosted dark electro, "Look Up, I'm Down There" is nothing short of an awe-inspiring demonstration of darkly emotional music. Those being familiar with the work of tireless Peter Spilles will be delighted how skillfully he employs tropes of two and a half decades of dark electro history. The crisp EBM beats of the early nineties, voluptuous melodies from the late nineties, the futuristic and pulsating sequences boosting PROJECT PITCHFORK's career in the new millennium, plus a fair share of his biting cynicism coalesce in a visionary new mother-ship of dark electro. It's not about single songs or the occasional club hit - it's about the glorious entirety of the record.
The music of "Look Up, I'm Down There" is only half the reason as to why this release reaches new artistic heights. The lyricism reveals Peter Spilles' most personal introspections yet. Ruthless, direct and unfiltered, he is permitting a deep gaze into his inner most life. From its inception, intrigued by space and its infinite possibilities, "Look Up, I'm Down There" combines two sides of mankind´s epic history, seen through the eyes of a single individual. War, loss, exploitation of nature, isolation and the cataclysmic triumph of social media all paint the lyrical canvas with dark colors. Hope arrives in shape of a presence that senses good in all of us, imploring that we never to cease to love, ask and feel – "Look Up, I'm Down There". Look up and you will realize that you are not alone – whatever may happen. This is what makes the 17th PROJECT PITCHFORK record perhaps the best, and most certainly the most important and salubrious beacon of their stellar career.
ATTENTION: The album is published in two editions.
1. Limited special double CD edition:
Book
• Opulent hardback book containing two CDs
• CD 1: the album 'Look Up, I'm Down There'
• CD 2: contains an exclusive song and five remixes by Peter Spilles
• 80 pages, perfectly formed in stylish landscape format (approx 19.4 x 14.1 cm)
• Unique, mysterious visual worlds by Silent View
• Contains the entire album lyrics
• Also contains a short story by the fantasy author Björn Springorum, based on the album concept
and included in English and the original German versions
• Elaborate design by cult artworker SeasonZero (ASP, L'Âme Immortelle etc)
• Book pages consist of paper and semi-transparent parchment paper
• Paper pages feature exquisite art print on 130g art paper, with additional metallic ink
• Parchment paper pages feature illustrations in metallic print
• Front and rear endpapers, thick paper, printed in colour
• All printed parts boast luxurious semi-matt lamination
• Bound with durable thread stitching
Slipcase
• Extremely sturdy slipcase made from board that is printed black
• Outer wrap printed in colour and featuring additional metallic print
• Finished with opulent faux leather lamination
Certificate
• Hand-numbered by Peter Spilles
• Signed by Peter Spilles, Dirk Scheuber and Jürgen Jansen
Limited edition
• Strictly limited to 2,525 copies worldwide
2. Standard CD Edition:
• CD in 6-panel digipak
• 28-pages booklet
Live
30.09. Frankfurt/M., Das Bett
01.10. Frankfurt/M., Das Bett
02.10. Krefeld, Kulturfabrik
06.10. Nürnberg, Hirsch
07.10. München, Backstage
08.10. Stuttgart, clubCANN
18.11. Berlin, Huxleys Neue Welt
19.11. Rostock, M.A.U. Club
25.11. Leipzig, Werk II
26.11. Erfurt, HsD
09.12. Hannover, MusikZentrum
10.12. Hamburg, Markthalle
Album-Player:
https://www.youtube.com/watch?v=4cdarXx-cdI
("Look Up, I'm Down There")
Website:
http://www.project-pitchfork.eu
/
https://www.facebook.com/Project-Pitchfork-Official-65663206412
Source: Press Release