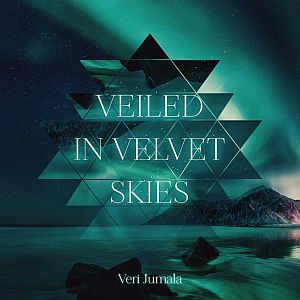 A solo album by SORROWNIGHT singer Veri Jumala will, surprisingly, be released soon. As the writing of SORROWNIGHT's upcoming album is also at an advanced stage and it is also expected to appear later this year, the question begs why publish two albums almost simultaneously? Originally, Veri Jumala came from the acoustic genre. But since SORROWNIGHT, he has not been doing solo songs. However, for many years he has had tunes, lyrics and atmospheres building in his head, which he once again wanted to deliver through a solo project. Veri said
"If I hold back these emotions and ideas, I have no more headspace for the big thing - the SORROWNIGHT debut album."
For him, the solo album is a kind of "preparation" for his next big step with SORROWNIGHT. In addition to all the feelings and creativity that he lives and lets out in this process, he feels it also improves his skills as a musician.
"I practice the guitar, sharpen my hearing and get a feel for the process of recording and studio work".
Since he wanted to keep his acoustic album as "simple" as possible, the songs have no instruments other than his acoustic guitar and piano.
"I am very grateful that CHRISTINE SHADOW supported me and lent me her piano skills to complete my album, and also with SORROWNIGHT, as it enhances our collaborations and harmonies."
One song in particular stands out because it consists only of the interaction of piano and vocals. With the piano in the foreground, he collaborated with KATARINA GUBANOVA (Miss Key Beautiful Piano) another very special artist, who shows the song in beautiful light and is greatly enhanced. Besides Christine, she is not the only artist to assist Veri with the album. The album will also feature a duet called 'Aura' in which a fantastic female voice will create a special atmosphere. Who the duet partner is, however, remains a secret…
When he had finished writing the songs, Veri settled back in the SORROWNIGHT rehearsal room and spent almost every day there from early till late in the evening. There he worked on the songs and the recordings. Everything is recorded, mixed and mastered with his own technology.
"This is very important to me in the project, because even if the quality may not be masterful, it helps me, as mentioned in the beginning, to develop myself and to pack my own, concrete ideas and emotions in the songs. I do it for me. This album is a personal highlight, apart from its musical development. It means a lot to me emotionally, as I went through different stages of my private life and experienced a wide range of emotions, and a lot has changed in my life. This album is a landmark for me, because besides all the pain and negative things, the songs and the complete editing give me the necessary power and hope."
A tour in support of the album release is not yet planned, but after listening to some of the album's songs, it is to be hoped that Veri and Christine will be on a stage very soon. For me, the songs are already played in an endless loop and I would definitely like to listen to them live. It is a great album to dream to and enjoy, full of bittersweet melancholy - definitely worth a purchase. Veri and Christine had already performed some acoustic shows some years ago with SORROWNIGHT on the acoustic tour of FLORIAN GREY and it was noticed how much fun they had during these performances.
"Christine and I have a lot of ideas in common, and working together on 'Veiled In Velvet Skies' has shown us how much we can work together. As you can see with SORROWNIGHT, the nice thing is that we still have the opportunity to do that. And it will happen, although the details are not quite worked out yet. I would also like to thank Abbey Marie Esparza, a great artist, who in agreement with me create this great cover artwork. I'm very grateful for working with many different artists on the album- that's what makes it so special."
A release date has not been decided yet, but it should be published by June at the latest.