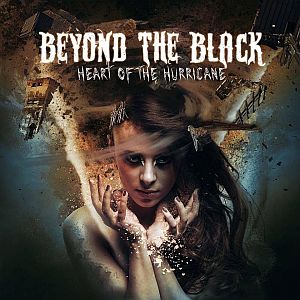 BEYOND THE BLACK - symphonic metal, energetic, straightforward, uncompromising. Where others still lose themselves in coloured descriptions, the band has already set the next course. BEYOND THE BLACK will rock some of the most popular national and international metal stages this year. In line with the release of their new album, 'Heart Of The Hurricane' on August 31st, the band around front woman Jennifer Haben plays four exclusive release gigs in September.
BEYOND THE BLACK are opulently arranged Symphonic Metal, filigree Melodic Metal and rousing Medieval Rock, which form a harmonious and unused unity that discharges in pure energy and creates every time new one. It has always been uncompromising, because what does not fit is not bend, but reformed. Singer Jennifer Haben and her new line-up consisting of Christian Hermsdörfer (guitar, backing vocals), Tobias Lodes (guitar, backing vocals), Stefan Herkenhoff (bass) and Kai Tschierschky (drums) already have passed their live baptism of fire more than successful last year. Now the band will present the tracks from their first common album for the first time.
2018 is the year in which BEYOND THE BLACK explore the outermost stylistic limitations of extremes: On the one hand, the band pulls the hardening screws again by several turns, on the other hand a previously unprecedented form of catchiness dominates the pieces. The band follows their unerring sense of gripping melodies, all-pulverizing blast beats, deadly neck breaker riffs, epic keyboard passages, and elaborately arranged string and choral settings. The huge mix of elf-like vocals and deep-set growls creates a widescreen production, which guarantees the fans a bombastic live demolition!
Already with their debut in 2015, the band around singer Jennifer Haben struck like a bomb. 'Songs Of Love And Death' was in the top 15 of the charts for weeks and earned the band the prestigious "Metal Hammer" award in the category "Newcomer of the Year". Also the successor, 'Lost In Forever', was directly able to tie on in 2016, went to #4 and let BEYOND THE BLACK go on one of the mostly sold-out mammoth tour through Germany and the UK via Russia to Japan. Since 2014, the band has been excite their fans as a regular guest at the Wacken Open Air and was a celebrated support act for AEROSMITH, KORN, THE SCORPIONS, SAXON, WITHIN TEMPTATION and countless other international greats.
'Heart Of The Hurricane' will be released on 31st August 2018 on AIRFORCE1 Records / Universal Music Central Europe. It starts with the first, eponymous single, which comes along stormy in the truest sense of the word. You can watch the associated lyric video here:
Album Release Shows 2018

20.09. Munich, Backstage Werk
21.09. Hamburg, Hamburg Metal Dayz
22.09. Cologne, Live Music Hall
23.09. Berlin, Kesselhaus
Source: Press Release