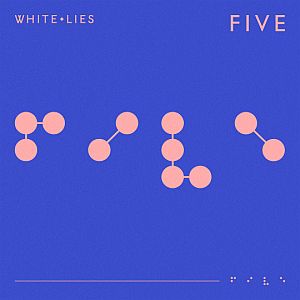 For a good ten years, WHITE LIES have been playing their Post Punk influenced by the New Wave. No, actually longer, because singer and guitarist Harry McVeigh - whose voice was not quite wrong compared to JOY DIVISION's Ian Curtis - bassist Charles Cave and drummer and keyboardist Jack Lawrence-Brown know each other from school and played under the name FEAR OF FLYING. But a new musical direction called for a renaming, under the new name WHITE LIES they brought out their style debut album 'To Lose My Life' in 2009 and directly landed in first place on the British charts. The elegiac breadth of their songs, the melancholy in Harry McVeigh's vocals, warm melodies and icy sound became the trademarks. It was followed by three more records, the conceptual 'Ritual', the iconic 'BigTV' and most recently in 2016, 'Friends'.
This year, the trio is taking the first step on their new journey to their fifth album, 'FIVE'. As always, WHITE LIES have expanded their sound space, leaving plenty of room for new addition to the proven wide-walled guitar and synth sounds.
"This is a mile stone record for WHITE LIES. It marks our decade as a band, which has pushed us to expand our sound and reach new territory artistically - it marks the start of a new and exciting chapter for us.",
so the band about the next development step.
The harmony between keyboard-heavy sounds, gruff riffs as well as strong melodies and harmonies is driven here to new, unheard-of heights. 'FIVE' is released digitally as CD, LP and limited vinyl edition.
German Tour Dates

22.02. - Cologne – Kantine
23.02. - Bochum – Matrix
24.02. - Hamburg – Markthalle
03.03. - Berlin – Huxleys
08.03. - A-Vienna – Ottakringer Brauerei
13.03. - CH-Zurich – Dynamo
15.03. - Munich – Neue Theaterfabrik
16.03. - Leipzig – Werk 2
18.03. - Wiesbaden – Schlachthof
Source: Press Release