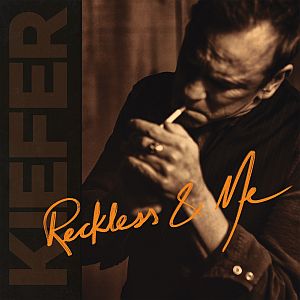 'Reckless & Me', KIEFER SUTHERLAND's second album after his critically acclaimed 2016 debut 'Down In The Hole', will be released on BMG on April 26, 2019. The 10-song album, again produced by Kiefer's musical comrade Jude Cole, features beautifully arranged ballads and authentic Country Rock songs, all of which are shaped by Kiefer's distinctive voice. The great Kiefer Sutherland is not only a Hollywood icon, no, he is also a thoroughbred musician: Recommended already in advance is the following, approximately one-hour concert recording, KIEFER SUTHERLAND and band have recently recorded for ARTE.TV and "Berlin Live":
After a 30-year film career, Sutherland is a "familiar face" around the world, but his first passion was and is the music: "I was wondering what I love about acting and the music and what they have in common? Storytelling - in music, however, in very different ways!" Sutherland loves the process of songwriting, working in the studio, but performing live has a very special appeal for him. For the past three years, Kiefer toured around the world and earned a reputation as a passionate stage musician. Making this inner connection to the audience turns him on again every night: "I would not have thought myself that I would fall in love with the stage work, but the way in which one can share very personal, intimate stories with the audience is priceless, the reward ever!"
Kiefer Sutherland - This is how it's done
On stage, Sutherland skilfully combines Country, Rock, Blues and Americana, all carried by his husky-ripped voice and anchored by the gift of telling rousing stories in his songs. Kiefer's interpretation of Americana has convinced critics and audiences alike. Associated Press praised: "the unexpected, unvarnished authenticity as a singer / songwriter"; The Rolling Stone convinced Kiefer's "edgy vocals blended with passion" and the Guardian wrote: "The action star's whiskey-sodden country music set is genuinely poignant".
Das new Album, 'Reckless & Me' can be pre-ordered: https://BMG.lnk.to/RecklessAndMePR
KIEFER SUTHERLAND will be touring extensively with his new album and touring Europe and the USA for the rest of the year. The concert tour begins in April in Germany.
Kiefer Sutherland - Live with Band 2019
03 Oct 2019 - Hamburg / Grünspan
04 Oct 2019 - Berlin / Heimathafen
08 Oct 2019 - Munich / Technikum
09 Oct 2019 - Cologne / Carlswerk Victoria
Tickets:
http://bit.ly/KieferSutherlandTour
Welcome to an evening with Kiefer Sutherland, live and in colour... Empathize, experience, be really close. The evenings with KIEFER SUTHERLAND are concert experiences of a very special kind - intimate, touching, unique. The singer is accompanied by the rough timbre of himself on the guitar, and his colleague Austin Charles (guitar backing vocals) and the multi-instrumentalist Phil Parlapiano (accordion, keyboards, fiddle, and pedal steel guitar). In miniature, great, chamber-music-prepared song stories are presented, the very best Americana, changing between Rock, Folk, Blues, Pop and Country:
02 Apr 2019 - Cologne, Stadtgarten
03 Apr 2019 - Hamburg, Stage Club
Tickets:
http://bit.ly/AnIntimateNight_with_KieferSutherland
Source: Press Release