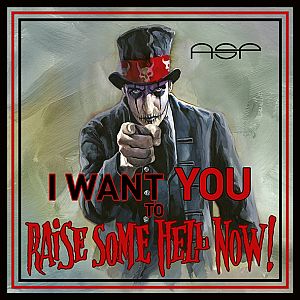 The German "master of darkness" and his men are back with a bang! The physical version of the new single 'Raise Some Hell Now!' is already sold out. Since 2005, ASP have repeatedly entered the official German album charts. Among other things, they made it to number 2 on the charts with 'Maskenhaft – Ein Versinken in elf Bildern'.
1 Oct 2021 - ASP 'Raise Some Hell Now!' (Trisol Music Group) Single Release – Video premiere at 20:00:
https://youtu.be/pEst4LtEHBo
Order here: https://bfan.link/raise-some-hell-now
Tracklist

01. Raise Some Hell Now! (Single Edit)
02. Stille der Nacht (Krayenzeit Version)
Strictly limited collector's edition of the preliminary single for the new ASP album 'ENDLiCH!':

- Digi file in special format (18 x 18 cm)
- Noble art print with UV gloss varnish on high quality 300g cardboard
- Bonus track 'Stille der Nacht' (Cover version of KRAYENZEIT)
- Hand-numbered
- 999 copies worldwide
New album ÄENDLiCH!' (Trisol Music Group/Soulfood) out 26 Nov 2021

ASP give full throttle! With their pre-single for the soon to be released double album 'ENDLiCH!', the gothic novel rockers make some noise and anticipate the big things about the meanwhile fourteenth studio long player. 'Raise Some Hell Now!' breathes pure energy and the unconditional will to finally make a real "hell of a noise" again. 'Raise Some Hell Now!' is nothing less than a legitimate successor to the ASP evergreen 'Ich will brennen': passionate, powerful and garnished with a healthy dose of winking self-irony. The black humour parody of the world-famous J. M. Flagg poster, which adorns the iconic cover of the ASP single, was created by none other than Timo Wuerz (Marvel, DC Comics, wild + free).
Source: Press Release