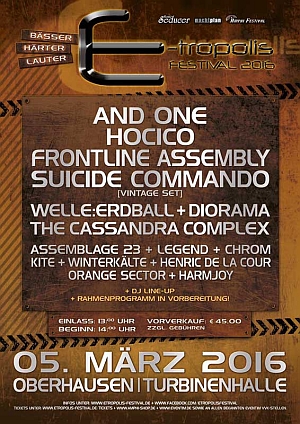 Turbinenhalle, Oberhausen, Germany
5th March 2016
E-Tropolis Festival 2015: And One, Hocico, Front Line Assembly, Suicide Commando, Welle:Erdball, Diorama, The Cassandra Complex and many more

For the third time, the E-Tropolis Festival will take place at the Turbinenhalle in Oberhausen after the festival moved from Berlin to the Ruhr valley in 2014. And again the line-up is a whoopee for everyone who loves electronic music from the dark side! Headliners are AND ONE, who will tour with their "Megashow" (title of their ambitious forthcoming tour) later this year and who probably could easily pack the Turbinenhalle on their own.
Old-school lovers will look forward to the gigs of FRONT LINE ASSEMBLY, THE CASSANDRA COMPLEX and SUICIDE COMMANDO, who announced to perform a vintage set with material from their early albums. The doors open already at 1 p.m. and early birds will have the pleasure the fantastic Synth Pop duo HARM JOY and the equally brilliant HENRIC DE LA COUR, among others. We highly recommend not to miss these early acts!
So it's quite a line-up in a location which couldn't be more perfect for this kind of music. The Turbinenhalle is a former industrial building, a hydroelectric power plant for the Ruhr valley's past steel industry, to be more precise. Quite apt for a festival for EBM, Synth Pop and Industrial! The move from Berlin to Oberhausen was also a smart move in other regards, since the Ruhr area is one of Europe's largest urban agglomerations and a place which is a traditional stronghold of all things EBM, Industrial, Gothic and so on. Plus it's rather close to Belgium and the Netherlands and thanks to the many airports there it's just a short flight from most European countries. You should definitely get your tickets in advance! For more information check the links below!
Additional Festival Information
Line-up: AND ONE + HOCICO + FRONT LINE ASSEMBLY + SUICIDE COMMANDO (VINTAGE SET) + WELLE: ERDBALL + DIORAMA + THE CASSANDRA COMPLEX + ASSEMBLAGE 23 + LEGEND + CHROM + KITE + WINTERKÄLTE + HENRIC DE LA COUR + ORANGE SECTOR + HARMJOY
Doors: 01:00 pm
Starts: 02.00 pm
Ticket fee: 49 euros + Charges (Pre- Sales)
Tickets can be bought at
http://www.amphi-shop.de/display.0.6.160.1.html
Info:
http://etropolis-festival.de
/
https://www.facebook.com/events/346278375583248/