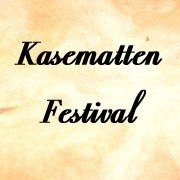 Sandstone Cave Langenstein, Halberstadt, Germany
15th & 16th April 2016
Kasematten Festival 2016 with Evi Vine, Still Patient?, Near Earth Orbit, Syntec, Wayne Hussey, Kirlian Camera, Hidden Place, Autodafeh, Spiritual Front, Dive, Klangstabil, Diorama, Covenant

Taking place in a cave makes the quite young Kasematten Festival without any doubt a truly special event within the dark scene. In 2015, the festival took place for the very first time at the sandstone cave Langenstein in Halberstadt and about 1,000 folks had a great black celebration together.
This year, the line-up once again calls for a successful festival. Legendary Wayne Hussey, lead singer of THE MISSION and former guitarist of THE SISTER OF MERCY, will be there on April 15 and widely celebrated electronic acts such as DIORAMA and COVENANT will play on April 16. Friday night DJ Botox and Saturday night DJ Schubi will be responsible for the music at the after show parties starting at 11pm.
Don't miss this unique "underground" fest in Halberstadt! On the festival's website you can find all info you need, such as how to get there and which bands will be playing when, and get your day or combi-tickets.
Running Order

Friday
17:00: Doors
18:00: Evi Vine
18:45: Still Patient?
19:40: Near Earth Orbit
20:40: Syntec
22:00: Wayne Hussey (The Mission)
23:45: Kirlian Camera
Aftershowparty


Saturday
15:00: Doors
15:30: Hidden Place
16:15: Autodafeh
17:10: Spiritual Front
18:25: Dive
19:20: Klangstabil
20:50: Diorama
22:30: Covenant
Aftershowparty
Additional Festival Information

Tickets: Day tickets are available for 39.00€ and combi-tickets for 53.00€ at
http://www.ht-events.de/festivals/kasematten-festival.html
Info:
http://www.kasematten-festival.de
/
https://www.facebook.com/events/1496831430609709