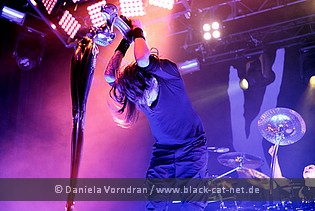 Mitsubishi Electric Halle, Düsseldorf, Germany
25th March 2017
KoRn + Heaven Shall Burn & Hellyeah

KORN returns to their old strengths with a world tour stopping in Düsseldorf at the Mitsubishi Halle with special guests HEAVEN SHALL BURN and HELLYEAH! At the beginning of the 90s, Heavy Metal was regarded as highly uncool. With their innovative sound, KORN revitalized the scene becoming one of the most important protagonists of the genre.
Full blood musicians since childhood; singer Jonathan Davis, guitarists James "Munky" Shaffer and Brian "Head" Welch, bassist Reginald "Fieldy" Arvizu and drummer David Silveria began their musical career as teenagers. Quickly the quintet found a common artistic language. Bored of the rock sound of those times and frustrated by their existence as teenagers in a suburb, they created a force of resistance combining the anger and visceral strength of metal music with a deep-rooted gloom. Tinged with expressionist explosions of Hip-Hop, Hardcore and Noise Rock, KORN created a new genre. With more than 35 million sold records and two Grammys this guys have an undeniable proof of success.
'The Serenity of Suffering' is their twelfth studio album, released on October 21, 2016. According to guitarist Brian "Head" Welch, it's
"heavier than anyone's heard us in a long time"
and that it contains their most intense music in a long time vocally as well. Stylistically manifests a return to their beginnings since the fixed return of Brian 'Head' Welch who has been away for nearly a decade.
Additional Concert Info

Doors: tab
Start: 20:00
Regular tickets can be bought at
http://www.ticketmaster.de/artist/korn-tickets/3404
. Tickets for Düsseldorf are currently not available
Info KoRn:
http://www.korn.com
/
https://www.facebook.com/korn/
Info:
http://www.mitsubishi-electric-halle.de/events-tickets/korn/