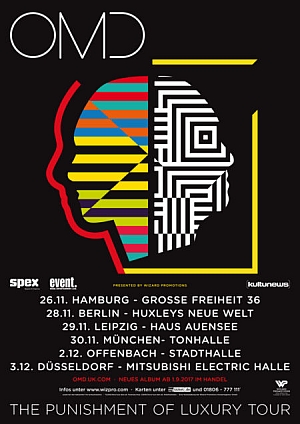 For the first time since their acclaimed performances in Hamburg, Frankfurt and Berlin in May 2016, the British cult band OMD will return to the German concert halls. The co-founders and most important representatives of New Wave have confirmed six concerts in November / December 2017 to present their 13th studio album 'The Punishment Of Luxury' (RCA / Sony Music), which will be released on September 1. Andy McCluskey, Paul Humphreys, Martin Cooper and Stuart Kershaw will play in Hamburg, Berlin, Leipzig, Munich, Offenbach and Düsseldorf.
OMD (short for Orchestral Manoeuvres In The Dark) have been one of the pioneers and protagonists of the Synth Pop and the New Wave since their founding in 1978. Now the Synth Pop pioneers return with their 13th studio album: 'The Punishment Of Luxury'. Of course the fans can expect the quality of the earlier OMD works, a combination of a wistful view into the past and idealized romance as well as the usual visionary step from the comfort zone. 'The Punishment Of Luxury' follows its predecessor 'English Electric' which caused enthusiastic reviews in 2013, and is already in the best position among the best OMD works. Stylish Synth Pop and great songwriting have always been one of the great strengths of OMD. Here is a true legend of pop music once again on tour through Germany.
Dates

26.11.2017: HAMBURG - Große Freiheit
28.11.2017: BERLIN - Huxley's Neue Welt
29.11.2017: LEIPZIG - Haus Auensee
30.11.2017: MUNICH - Tonhalle
02.12.2017: OFFENBACH - Stadthalle
03.12.2017: DÜSSELDORF - Mitsubishi Electric Halle
General pre-sale starts Friday, 19th May, 10:00 Berlin time. Tickets are available from around 50 euros plus charges via
https://goo.gl/2YOIQw
,
Ticketmaster
, all known pre-sale offices and via phone +49 (0) 1806 – 777 111.
More on
OMD