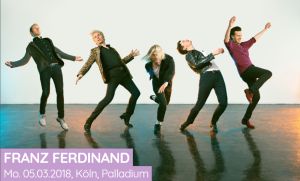 Palladium, Cologne, Germany
5th March 2018
Franz Ferdinand

Not only are they one of the UK's most successful bands of the last 15 years, they are also one of the last remaining bastions of the massive wave of new UK bands that rocked the world with fresh rock sounds at the beginning of the new millennium. On top of that, FRANZ FERDINAND from Glasgow are almost single-handedly responsible for the global renaissance of the post-punk of the late seventies and the new-wave of the early eighties. The formation formed in 2001 as a quartet has never simply copied these sound aesthetics, but rather adapted them and changed them with the help of constantly changing and complementary genres such as noise rock, disco or pop with each album.
With each of their four albums so far, the band around vocalist, guitarist and mastermind Alex Kapranos has evolved substantially without losing sight of their typical trademarks - edgy staccato guitars, driving beats, instant lighting hook lines and a rare magical energy between melancholy-coloured compositions and euphoric a life-affirming attitude. FRANZ FERDINAND has succeeded in doing something that is rarely found in today's world of rock: to be as substantial and mass-compatible as possible, to constantly develop and yet remain unmistakable.
In mid-February, the fifth studio album of FRANZ FERDINAND, 'Always Ascending', will be released. First sound impressions once again reveal a radical course correction towards maximum danceability, broad keyboard surfaces and a melodious light-heartedness that has never before been heard by the Scots. Also responsible for this is the first line-up change in the band's history: After 15 years, guitarist / keyboarder Nick McCarthy has left the band in favour of the family. He is replaced by two new permanent members, guitarist Dino Bardot and keyboarder Julian Corrie.
The band proved its rousing live qualities already in summer among others as a headliner at the A Summer's Tale Festival, where FRANZ FERDINAND marked the highlight of the entire weekend for many visitors. In March you'll have the chance now to see the band on German stages again!
Additional Concert Info

Doors: 18:30
Start: 20:00
Tickets: are available for 43.50 Euros (pre-sale) plus charges from
Eventim
/
Ticketmaster
Info: http://prime-entertainment.de/index.php?id=34&eventid=4801
More on
Franz Ferdinand
Picture by David Edwards