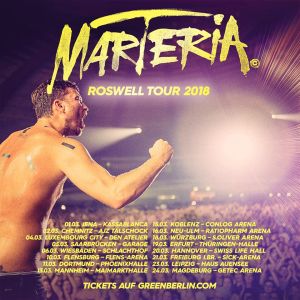 Den Atelier, Luxembourg City, Luxembourg
4th March 2018
Marteria - Roswell Tour 2018

Over 100,000 tickets sold! The demand was unbroken! Half of the dates of the big Roswell Tour 2017 was sold out months before the show. So MARTERIA announced the Roswell Tour 2018. 16 more shows are planned in which MARTERIA will present his new album 'Roswell' live.
2017 was an extremely successful year for MARTERIA. 60 seconds. That's how long it took until "Alone on a long tour 2017" was completely sold out. MARTERIA's idea to return to the same meaningful and venerable clubs as on his first tour and to play them as faithfully as possible once again lured his fans to the computer just in time for the pre-sale launch. However, you had to be damn fast to get one of the coveted tickets, with which you can experience the new songs from MARTERIA's fourth studio album, 'Roswell',which was released in May 2017, in the small club, before in summer the big festival stages are on the agenda.
The motto of the tour is like the album title "Roswell". The place in the American Nowhere where a mysterious flying object crashed in 1947 and around which myths have sprung. Roswell could be anywhere where there are people who feel a little different from the rest around them. MARTERIA has elevated otherness to the norm, inspiring an entire generation. With his new album he returns to a very special place. 'Roswell' is deep within him and at the same time very far out.
If you don't want to miss the sensational show, take your chance and grab a ticket when you see someone who is selling one.
Additional Concert Info

Doors: 19:00
Start: 21:00
Tickets: SOLD OUT!
Facebook Event: https://www.facebook.com/events/1938053333133398
More on
Marteria